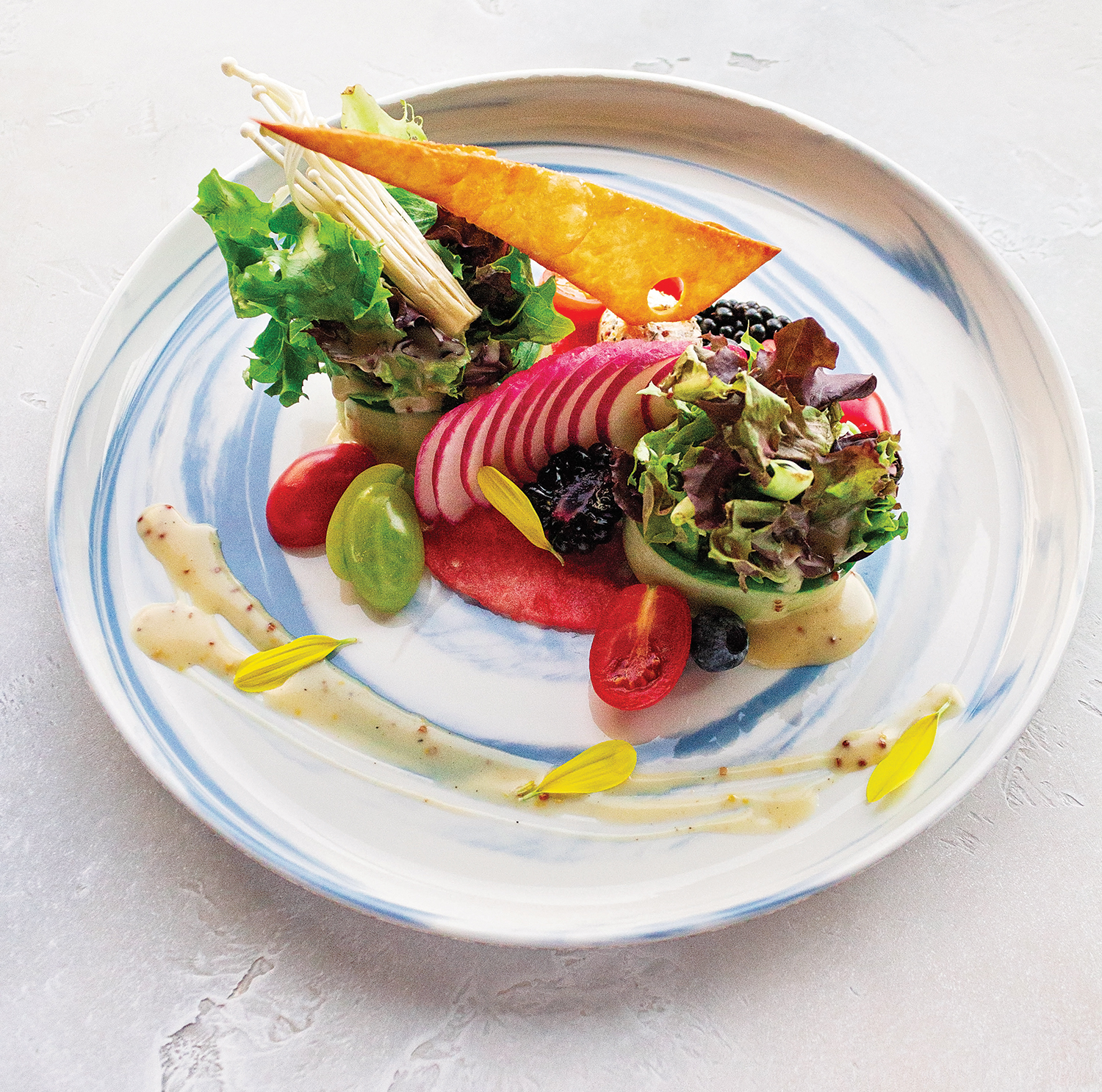 BBQ Dinner
Courtesy of Chef Jacqueline Ligsay – Bergmann's on Lombard
INGREDIENTS
Steak
4 6oz AAA beef tenderloin
3 Tbsp Montreal Steak Spice
1 Tbsp coarse black pepper
Chimichurri Sauce
1 bunch cilantro
1/2 tsp garlic purée
juice and zest of 2 limes
2 Tbsp honey
1/2 tsp cumin
salt and pepper to taste
Sweet Corn Purée
1 Tbsp canola oil
2 cups sweet frozen corn
1/2 sweet onion, diced
1 tsp garlic purée
1 cup whipping cream
salt and pepper to taste
Loaded Stuffed Baked Potato
4 russet potatoes
1/4 cup of milk
1/2 cup melted butter
2 tsp garlic purée
2 Tbsp sour cream
3 strips crispy bacon
1/4 cup shredded cheese
3 Tbsp chopped scallions
salt and pepper to taste
Crispy Tobacco Onions
1 sweet onion
1 tsp Lawry's® Seasoned Salt
1 cup all-purpose flour
3 cups canola oil
METHOD
Steak
1. Crust with Montreal steak spice and pepper.
2. Grill medium rare.
Chimichurri Sauce
Blend all ingredients together. Adjust seasoning as desired.
Sweet Corn Purée
1. In a pan, heat canola oil to medium. Sauté onions and garlic for 2 minutes.
2. Add corn and sauté for another 3 minutes.
3. Add whipping cream and let simmer for 5-8 minutes stirring continuously.
4. Process in a food processor.
5. Add salt and pepper.
Loaded Stuffed Baked Potato
1. Wash potatoes and and bake in a 350° oven on half a baking pan until fork-tender.
2. Cut potatoes in half lengthwise and scoop out insides. Place insides into a small pot.
3. Add milk, butter and garlic to pot and mash.
4. Fold in sour cream, bacon, cheese and scallions. Season with salt and pepper.
5. Add mixture back into potato skins and bake to serve.
Crispy Tobacco Onions
1. Cut off one end of the onion then peel off the outer skin.
2. On a mandolin slicer, thinly slice.
3. Toss onions with Lawry's® Seasoned Salt, breaking the rings apart, then coat with flour.
4. Heat a medium-sized pot with canola oil.
5. Shake off excess flour from onions and deep fry until golden brown.
Yield 4 servings