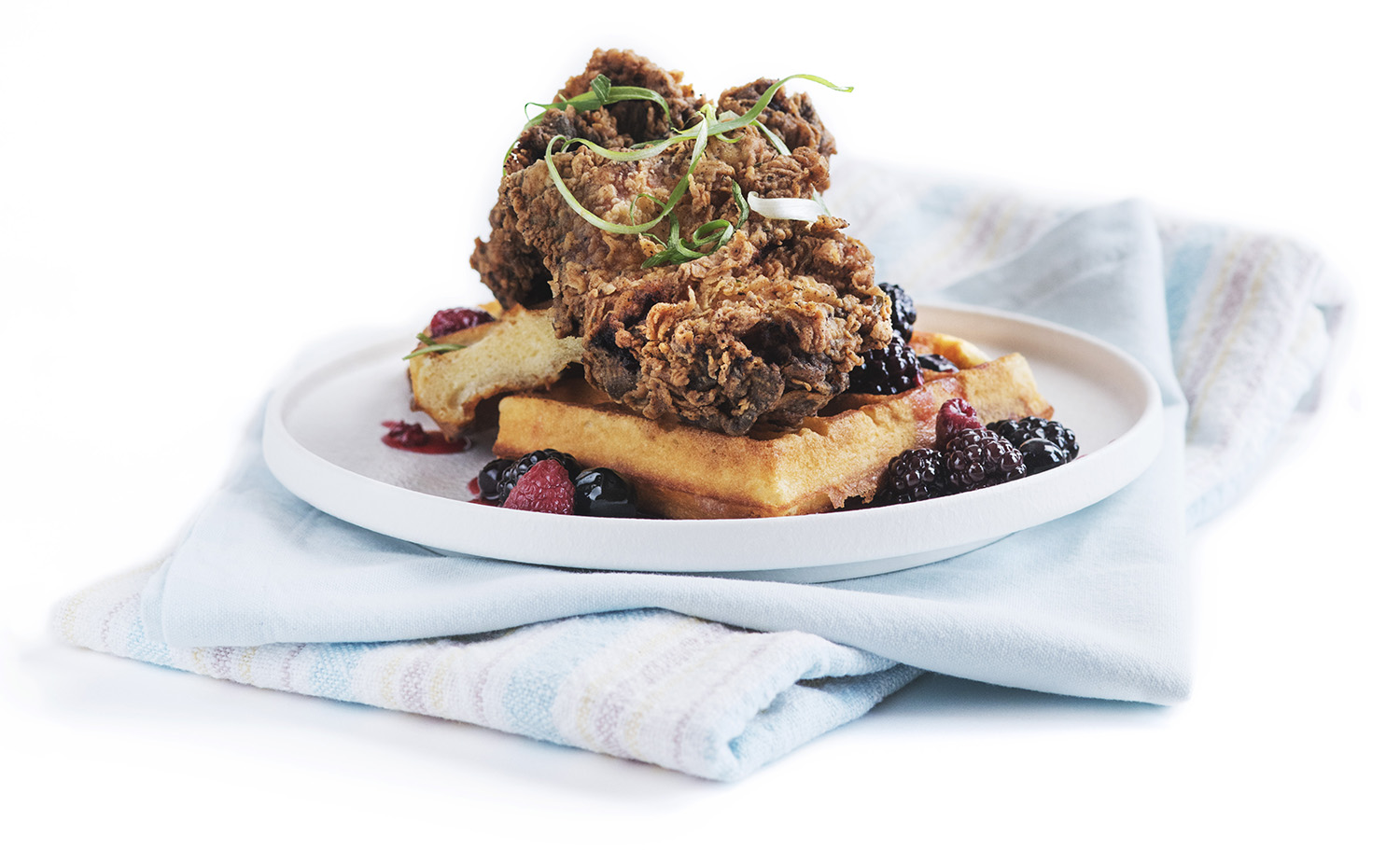 Chicken and Waffles
Courtesy of Chef Talia Syrie – The Tallest Poppy
INGREDIENTS
Chicken
10-12 Boneless chicken thighs
12 cups oil for frying, or enough to fill pot half way
Buttermilk Brine
4 cups buttermilk
3 cloves garlic, smashed
3 bay leaves
Fried Chicken Dredge
5 cups flour
2 Tbsp pepper
3 Tbsp granulated garlic
1 Tbsp dried rosemary
1 Tbsp dried thyme
1 Tbsp dried parsley
3 Tbsp seasoning salt
1 Tbsp baking powder
Waffles
2 eggs
2 cups flour
1 3/4 cups buttermilk
1/2 cup canola oil
1 Tbsp sugar
4 tsp baking powder
1/4  tsp salt
1/2 tsp vanilla
METHOD
Brine
1. Combine ingredients and add chicken.
2. Marinate in brine for at least two hours or overnight in the fridge.
Dredge
1. Preheat oil to 400°F.
2. Add all dredge ingredients in a large cake pan, stir to combine.
3. Add chicken pieces one at a time, and coat all sides.
4. Set aside on a large platter or pan so chicken is not touching while oil heats.
5. Add oil to large pot to ¾ full.
6. Add chicken into oil in batches. Do not crowd pieces. Fry for 7 minutes.
7.  Temperature check chicken when it looks done. It should be 180° F when cooked through.
Waffles
1. Preheat waffle iron. Beat eggs in large bowl with hand beater until fluffy. Beat in flour, buttermilk, oil, sugar, baking powder, salt and vanilla, until smooth.
2. Spray preheated waffle iron with non-stick cooking spray. Pour mix onto hot waffle iron.
3. Cook until golden brown.
4. Serve hot with chicken.
Yield 4-6 servings