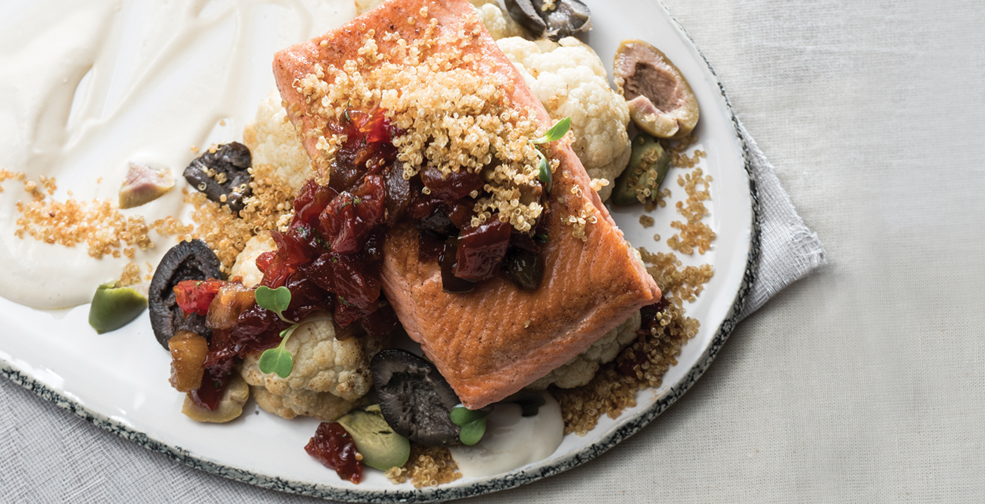 Trout with Roasted Cauliflower, Eggplant Caponata, and Bagna Cauda
Chef Sean McKay
Mitchell Block
Briny Bagna Cauda and tangy Caponata punch up the flavour in this dish.
Ingredients
Eggplant Caponata
5 Tbsp olive oil
1 large eggplant, unpeeled, cut into 1/2" cubes
1 medium onion, diced
4 large garlic cloves, chopped
4 cups Roma tomatoes, diced
3 Tbsp red wine vinegar
1 Tbsp white sugar
2 Tbsp drained capers
1 Tbsp dried currants
salt and pepper, to taste
1/3 cup chopped parsley
1/3 cup chopped fresh basil
2 Tbsp toasted pine nuts
Bagna Cauda
3/4 cup olive oil
6 Tbsp unsalted butter, softened
12 white anchovy fillets
6 large garlic cloves, chopped
2 yolks from hard boiled eggs
lemon juice from half a lemon
Roasted Cauliflower
1 large head of cauliflower
1 lemon
1/4 cup pitted kalamata olives
3 Tbsp olive oil
salt and pepper, to taste
Trout
4 6 oz portions Manitoba steelhead trout, skin removed
oil
salt and pepper
Method
Eggplant Caponata
1. Heat oil in a large, heavy pot over medium heat. Add eggplant, onion, and garlic. Sauté until eggplant is soft and brown, about 15 min.
2. Add diced tomatoes with juice, vinegar, sugar, capers, and currants. Cover and simmer until very tender, about 12 min, stirring occasionally.
3. Season to taste. Mix in parsley and basil. Sprinkle with pine nuts.
Bagna Cauda
1. Blend all ingredients in a food processor until smooth.
Roasted Cauliflower
1. Heat oven to 400˚F. Place the cauliflower, core and leaves removed, in a cast iron skillet, floret side up. Drizzle thoroughly with olive oil. Season with salt and pepper, then squeeze the lemon over cauliflower, adding squeezed rind to the skillet.
2. Cover skillet tightly with a sheet of tin foil and cook for 45 minutes, or until cauliflower is tender.
3. Remove foil, add olives, and return pan to oven for another 15 minutes, until cauliflower florets turn golden brown.
Trout
1. Preheat oven to 425˚F with a rack placed in the middle. Pat trout dry with paper towel. Rub trout with oil, salt, and pepper.
2. Place trout in a nonstick or foil-lined roasting pan. Roast 4-6 min per 2 cm thickness of trout. Fish is cooked when it can be easily flaked with a fork.
Yield 4 servings