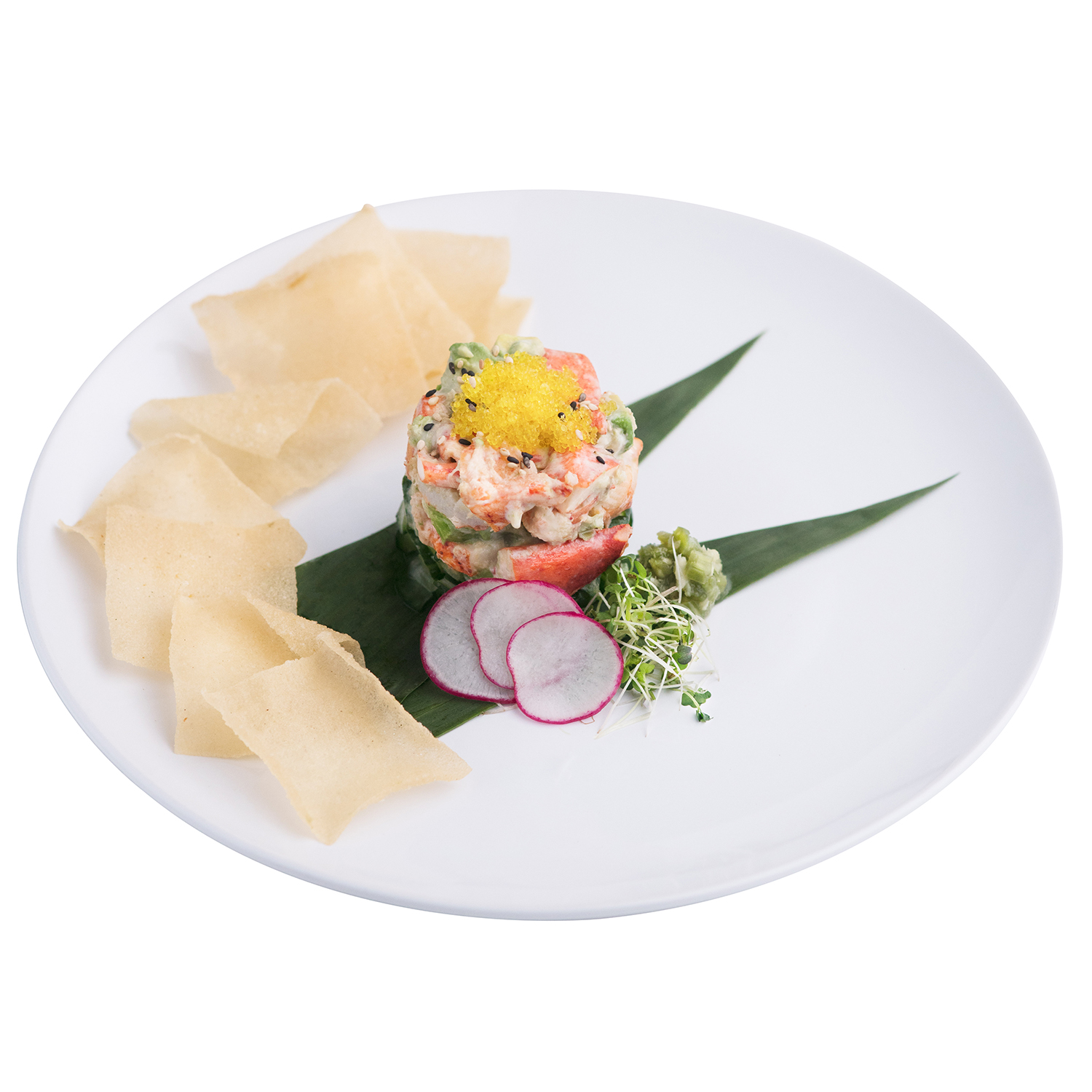 Lobster Salad and Chips
Courtesy of Chef Rowell Clarina – Wasabi Sabi
INGREDIENTS
Chips
1 Doll spring roll pastry
1 cup canola oil
Salad
1 cucumber
1/3 cup salt
1/4 cup cooked lobster meat
1/4 avocado
2 tsp kewpie mayonnaise
1 tsp wasabi relish, or to taste
2" steel mold ring
1/2 tsp yuzo-infused tobiko caviar
Garnish
Pinch of black and white roasted sesame seeds
Pinch of micro-arugula
1/2 red radish, sliced
METHOD
1. Cut spring roll dough into 1" squares. Fry in canola oil for a
few seconds until crispy. Set on paper towel.
2. Cut cucumber in half lengthwise and scrape away seeds with a spoon. Finely chop horizontally into thin slices.
3. Generously salt cucumber pieces to draw out moisture.
4. Rinse in a strainer to wash away salt and squeeze out water.
5. Chop lobster meat and avocado into 1/4-inch squares. Place in
a bowl.
6. Add kewpie mayonnaise and wasabi relish.
7. Gently mix the ingredients.
8. Place the steel mold ring in the centre of a plate.
9. Place cucumber pieces inside the ring. Press the cucumber strips into the mold with a spoon.
10. Add the lobster-avocado mixture to the mold, filling it up.
11. Shape with a spoon.
12. Press down on the salad with
a spoon and slide the mold up
to remove.
13. Top with caviar and sesame seeds.
14. Place prepared spring roll chips, micro-arugula and radish on the side of the plate.
Yield 1 salad