Chef Chris Gama brings bold flavour to breakfast at Clementine.
by Jessie Schmidtke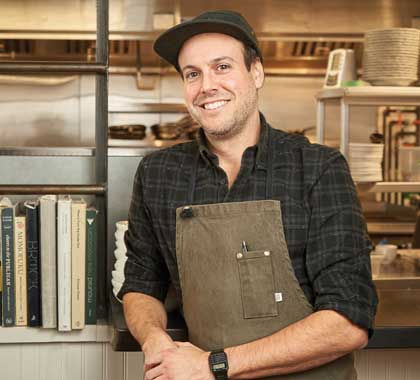 Chef Chris Gama can finally exhale.
"People were here the minute we opened the door," he says, now coolly at ease. Ghostly exposed brick, rustic wood rafters and Moroccan touches radiate mystique in the space he endearingly refers to as his dungeon.
It's been three and a half years since Clementine, the trendy subterranean daytime nook, opened its doors and Gama and his team hit the ground running. When keeping up with the hollandaise sauce alone was nearly impossible, they quickly realized their projections were off and they needed to cook for double the people they had originally planned for. It took more than two years of sales data to realize they weren't slowing down.
Clementine salutes breakfast culture in cities like Melbourne and Los Angeles, where daytime eats are granted the same distinction as evening ones. Here, inventive chef-driven dishes are almost too stunning to cut your knife into, served alongside elegant cocktails such as the "morning helper," a fresh take on a French 75 elevated with house-made thyme syrup and prosecco. Although Southern cuisine was the original plan, it didn't quite feel right, and the team decided instead to take inspiration from a variety of cultures. The spicy syrup-drizzled fried chicken on toast, which an ever-compassionate Gama dedicates to all the hungover boyfriends dragged to brunch, serves as the only remnant of the original concept.
Much like the menu, Gama's trajectory as a chef was not clear cut. It started with a dishwashing job at Green Gates as a teenager. He laughs remembering the look on the hiring chef's face when he showed up in his Sunday best with a makeshift resume listing babysitting as his experience. After climbing the ranks to line cook, Gama got a call from an old colleague and chef: Tristan Foucault.
Foucault needed a sous chef to open Wow! Hospitality's Oui Bistro (now Peasant Cookery), and Gama was his guy. After five years at that venture, he switched gears to pursue a food science degree and his friend Adam Donnelly offered him a job at acclaimed resto Segovia while juggling the student life. Ambitiously, he also jumped head first into launching a pop-up dinner series with friends under the name "Table Manners." These one-night dinners were like opening a restaurant every time, and Gama fell for the idea of opening his own one day.
Fortuitously, Segovia co-owners Donnelly and Carolina Konrad, and her sister Reya, had found a space in the Exchange District and asked Gama what he thought about opening a breakfast spot.
In a culture ruled by social media and instant gratification, the term chef—which nearly anyone can use—has been a struggle for Gama, whose humility is part of his charm. "I don't really like the term 'chef' because it's strayed so far from what it should be," he says. A chef should first and foremost be a leader, mentor, manager, and of course, a really great cook.
Needless to say, Gama is all these things and more; a modern-day chef whose success is a result of working from the bottom up, learning from the city's most regarded talent and really loving to cook.
Clementine is buzzing with that elusive je ne sais quoi which creates serious devotion amongst foodists in town. Drawing on the phenomenon of shared plates, which Gama is well acquainted with from his time at Segovia, he cleverly reframes the idea. Bold flavours oft reserved for night-out affairs wake up morning appetites; chili butter bolsters heat in Turkish eggs, zesty curtido tops a Spanish inspired tostada and fingerling salad (aka fancy hash browns) is smothered in lush mornay sauce. Influences from around the world make their way into his dishes.
As a cookbook obsessive (shelves are filled with his home's overflow), inspiration often comes from a new technique or little anecdotes discovered between recipe lines. "How do we cook it in a way we haven't prepared it before?" the chef constantly wonders, always striving for the most thoughtful way to treat each ingredient. Bacon gets a sous vide bath overnight before being fried in a maple glaze to achieve a crisp, yet tender bite, and potatoes undergo a three-step process before cooking to get perfect texture ("potatoes are always on my mind," he jokes).
Veg-dominant sides are just as deserving of praise as heartier dishes, with the same attention to detail given to Thai-inspired fried cauliflower as smoked arctic char. Nearly every ingredient is local, and everything is made from scratch—no small feat for such a high-volume breakfast joint. Gama stands by the notion that everything should be too complicated and difficult to prepare at home.
So how does Clementine manage to plate 5-star quality brunch at a 2-star price? "We use great ingredients—but not expensive ones," Gama explains, noting that ingredients like fois gras or lobster don't have a place on the menu. Being part of the community is important to them, and prices need to be accessible. Neighbourhood regulars and people from all over the city join the queue for a table to Instagram perfectly plated Turkish eggs.
As tables clear and it finally starts to quiet down in the late afternoon, members of the team sit down with their plates under the glow of Clementine's neon mantra, "Eat this, it'll help." It's clear they love the food just as much as the guests they serve do.
Throughout his journey to becoming a chef and restaurant owner Gama's greatest fulfillment has come from empowering his staff. "If the staff are happy, it's going to translate to the table," he shares. A restaurant full of happy and passionate people who are proud to work there. Who could resist that?