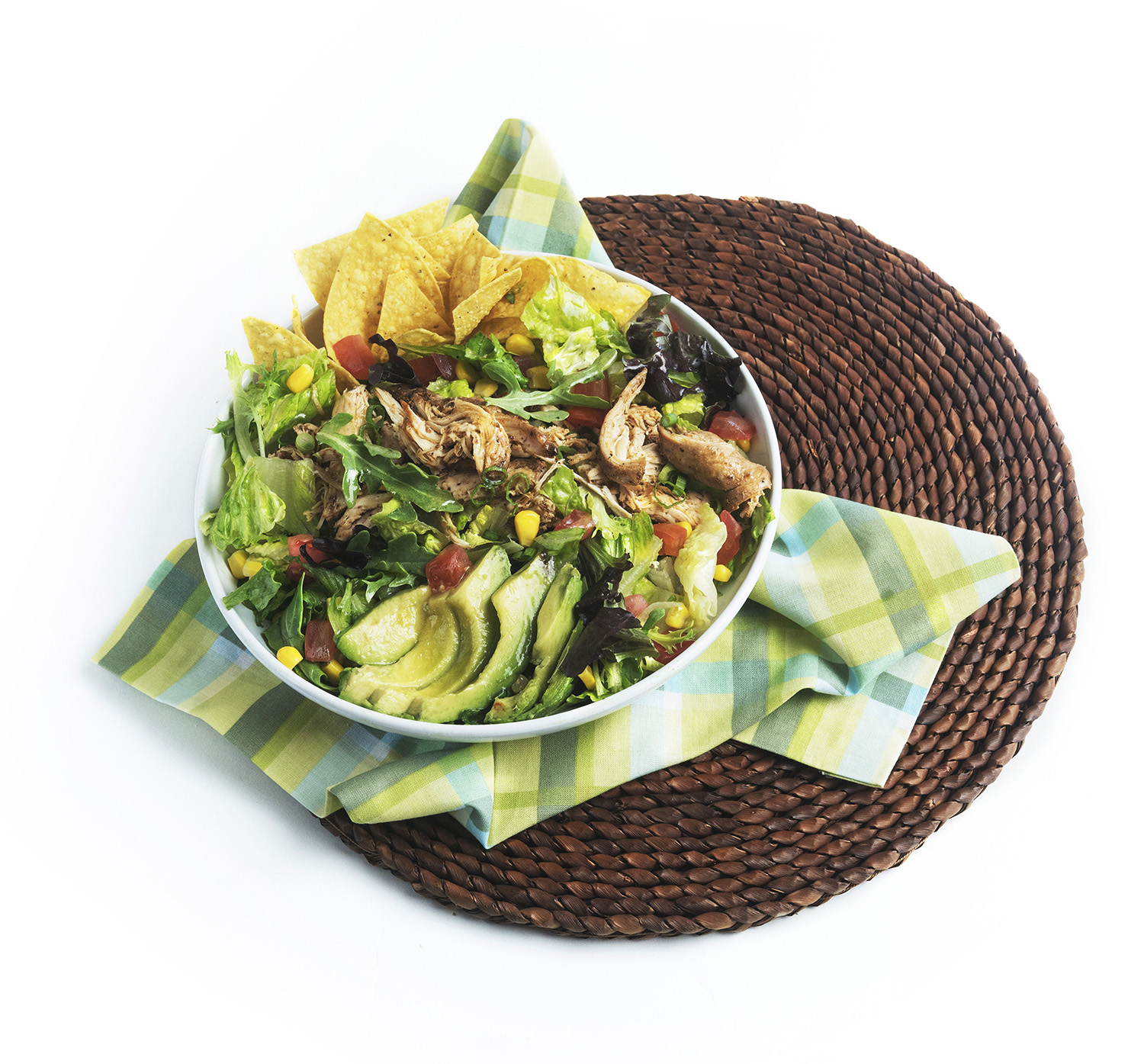 Mexican Salad
Courtesy of Dave Schultz – Saucers Café
INGREDIENTS
1 head romaine lettuce
1/2 cup canned black beans, rinsed
1/2 cup corn kernels, boiled or grilled
1/2 Greenland Gardens fresh tomato, diced
1 green onion, sliced
1 avocado, sliced
1 handful corn tortilla chips
2 Adobo chicken breasts
1/4 cup honey lime cumin vinaigrette
Chipotle Spice
1 Tbsp chipotle powder
1 tsp oregano
1 tsp salt
1 tsp black pepper, ground
1 tsp cayenne
Adobo Chicken
2 chicken breasts
2 Tbsp chipotle spice (recipe above)
1 tsp minced garlic
1/4 cup vegetable oil
Honey Lime Cumin Vinaigrette
1 Tbsp fresh minced garlic
2 Tbsp ground cumin
3 Tbsp fresh lime juice
1/4 medium white onion, finely chopped
1/2 cup Manitoba honey
1/2 tsp salt and pepper
2 cups olive oil
METHOD
Chipotle Spice
In a bowl, mix all ingredients together.
Adobo Chicken
1. In a bowl, mix together dry spices, garlic and oil.
2. Add chicken and toss gently in spice/oil mixture.
3. Marinate chicken for a few hours or overnight.
4. In a preheated oven of 375°F, place marinated chicken on a sheet pan and cook for 20 minutes.
5. Turn chicken breast over and cook for an additional 15 – 20 minutes until done. Internal temperature should be 170°F.
6. Remove from oven.
7. While still warm, pull apart with two forks until chicken is shredded.
Honey Lime Cumin Vinaigrette
1. Add ingredients, except for olive oil, into mixing bowl.
2. Whisk in oil while pouring at a slow drizzle.
Assembly
1. Add lettuce to a medium bowl.
2. Toss the lettuce with vinagrette amount to taste.
3. Add the corn, black beans, tomatoes, green onions and toss.
4. Divide into two servings.
5. Add sliced avocado and corn chips.
7. Top with adobo chicken.
Yield 2 servings