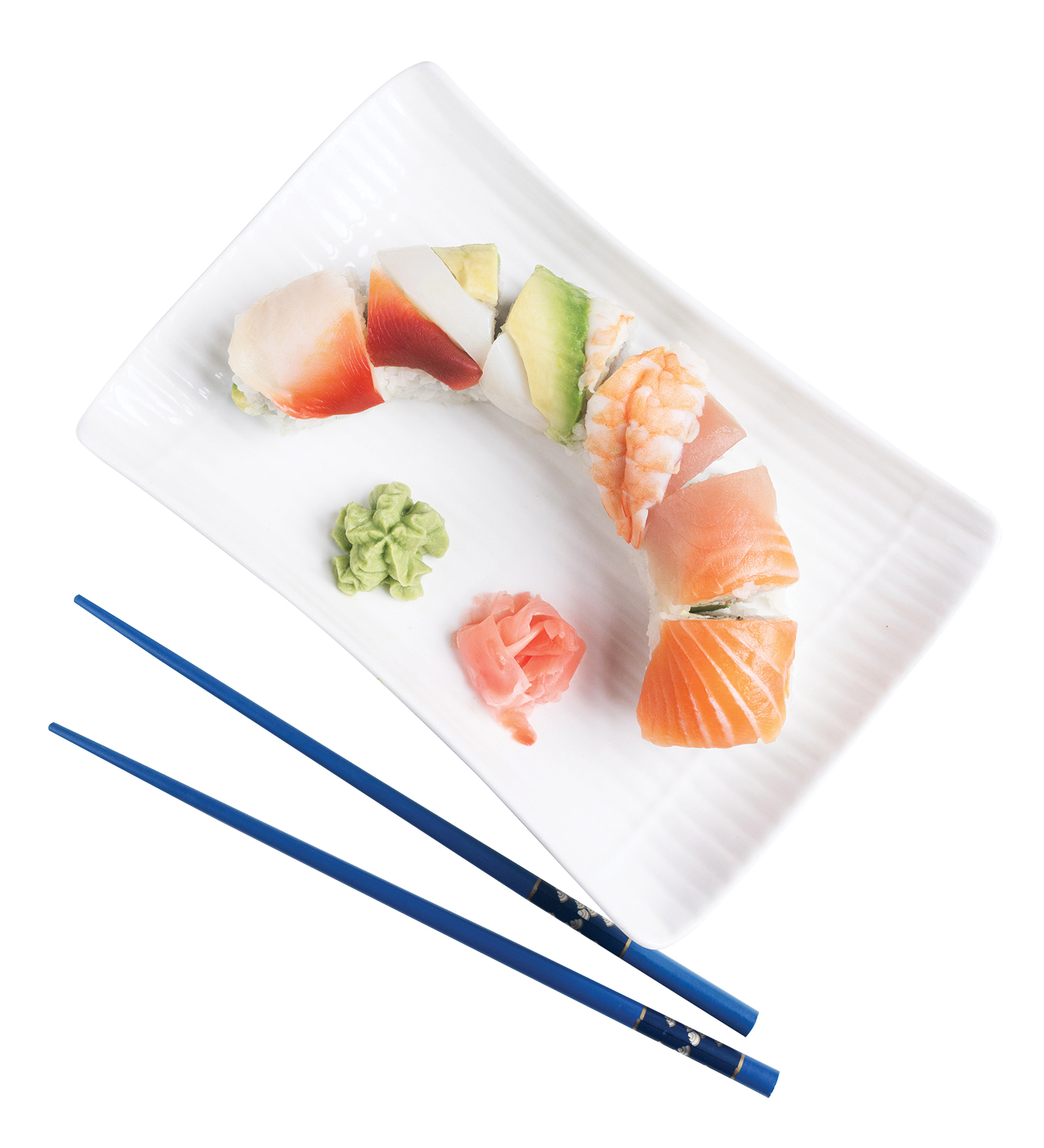 Rainbow Roll
Courtesy of Sunny Chen – Owner, Blüfish
INGREDIENTS
1 1/3 cups uncooked sushi rice
2 sheet of nori cut in half into 7 1/2 by 4" sheets
1 cucumber, sliced into four strips measuring 7 1/2" long and 1/2" wide
1 avocado, cut into 12 strips
1 fillet of hokkigai
1 fillet of salmon
1 fillet of tuna
4 pieces cooked shrimp, tail off
1/2 cup crab meat
1 1/2 Tbsp mayonnaise
METHOD
1. Cook sushi rice according to directions on package.
2. While rice is cooking, cut hokkigai, salmon and tuna into four uniform pieces, approximately 2 1/2" long and 1/2" wide.
3. When cool, divide rice into four portions.
4. Evenly spread a large handful of rice on a sheet of nori then flip over, with the rice side facing down on a sushi rolling mat covered with a layer of plastic wrap.
5. Place cucumber strip in the centre. Place 1/4 of the mayonnaise and two pieces of avocado alongside the cucumber. Sprinkle 1/4 of the crab meat on top.
6. Using the sushi rolling mat, tightly roll up all ingredients.
7. Top roll with one piece each of salmon, tuna, shrimp, avocado and hokkigai.
8. Place plastic wrap over the roll and press with sushi mat to curve fish around roll.
9. Cut into 6 pieces and remove plastic wrap.
10. Repeat for remaining 3 rolls.
Yield 4 rolls