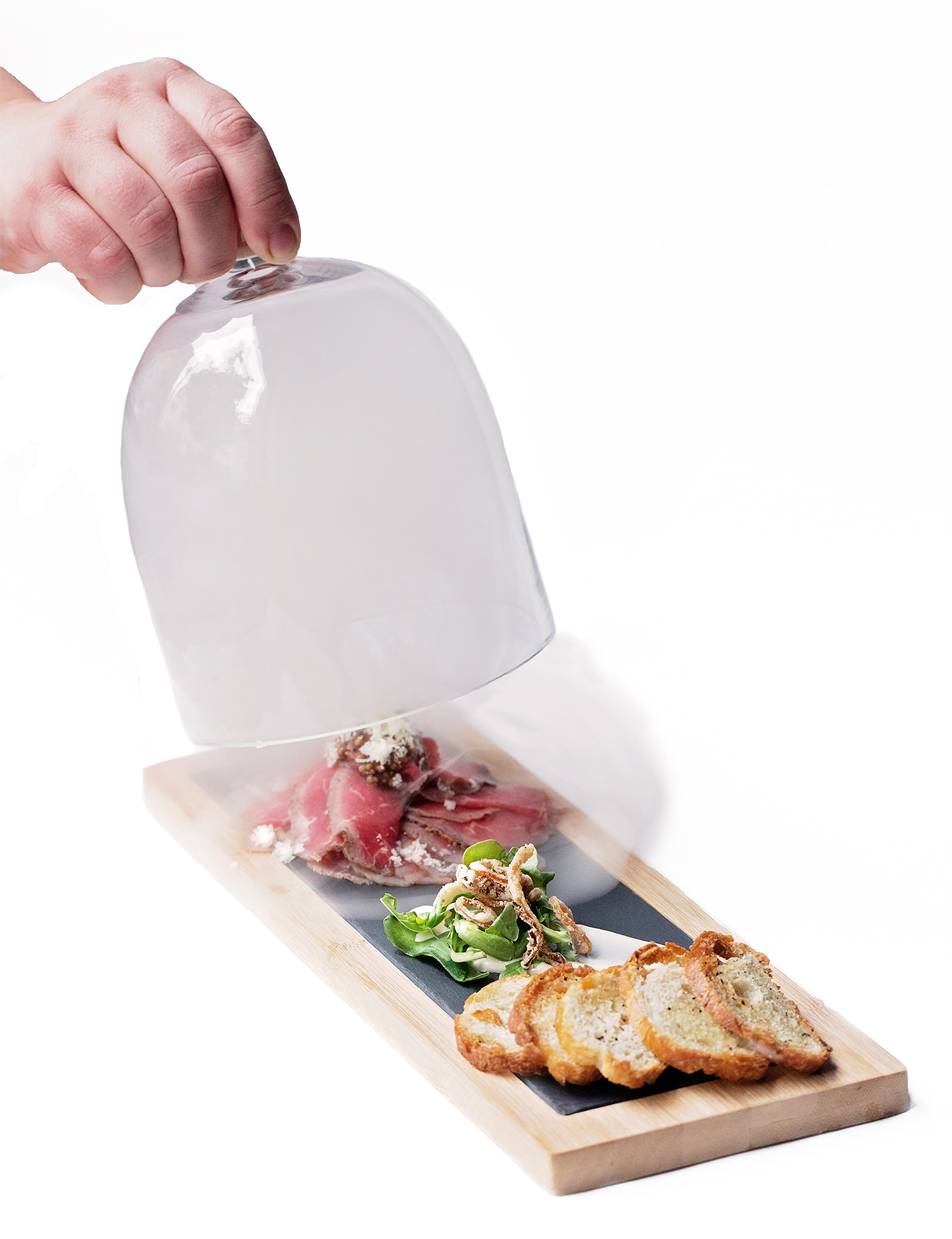 Smoked Beef Carpaccio
Courtesy of Chef Melissa Makarenko – Peasant Cookery
INGREDIENTS
Crispy Shallots
3 medium shallots
2 tsp kosher salt
3/4 cup and 1/2 Tbsp cornstarch
4 1/4 cups canola oil for frying
Aioli
4 cloves garlic
pinch of salt
3/4 cup and 1/2 Tbsp mayonnaise
4 Tbsp olive oil, infused with garlic
1 lemon, zested and juiced
salt and pepper to taste
Carpaccio
1 400g eye of round loin
1/3 cup and 2 Tbsp kosher salt
4 cloves of garlic, crushed
1 Tbsp black pepper, coarsely ground
1 sprig rosemary, finely chopped
METHOD
Crispy Shallots
1. Peel then slice shallots against the grain creating thin rings.
2. Separate rings and sprinkle with salt. Let stand for 15 minutes.
3. Drain and squeeze out liquid.
4. Dredge shallots in cornstarch. Knock off all excess cornstarch and drop in canola oil heated to 365°.
5. Fry until golden. Remove from oil and drain on a paper towel.
Aioli
1. Crush garlic and salt into a smooth paste.
2. Add mayonnaise and whisk in oil.
3. Season with lemon, salt and pepper.
Carpaccio
1. Cut skin and fat from the eye of round.
2. Rub vigorously with salt, garlic, pepper and rosemary and set aside for 24 hours.
3. Brush excess seasoning on and in a pre-heated, oiled pan, sear all sides of the loin.
4. Cool immediately in fridge.
5. In an air-tight bag, place loin and remove all air. Place in freezer for 24 hours.
6. Remove from freezer and let thaw for 10 minutes. Slice loin thinly against the grain and arrange in a circle pattern on a plate.
7. Cover with a glass dome and lightly air smoke at the table.
8. Accompany with aioli, shallots, toasted baguette, arugula and Smak Dab Canadian Maple mustard.
Yield 2 servings