By Jessie Schmidtke
Step through a door inside The Marion Hotel, and a whole new world opens up. Marion Street Eatery, the cozy neighbourhood café that staked out a sunny corner inside the hotel five years ago, has earned a dedicated crowd of fans and regulars. Here, cheery staff welcome guests like old friends; its the kind of place where early risers sit with coffee and a newspaper, and friends slow brunch all afternoon. Country-cute antique chairs and buffed wood floors play off the space's dark leather booths and exposed brick pillars. Quirky messages like "Eat yourself happy!" or "Roam, but always come home" decorate the walls. So what's the secret to its popularity?

"The hands of many, many people make this place work," says owner Laneil Smith. It's a telling answer, one that reveals this young owner's commitment to creating a safe and positive environment for her team to flourish. 
Ciao! magazine is devoted to the best in local food. But local-mindedness extends beyond using regional ingredients. For supporting its community and investing in the future generation of chefs, while maintaining an ongoing commitment to building relationships with local producers, Marion Street Eatery is Ciao! magazine's 2019 Good Food Manitoba Restaurant of the Year.
A group of strong, young women call the shots here; Smith was still in her twenties when she opened the restaurant in 2014 with close friend Chef Melissa Hyrb. A self-proclaimed opportunist, she jumped at the chance to make her dream a reality when the space inside her parents' hotel became available. The duo brought their vision to life with a drive to be part of the St. Boniface community.
Restaurant cooking has been a historically male-dominated trade. But women-run kitchens are finally gaining a higher profile. Talented female chefs, cognizant of this imbalance, have the opportunity to not only make waves in the industry but help mentor other women into leadership roles. Recognizing Chef Camila Gamboa as an up and coming force, Hyrb became a mentor to her, instilling the importance of patience and teamwork.
Gamboa quickly rose from line cook to sous chef before being passed the reins of head chef. "This is where I've grown," she says, having been with the eatery since 2015.
At just 24 years old, she has become a role model for young Winnipeg chefs—particularly young women. Last year, she visited her alma mater Red River College to speak to culinary students. Impressed by the fact that she is a woman in her early twenties running the show, the students were entranced. Gamboa hopes that hearing her story will make other young chefs think, 'If she can do it, then there's a chance for me too.'
The restaurant biz is tough, and it's no secret it can be a breeding ground for harassment (remember Hell's Kitchen?). By contrast, MSE's kitchen is a place where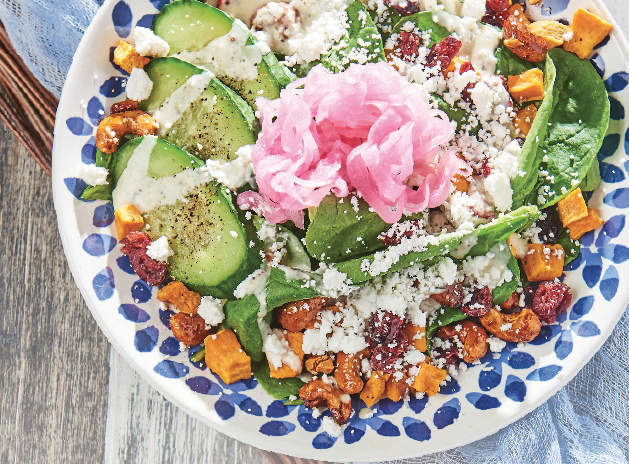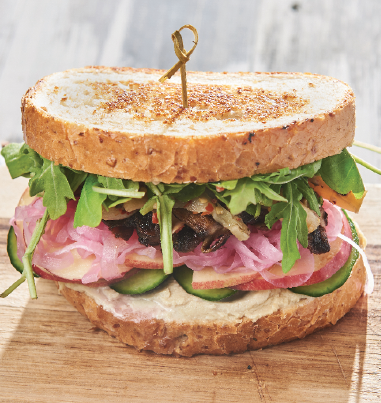 young chefs are nurtured, and given a supportive environment to learn and develop, encouraged to contribute menu ideas and experiment with flavours. Last summer, to coincide with Folklorama, Gamboa challenged each of her staff to get creative and come up with a dish influenced by their heritage for the daily specials. It was a resounding hit on all fronts.
With sustainable and local eating persistent topics of the times, every small change, like minimizing the distance food travels before it lands in the kitchen, has a positive impact. Fortunately, Manitoba producers are generally highly committed to their product and uphold superior standards. Gamboa and Smith gush over the exceptional quality of brands like Nature's Farm eggs and Bothwell cheese.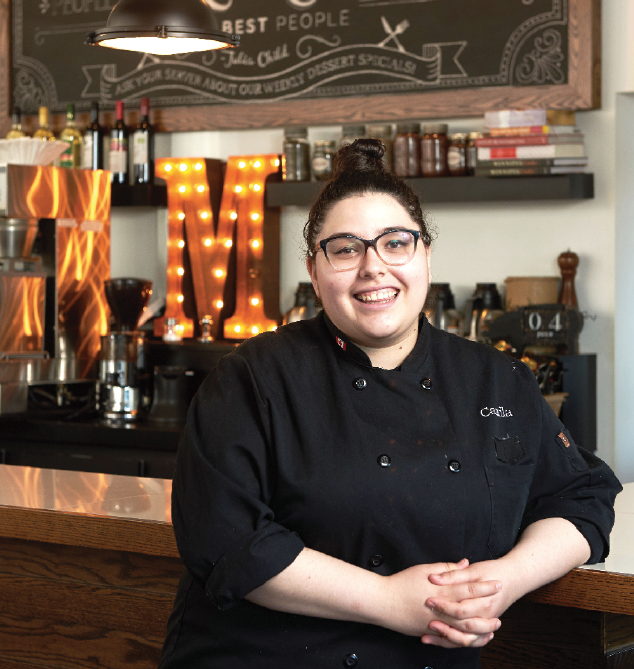 Neighbourhood spirit runs high, and a point is made to support the community. Collabs with other local businesses make it easy to provide the best of everything most efficiently. Dumpling superhero Perogy Planet makes an exclusive sweet potato and goat cheese variety just for them.
Naturally, customers also play a huge role in the café. Smith quips, "People get really connected to the dishes—our regulars are not afraid to speak up!" This means menu items like the beloved apple whiskey pancakes and mac & cheese are here to stay. The need to reduce environmental impact prompted a growing demographic looking for vegan options (a veggie-centric diet uses seven times less land than a carnivorous one). This demand has spurred newer menu items like a fully loaded vegan sandwich with creamy garlic cashew butter and a falafel-filled tree hugger breakfast.
The key to success? "Surround yourself with like-minded people who are passionate and kind," attests Smith. The evidence is in the crowded dining room, full of patrons responding to the warm, openhearted atmosphere—and of course killer food. 
Marion Street Eatery lives out its message of community spirit in everything it does. Even after doors close for the evening, a sign outside the restaurant encourages customers to support other local businesses in the neighbourhood. As Laneil says: "We're all in this together."