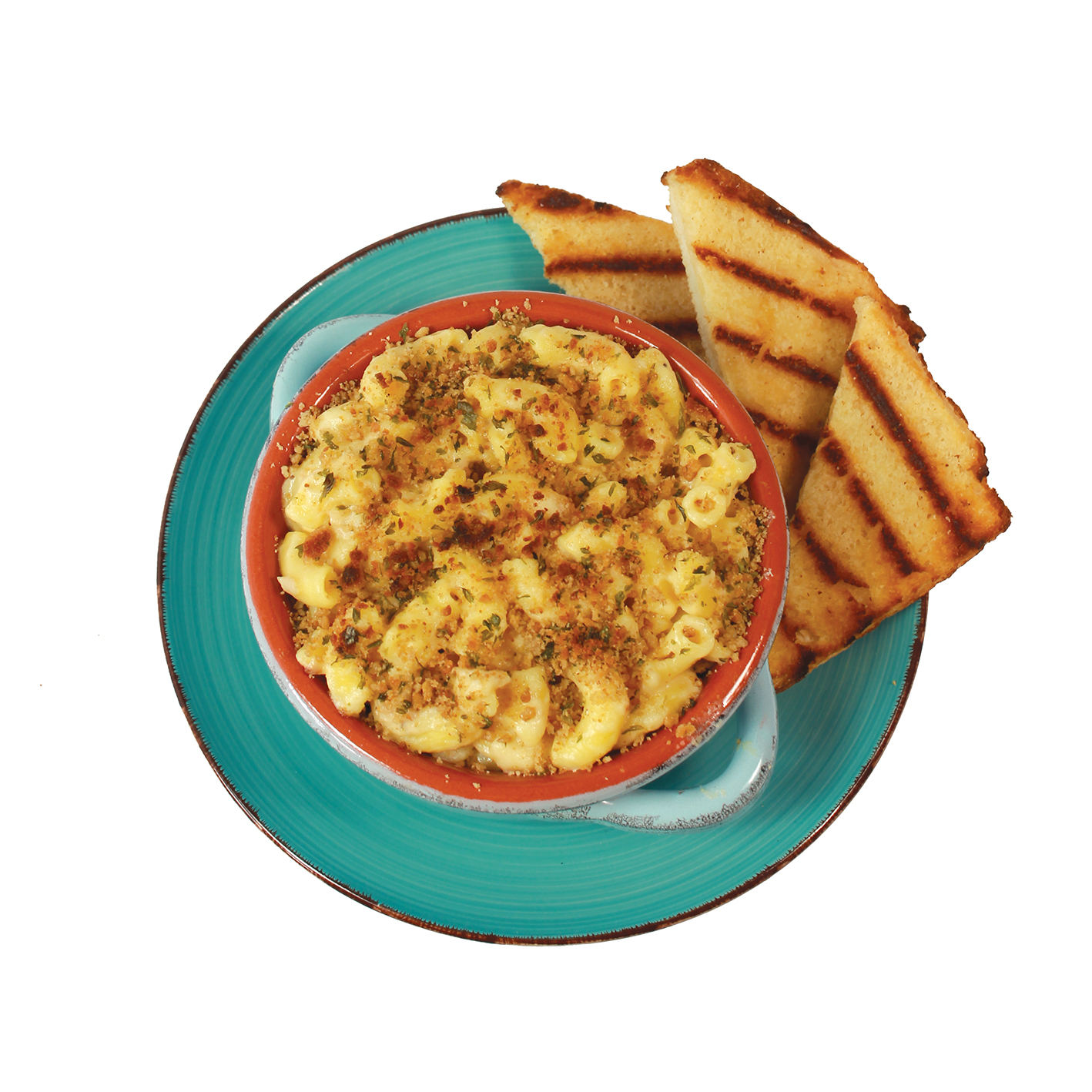 Walleye Mac and Cheese
Courtesy of Chef Dean Herkert – Bistro on Notre Dame
INGREDIENTS
Walleye
4 walleye fillets
4 lemons, juiced and zested
1/2 Tbsp minced garlic
1/2 Tbsp salt
1/2 Tbsp pepper
1/2 cup butter (for browning)
Macaroni
3 cups Nature's Farm macaroni, uncooked
4-5 cups water
1 Tbsp salt
Cheese Sauce
1 cup ricotta
1 cup shredded Bothwell
marble cheddar
Bechamel
2 Tbsp butter
2 Tbsp spelt flour
2 Tbsp cauliflower flour
1/2 tsp nutmeg
1/2 tsp minced garlic
1/2 tsp minced onion
pinch of salt and pepper
1/8 cup Barn Hammer 66 IPA
1/8 cup cream
2 cups whole milk
Bread Crumble
4 Tbsp bread crumbs
4 Tbsp shredded Bothwell parmesan
2 tsp dried parsley
METHOD
Walleye
1. Dice walleye and place in container with lemon juice and zest, garlic, salt and pepper.
2. Let marinate for 20 minutes
to overnight.
Bechamel
1. Put equal parts butter, spelt flour and cauliflower flour in a sauce pan and start to brown.
2. Add nutmeg, salt, pepper, garlic and onion.
3. Cook until a roux develops.
4. Deglaze the pot with Barn Hammer 66 IPA.
5. Add cream and milk. Blend until smooth.
6. Bring to a low boil and let simmer.
Macaroni
1. Place macaroni into boiling water with salt and cook until desired tenderness.
2. Drain.
Bread Crumble
1. Combine bread crumbs
and parmesan.
2. Mix in parsley.
Final Preparation
1. Pre-heat oven to 350°F.
2. In a skillet with butter, add marinated walleye and heat
until browned.
3. Add macaroni, bechamel and ricotta.
4. Heat until sauce, noodles and cheese are incorporated.
5. Add shredded cheddar and mix.
6. Transfer into an oven-safe bowl and top with bread crumble.
7. Heat in oven for about 2 1/2 minutes or until topping
is browned.
Yield 4 servings