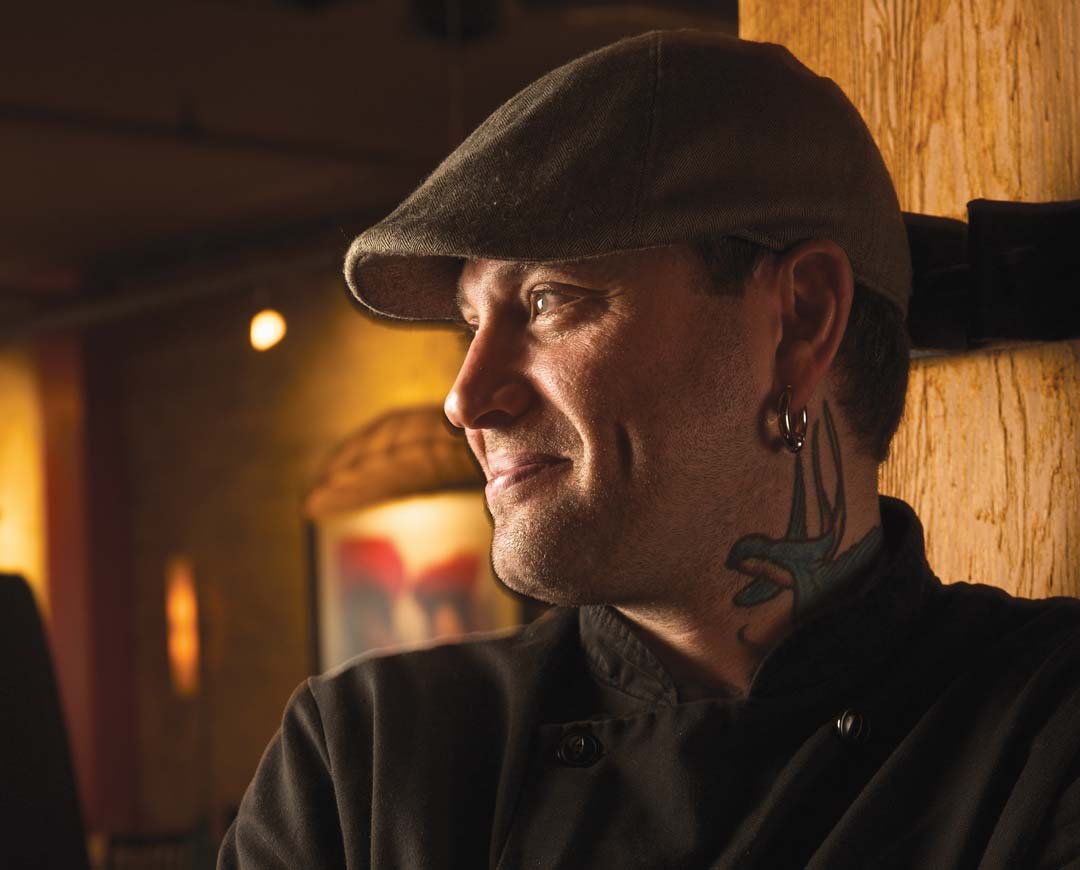 Chef Michael Day delivers sophisticated South American cuisine at Hermanos
by Robin Summerfield
Chef Michael Day is the antithesis of the stereotypical chef. He isn't hot-headed. Nor is he prone to screaming fits, like ones frequently seen on reality cooking shows.
Day doesn't let stress and pressure get the best of him.
In the kitchen of the chic South American-style steakhouse, he remains calm even on Friday and Saturday nights when staff often get slammed with 350 meals during dinner service.
"I like to keep things relaxed, organized and sane," Day says. "If you're like that everyone else will be like that."
Whether by design or happy accident, the 39-year-old chef has adopted a South American attitude and pace—chilled out and relaxed.
Blame it on Argentina.
In March this year, Hermanos owner Noel Bernier flew with seven staff and supporters, including Day, to South America for a week-long eating, drinking and merriment tour to sample the cuisine and culture of Argentina and Uruguay.
They ate a lot. And Day filed every meal in his memory.
In Argentina, they ate at the country's oldest parilla, a traditional open-pit steak house.
Along the way they also tucked into a creamy and decadent dulce de leche crêpe, a variation of which now appears on the Hermanos menu in Winnipeg.
In Uruguay, they visited Bodega Bouza winery, tipping back glasses of merlot, chardonnay and tannat.
Bernier was so impressed with the vintages, he had 750 bottles shipped to the city.
They also brought back 41 bone- and wood-handled knives, hand-crafted by Argentinian gauchos.
Inside the dining room, the knives are displayed inside a large, glass cabinet while the bottles sit in a half-wall wine rack.
But more than knives and wine, the crew brought back a renewed commitment to culinary authenticity at the 150-seat restaurant, which has positioned itself as one of the premier steak houses in the city after only two years on the scene.
Business is brisk and only getting busier as more people discover the masterfully-executed meals and polished space in the heart of  Winnipeg's theatre district.
With picanha steak and farofa,  empanadas and paella, the menu is a love letter to the region.
It pays homage to the South America's steak culture while giving playful nods to Manitoba regional ingredients. Cases in point: Peru meets Lake Winnipeg ceviche and beer-battered pickerel tacos are both on Day's menu.
His experiences, training and travels all influence his cooking style.
Born in Winnipeg, he moved to Vancouver at 19; took the culinary arts program at Vancouver Community College; and worked in many restaurants during his 16 years in B.C.
He wanted to learn as much as he could from as many different people in the industry.
Five years ago, he moved back home to Winnipeg and cooked at Billabong and Fresh Café before taking over the kitchen at Hermanos two years ago.
Day is faithful to the cooking techniques of Argentina: simple preparations and fresh ingredients are key.
"Michael runs a really strict kitchen with regards to quality of produce and taste," Bernier says.
The restaurant gets food delivered every day rather than weekly.
"It makes life a little more difficult but it most closely emulates a South American kitchen," he adds.
Salads have simple yet delicious vinaigrettes, like the balsamic reduction in the featured watermelon and cucumber salad.
Instead of serving rich, heavy sauces on the side, high-quality cuts of meat are given room to speak for themselves, like the picanha steak served with traditional farofa (toasted manioc flour).
In the dining room, customers also enter a different world.
Rich leather banquettes, tango-red walls, exposed brick, distressed wood posts and beams and an enormous tangerine-tiled bar lends an air of rustic elegance.
Slick photos of South American urban life hang in the restaurant and set a sultry scene.
"We just want to give a dining experience that transports people away," says Bernier.
Indeed, a visit to Hermanos is an instant getaway from the ordinary.
From the first sip of smooth merlot to a bite of brawny meatiness of an Argentinian strip loin to the last morsel of dreamy caramel crêpe and every moment in between, Day, Bernier and the rest of the Hermanos team deliver.

________________________________________________________________________________________________________
Below are three recipes, included with this article, from Chef Michael Day of Hermanos and can be found in the latest issue of ciao! magazine.
Watermelon and Cucumber Salad


Sweet and tangy balsamic reduction dances with the fresh, crisp and subtle notes of watermelon and cucumber.

Peru Meets Lake Winnipeg Ceviche


Loads of lime, freshly grilled corn and a punch of jalepeño and garlic brighten these bites. Serve with grilled pita chips for extra flair.

Picanha Steak with Chimichuri and Farofa


Grill a 10 oz cut of sirloin steak to perfection for this meaty Brazilian meal. Top steak with chimichuri or dip each morsel in farofa seasoning. Manioc flour is sold at the Portuguese Fish and Food Market.