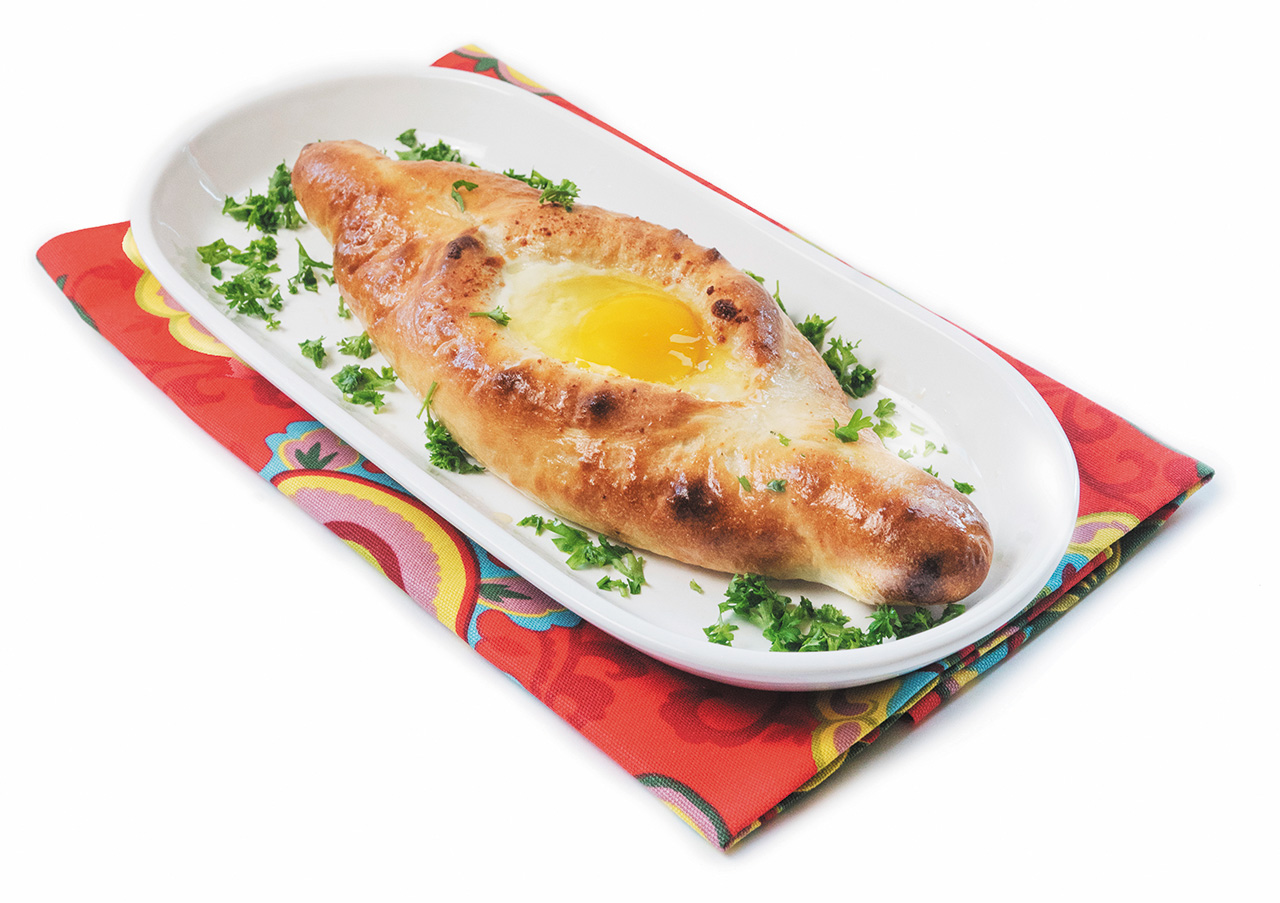 Khachapuri Adjaruli
Courtesy of Larysa Polishchuk – Saperavi
INGREDIENTS
Dough
1 cup water
2 3/4 cups flour
1 1/2 tsp sugar
1 1/2 tsp salt
2 tsp instant yeast
1/3 cup oil
Filling
2 cups grated mozzarella cheese
1 cup grated feta cheese
4 large eggs
1/3 cup butter
Garnish
parsley
cilantro
METHOD
Dough
1. Pour water into a deep bowl.
2. Add flour, sugar, salt, yeast and oil and mix with a spoon.
3. Put dough on a table and continue to knead for about 5 minutes.
4. Cover the dough with a towel and leave to rise in a warm place for 30 minutes.
5. Knead the dough again for about 2 minutes and divide into 4 parts.
6. Form each part into a ball.
7. Leave the dough balls under a towel for 15 minutes.
8. Place dough balls on 16" x 12" parchment paper.
9. Press dough balls into 8" circles.
10. Roll them out to an oblong shape approx. 12" long.
11. Roll the sides inward.
12. Pinch the two long edges together at their ends shaping the dough into a boat shape approx. 7" x 12".
Filling
1. Preheat oven to 375°F.
2. Mix the cheeses.
3. Divide equally into 4 parts and put into the middle of each boat.
4. Press the cheese down with your hand.
5. Let sit to rise in a warm place for 5 minutes.
6. Brush with melted butter and bake for 15 minutes.
7. Add a raw egg to each boat and put back in the oven for 1-2 minutes.
8. Remove from oven and add 2 tsp of butter to each boat.
9. Plate and garnish with herbs.
10. To serve, mix the egg into the cheese using a fork.
11. Eat by breaking off pieces of bread and dipping them into the gooey cheese mixture.
Yield 4 servings