The winners of the 2020 Ciao! Kitchen Design Competition, presented by Steinbach Credit Union, go bold with wood finishes, sleek design and a dash of ingenuity.
By Jared Clinton
The grand prize winner receives a gourmet dinner for six cooked in their kitchen by Chef Alfanso Maury of La Pampa Deli and Catering.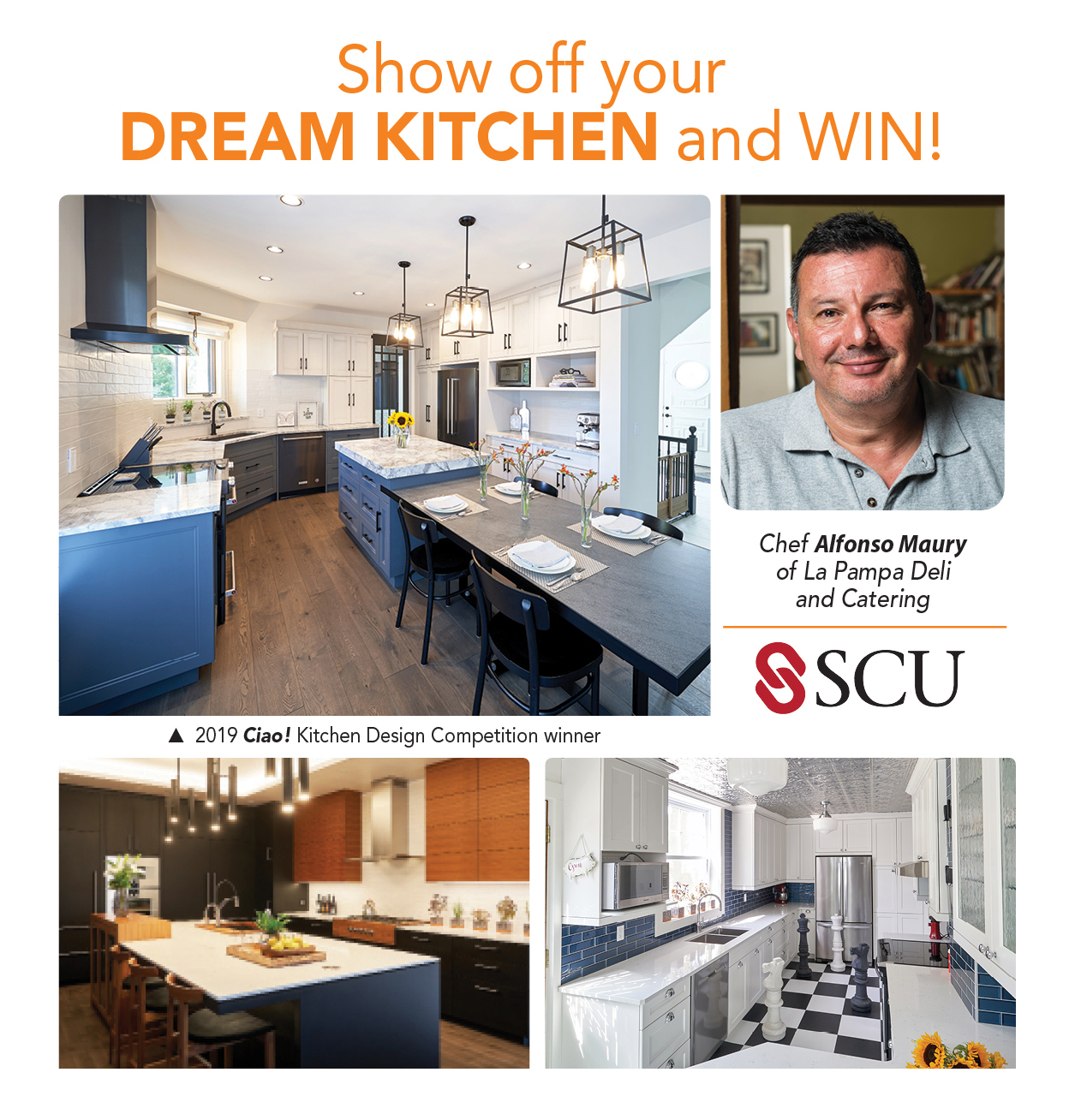 Grand Prize Kitchen:

Modern Masterpiece
Grand Prize Winner:

Perry Knight

At the heart of any outstanding renovation exists a level of vision and imagination, an ability to see the restructuring and reshaping of bones that will create an awe-inspiring space few could have envisioned. It was such perspective that transformed this kitchen into the sprawling, welcoming heart of this Tuxedo family home. Once a many-tiered and walled-off collection of rooms, its re-engineered and levelled floor produced a canvas for this open-concept beauty. Designed by Soma Interiors, this space features clean lines and not a single less-than-perfect angle. Crisp white quartz counters stretch the length of the space, including the 12-foot island cleverly divided by a sharp walnut butcher block. At the far end, cabinetry houses bar essentials and a well-designed ice sink ensures every cocktail comes cold.

Storage is clever, as double-tiered drawers provide ample space for every household necessity from utensils and dishes to cookware and spices. It's the cloaking of other features that stands out most, however. Nestled in a feature bulkhead is a recessed range hood painstakingly sourced by the homeowner. A pullout appliance garage with in-cupboard electrical is invisible when tucked away, keeping clutter to a minimum.

Suppliers: Design: Soma Interiors, Lighting: Robinson Lighting, Flooring + Backsplash: Bill Knight Flooring, Range Hood: Viking Range, Cabinetry: Exclusive Cabinets, Countertops: Renaissance Granite, Paint: Dulux

—
Winner:

Cozy Contemporary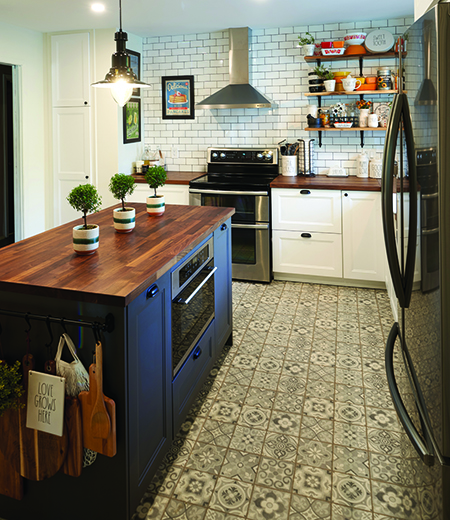 Winner:

Lucinda Helm

Family is the focal point of this Garden City space, and the homeowners wanted a meeting place to spend time with their teenage children. A compromise on island size with designers at Masi Design made it possible. A slick veneer surface gives the island its butcher block feel. Its faux-woodgrain appearance is seamlessly tied to a white shiplap feature wall and open shelving that helps give a farmhouse feel to an otherwise enclosed space. Spy unique design sensibilities in the floor design, where laminate flooring masquerades as monochromatic tile.

Optimizing this cozy kitchen's limited space meant creative storage options, including modular drawers throughout a space decked out with IKEA custom cabinetry. The homeowner is a passionate collector, and windowed doors showcase a remarkable and vibrantly coloured Pyrex collection.

Suppliers: Designer: Masi Design, Lighting: Wayfair, Tile: Home Depot, Countertop, Hardware + Cabinetry: IKEA, Paint: Sherwin Williams, Flooring: End of the Roll

—
Winner:

Waterfall Wonder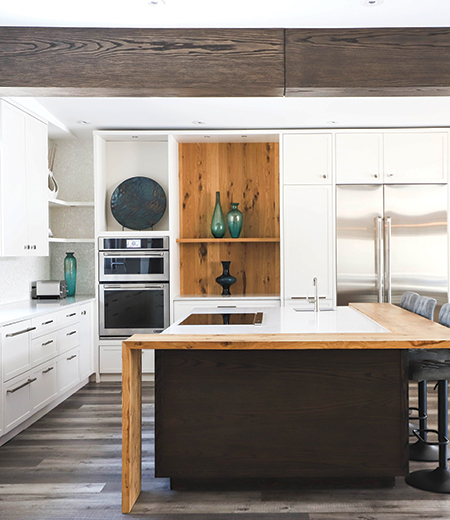 Winner:

Cheryl Titchkosky

From entrance to exit, this St. Vital space devised by Design Shop is replete with fine detail. Steps away from the front door, a scalloped edge of sparkling tile creates a waterfall that blends a foyer bench into the kitchen. Under-cabinet lighting illuminates snappy white countertops, leading to a well-lit oak insert and floating shelf that acts as a baking nook. Mixing the wooden texture with sleek quartz gives depth and warms the space.

The oak accents continue throughout, most notably in a wraparound waterfall edge constructed from reclaimed oak which provides space for a dine-in kitchen. A matching reclaimed oak bench abuts a built in sideboard and serving area next to the open dining room. Dark-stained and wire-brushed oak adds another deep wooden tone to a bright and light space and encloses overhead beams and island cabinetry.

Suppliers: Designer: Design Shop, Hardware: EMTEK, Backsplash: Carrara Tile, Flooring: Bill Knight Flooring, The Floor Show (Installation), Wood: Western Millwork, Paint: Sherwin Williams, Lighting: Robinson Lighting, Countertops: Renaissance, Faucet: Dynasty Plumbing

For more photos and to read the complete article, check out the October/November 2020 issue of Ciao! Magazine here.