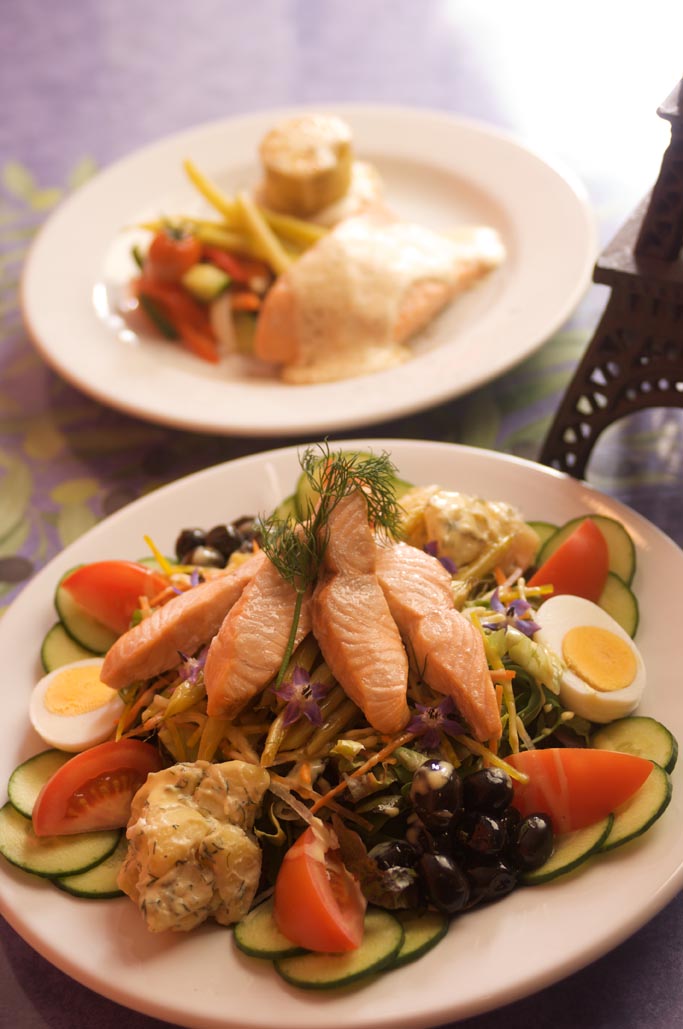 Neighbourhood: St. Boniface
Address: 241 St Mary's Road
Phone: 204-237-5468‎
Entrees: $13-$36
(Editor's Note – This business is no longer open.)
Tucked away on the edge of St. Boniface, La P'tite France has been quietly offering classic French fare for the past two years.
The cozy space features bright orange walls decorated with black and white photos of Paris and the French countryside. Colourful blue and green tablecloths add whimsy to the rustic decor, and traditional French accordion music plays softly, making this a lovely spot for a romantic evening.
The restaurant's highlight is the six-course chef's surprise menu for just $36. It is prepared by chef/owner Justin Bohémier, who spent his culinary education under Michelin-starred chef Bernard Mirlycourtois.
It starts with a basket of pillowy white bread and olives marinated in herbs, garlic and balsamic vinegar. Sweet and salty, they offer perfectly balanced bursts of flavour.
A velvety cream of onion soup is tangy, while a delicate cream of tomato is accented with pieces of sweet tomato.
An amuse bouche of two small broccoli, onion and egg pancakes were crispy and light. The salad is a colourful mix of fruits, including figs and strawberries, tossed with greens and  bits of creamy feta.
The chef offers a choice of entrées that can be ordered as part of the prix-fixe menu or on their own. The meat in each comes expertly prepared and complemented with a bold, rich sauce.
The flaky salmon fillet is smothered in a béarnaise sauce with citrus notes that enhance the flavour of the fish. The beef brisket is so succulent it could be eaten with a spoon and comes with decadent gravy flavoured with a zesty hit of blue cheese. The mild pork chops are elegantly complemented with a sweet, and somewhat sour, pear barbeque sauce.
Other menu options include a Niçoise salad, which offers a twist on the classic using salmon and dollops of creamy potato salad highlighted with dill. It comes drizzled with a tart orange Dijon vinaigrette.
Another well-executed dish is the daily quiche special. On one visit, tiny cubes of chorizo sausage offer a salty bite that contrasts with the gentle flavour of the egg and pastry.
Desserts are made in-house and are simple in appearance but complex in taste.
A traditional white genoise cake is served warm with a scoop of house made strawberry ice cream. The cake is slightly sweet and has a delicate crunchy crust. The contrast of textures—cold and creamy offset by warm and crispy—is exquisite.
The genoise becomes the base of another delectable dessert when it is served on a pool of silky brown sugar sauce.
La P'tite France is open Tue-Fri 11:30 am-2:30 pm and Tue-Sat 5:30 pm-9 pm.