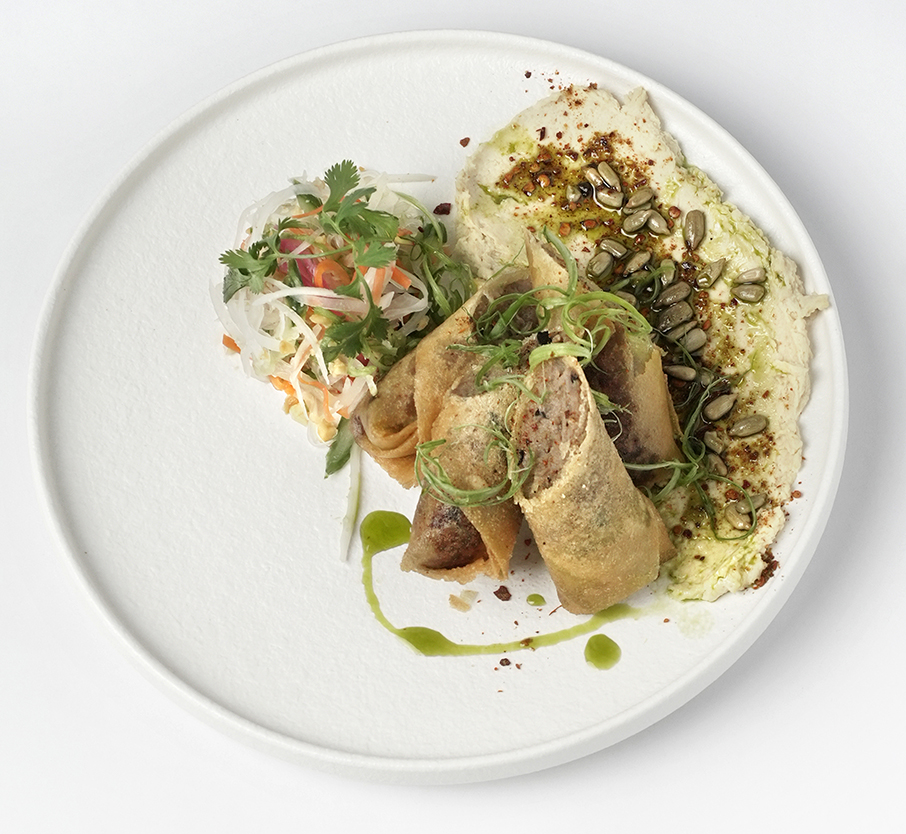 Lamb Spring Rolls with Papaya Salad
Courtesy of Chefs Edward Lam and Jil Osias – Saburo Kitchen
INGREDIENTS
Lamb Spring Rolls
1 lb ground lamb
1 tsp salt
1 Tbsp light miso paste
4 cloves garlic, minced
1 Tbsp soy sauce
1/4 cup cilantro, chopped
1/4 cup wood ear mushrooms, soaked and coarsely chopped
1/4 cup rice noodles, soaked and coarsely chopped
2 Tbsp togarashi
1 pack spring roll wrappers (20 pieces)
canola oil for frying
Papaya Salad
1 cup peeled and shredded
green papaya
1/4 cup peeled and shredded carrots
1/4 cup peeled and thinly sliced red onion
1/4 cup julienned green onions
1/4 cup shredded cucumber
1/4 to 1/3 cup nuoc cham to taste
Soy Bean Hummus
1/2 cup cooked soy beans
1/4 cup garlic flavoured olive oil
1/4 cup soy milk
salt to taste
Nuoc Cham
3 Bird's Eye chilis
1 lime, juiced
1/2 cup rice vinegar
1/2 cup water
1 garlic clove, peeled and chopped
1/2 cup sugar
1/8 cup fish sauce
Garnish
cilantro
chopped peanuts
1 Tbsp sunflower seeds
1/2 tsp togarashi
METHOD
Spring Rolls
1. Combine all ingredients and mix thoroughly. Set aside in fridge while making the papaya salad.
2. Put a heaping Tbsp of meat mixture in the middle of the spring roll wrapper.
3. Fold the wrapper forward, tucking the left and right side to the middle, rolling forward to complete. Seal the edge with a little bit of water.
4. Add an inch of canola oil to a heavy bottomed pot.
5. On medium, heat the oil
6. Deep fry the spring rolls in batches until gold brown and crispy. Drain on paper towels to absorb excess oil.
Papaya Salad
Toss all the ingredients together and drizzle with nuoc cham and mix thoroughly. Set aside.
Soy Bean Hummus
1. Put cooked soy beans, soy milk and garlic flavoured oil in a food processor.
2. Purée until smooth.
3. Season with salt to taste.
Nuoc Cham
Put all the ingredients in a blender and process until smooth. Set aside.
Assembly
1. Serve the spring rolls with the papaya salad and additional nuoc cham for dipping.
2. Garnish the papaya salad with fresh cilantro and chopped peanuts.
3. Smear a heaping tablespoon of hummus on the side of the plate then sprinkle with sunflower seeds and togarashi.
Yield 10 servings