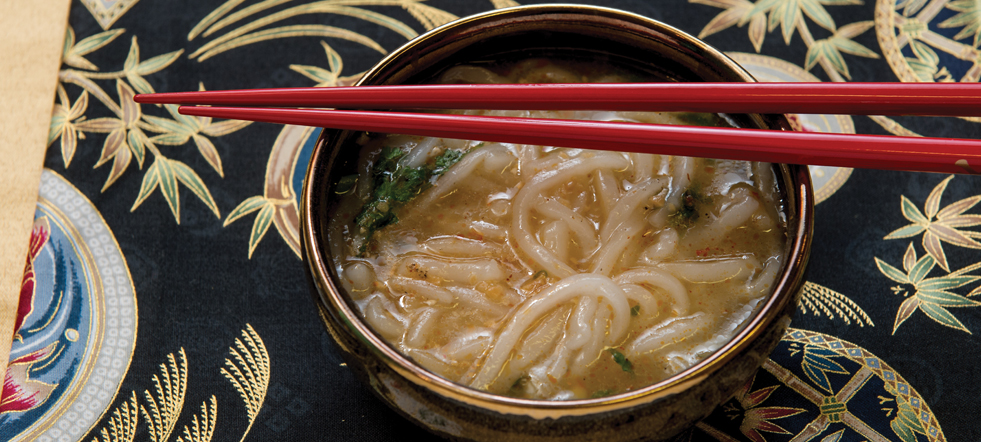 Chef Jimmie Sayavong
Boun's Restaurant

Thick rice noodles are chewy and slurpable.
Laotian Chicken Noodle Soup
Boun's Chicken Broth
INGREDIENTS
1 whole chicken
12 litres water
6 Tbsp msg
dash of salt to taste
METHOD
1. Simmer all ingredients for 4 hours, skimming off foam that rise to the surface.
2. Remove and cool whole chicken. Pull meat and skin off into shredded strips for later use.
Laotian Chicken Noodle Soup
INGREDIENTS
Rice noodles
2 cups boiling water
1 cup tapioca starch
1 cup rice flour
Soup
2 cups chicken broth
1⁄2 – 1 cup rice noodles
1⁄2 – 1 cup chicken, shredded
1 lime, quartered
sugar, to taste
green onions, to taste
black pepper, to taste
roasted garlic, to taste
dash of soy sauce
cilantro, to taste
chile oil, to taste
METHOD
Rice noodles
1. Mix tapioca starch and rice flour in a bowl. Add boiling water (1⁄3 cup at a time) and mix until dough is firm.
2. Form dough into fist size pieces. Roll flat while dusting with rice flour. Cut into strips.
Soup
1. Bring broth to boil and add chicken. Add noodles and boil for approximately 4­-5 mins.
2. Pour soup into bowl and serve with remaining ingredients, to taste.
Yield 4-6 servings