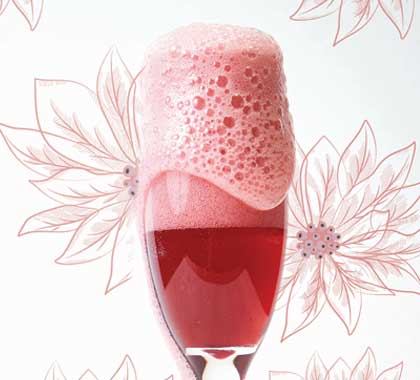 Hibiscus and Lavender Mimosa
Subtle floral notes add flavour and colour to this festive mimosa imagined by Chef Chris Gama of Clementine.
INGREDIENTS
1 cup dried hibiscus flowers
1 1/2 tsp dried lavender flowers
1 1/4 cups water
1 1/2 cups sugar
1 tiny pinch of salt
1 bottle of prosecco, very cold
METHOD
1. Combine water, sugar, salt and hibiscus flowers in a small pot and bring to a simmer over medium heat. Continue to simmer for 3 minutes, place a lid on the pot and remove it from the heat. Steep the mixture for 15 minutes.
2. Remove lid and place pot back over the heat, bring the syrup to a boil, place the lavender flowers in the pot, remove from heat and steep this mixture for 4 minutes. 3. Strain through a fine mesh strainer and refrigerate syrup.
4. Pour 1.5 oz of hibiscus syrup into each champagne flute. Top up each flute slowly with about 5oz of prosecco.