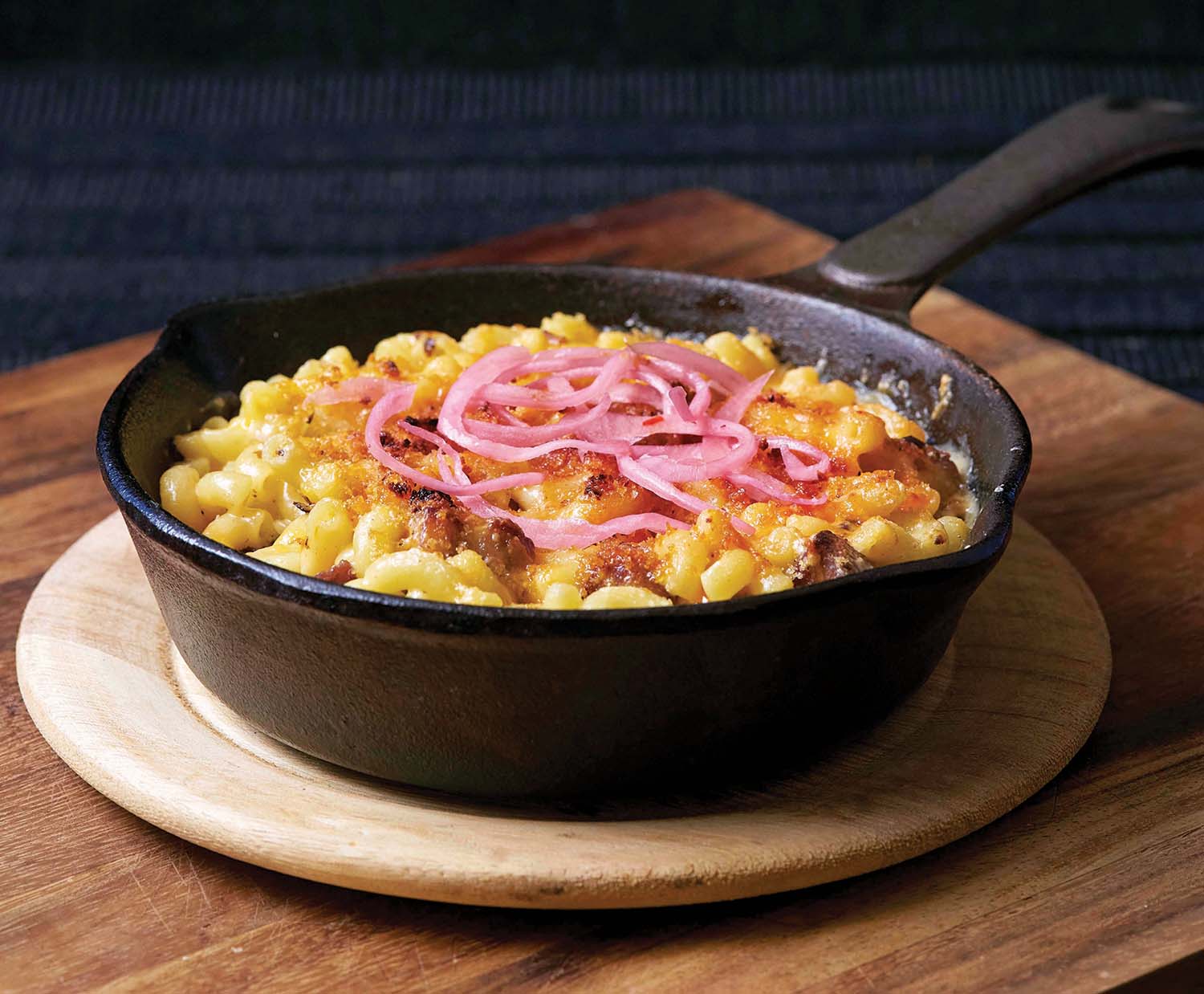 Mac and Cheese
Courtesy of Chef Jon Burge – One Great City Brewing Company
INGREDIENTS
1 Tbsp canola oil
8 cups cooked elbow macaroni
(4 c. uncooked)
2 cups cured pork belly cut into
1/2" cubes
2 cups bechamel
1/3 cup old cheddar, grated
1/3 cup smoked gouda, grated
1/4 cup breadcrumbs
1/4 cup pickled red onions
4 Tbsp chopped parsley
4 Tbsp chili oil
salt and pepper to taste
Pickled red onion
3 medium red onions
2 cups sherry vinegar
2 cups rice vinegar
5 cloves
3 cardamom pods
1 tsp allspice berries
1 bay leaf
2 Tbsp salt
1 1/2 cups sugar
Bechamel
1L whole milk
5 cloves
1 bay leaf
10 peppercorns
3 sprigs thyme
1/2 cup flour
1/2 cup butter
3/4 cup smoked gouda, grated
3/4 cup old cheddar, grated
Cured pork belly
1 cup salt
1 cup sugar
1/3 cup coriander
1/3 cup cumin
1 Tbsp clove, ground
2 Tbsp cinnamon, ground
2 Tbsp black pepper, ground
2 Tbsp chili flakes
1 lb pork belly piece, skin off
Chili oil
2 cups canola oil
1 medium piece ginger, peeled and rough chopped
1 pod star anise
5 garlic pods, whole
2 Tbsp Korean chili powder
2 Tbsp chili flakes
METHOD
Pickled red onion
1. Peel onions and cut them in half through the root. Use a mandolin to slice them thinly or go as thin as you can with a knife.
2. Divide onions equally between two 1/2 quart mason jars.
3. Wrap spices in cheese cloth and tie with butcher twine. Place the cheese cloth spice package in a pot with all the remaining ingredients.
4. Bring pot to a boil and let it simmer for 15 minutes. Remove the cheese cloth package and discard.
5. While liquid is still hot, pour over the onions in each jar. Make sure they are all covered, stirring and pushing them down if necessary.
6. Allow jars to fully cool. Put lids on and place in the refrigerator.
Bechamel
1. Wrap clove, bay leaf, thyme and peppercorns in cheesecloth.
2. Place in a pot with milk and bring to a simmer.
3. Remove from heat and let steep for 1 hour.
4. Remove cheese cloth package after 1 hour.
5. In another pot, melt butter and incorporate flour to form a roux.
6. Cook roux until just past blonde, it should smell slightly nutty.
7. Slowly add milk to roux, making sure each time the milk is fully incorporated before adding more. Start with a wooden spoon and switch to a whisk once loose enough.
8. Once all milk is added, heat until it thickens slightly.
9. Stick a spoon in it. You should be able to run your finger over the back of the spoon and make a clean line. If too thick you can add a little more milk to thin it out.
10. Slowly start adding cheese, again making sure each bit is incorporated before adding more.
11. Once all cheese has been incorporated transfer to a heat proof container and place in an ice bath.
12. Once fully cooled put cover on and put in fridge.
Cured pork belly
1. Combine all spices and mix.
2. Rub pork belly liberally with cure and let sit for 24 hours in the refrigerator on a sheet pan with a cooling rack to allow air to circulate around it.
3. After 24 hours remove the belly from the fridge and rinse. Preheat oven to 270°F.
4. Heat oil in a heavy bottom pan on medium high heat.
5. Sear one side of the pork belly until golden brown. Flip belly and place pan in oven covered with a lid or tinfoil.
6. Cook for 2-2 1/2 hours. Belly is done when tender when pierced with a fork.
7. Remove from pot and allow belly to cool.
8. Once cool, place between two sheet pans and put something heavy on top to press. Allow to press overnight in the fridge before slicing.
Chili oil
1. Combine ginger, garlic and star anise and place in cheese cloth. Combine with all other ingredients in a pot and bring to a simmer.
2. Once oil reaches simmer remove from heat and let steep for 1-3 hours. Remove cheese cloth after steeping.
Assembly
1. Set oven broiler to high and place rack about 4"-6" away from the element.
2. Heat oil in a large heavy bottom pot over medium high heat.
3. Add pork belly and cook until golden brown.
4. Remove pork belly with a slotted spoon and place on paper towel.
5. Drain grease from pot.
6. Add bechamel, cooked macaroni and pork belly to pot, mix and heat through.
7. Add salt and pepper if necessary.
8. Divide between 4 oven safe bowls.
9. Top each bowl with grated cheese and bread crumbs and place under the broiler until cheese is melted and browned.
10. Garnish each bowl with chili oil, chopped parsley, bread crumbs and pickled onions.
Yield 4 servings