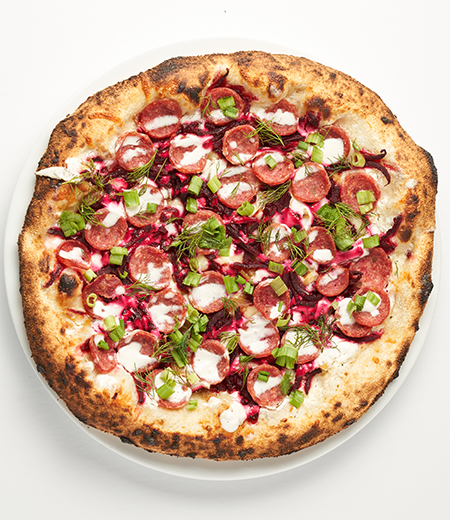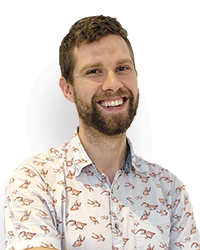 Hildegard's Bakery – Michael Harms
Inspired by a traditional Mennonite borscht, this pizza employs a creamy sauce and pops of fresh dill to brighten its hearty, rustic notes. Farmer's sausage and beets give the pie a distinct farm-to-table feel. Hildegard's signature sourdough is used to give the crust its distinct taste, and it can be purchased from the bakery to make this earthy 'za.
Menno Pizza
INGREDIENTS
1 12-inch thin pizza crust
1/2 cup sour cream
1 clove garlic
salt and pepper
2 Tbsp caramelized onion
1/4 cup shredded beets
olive oil
1/2 cup farmer's sausage, sliced thinly
1/2 cup mozzarella cheese
2 Tbsp green onion, thinly sliced
2 Tbsp fresh dill, chopped
METHOD
Sour Cream Sauce
1. Combine 1/2 cup sour cream, 1 clove garlic, salt and pepper to taste in a blender.
Pizza
1. Preheat oven with pizza stone or steel to 550°F.
2. Shred beets using cheese grater or food processor. Season with olive oil, salt and pepper and roast for 20 minutes or until tender.
3. Spread 1/3 cup sour cream sauce over crust.
4. Add mozzarella, caramelized onion, beets, and farmer's sausage to pizza.
5. Bake for 7-12 minutes until crust is brown.
6. Drizzle with remaining sour cream sauce and garnish with fresh green onion and dill.
Yield 1 pizza