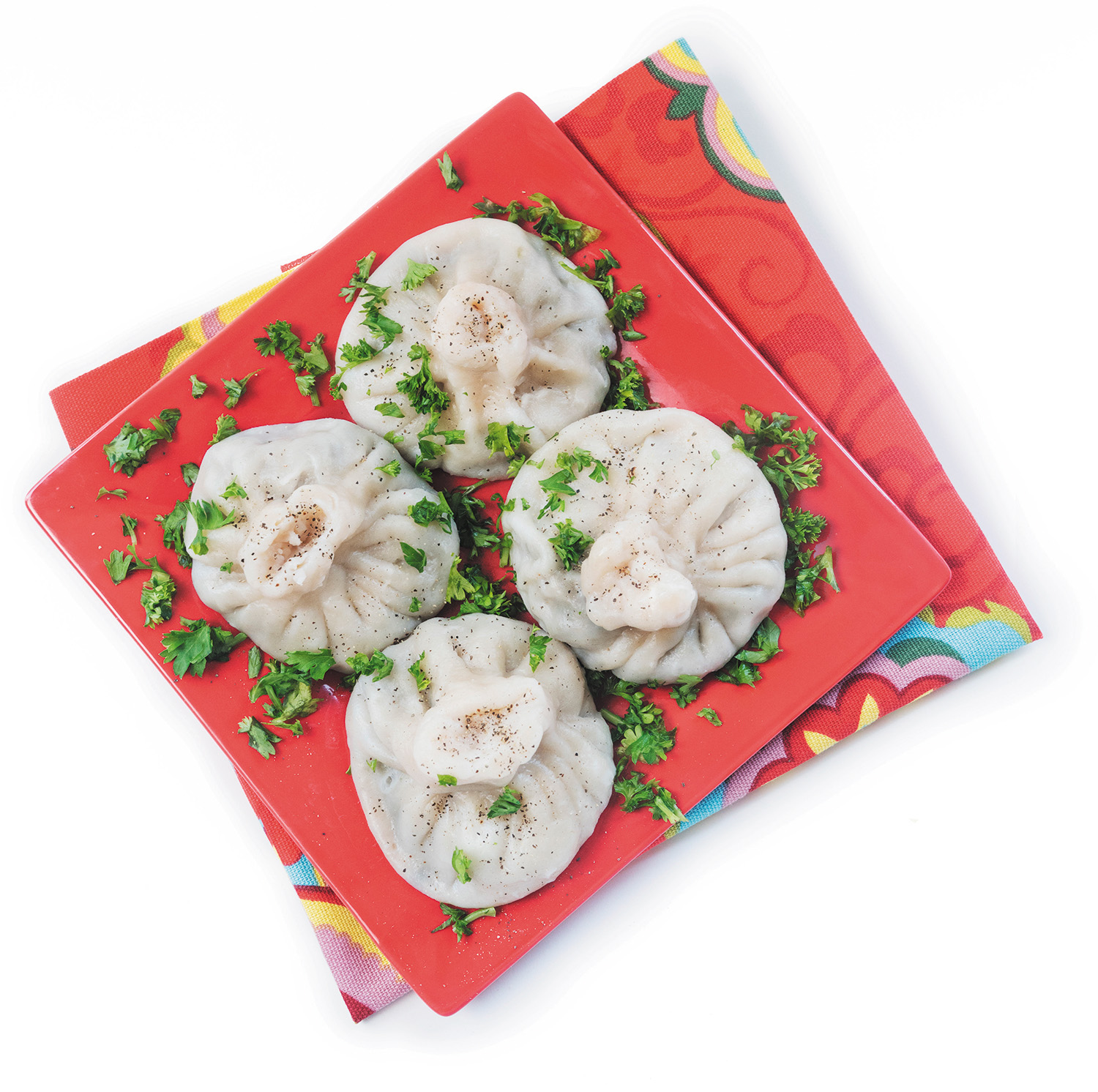 Mushroom Khinkali
Courtesy of Larysa Polishchuk – Saperavi
INGREDIENTS

Dough
4 cups flour
1 tsp salt
1 cup water
Mushroom filling
2 cups mushrooms
2 large white onions
1 1/4 cup bean sprouts
1/2 cup grated potato
1 tsp coriander
salt and pepper to taste
fresh chopped cilantro to
taste chopped garlic and
chili pepper to taste
METHOD
Dough
1. Mix flour and salt in a bowl.
2. Add water and mix together until a sticky dough is formed.
3. Using your hands, knead the dough (about 10 min) until smooth, supple and elastic (about 10 min). This keeps it from breaking during cooking.
4. Cover the dough with plastic wrap and allow to stand at room temperature for 30 minutes.
Mushroom filling
1. Chop onions and gently fry in a small amount of sunflower oil until soft and translucent.
2. Keep stirring and lower the temperature to prevent browning.
3. Add finely chopped mushrooms seasoned with salt and pepper and continue to sauté.
4. Add finely chopped bean sprouts, grated potatoes, coriander, finely chopped garlic and chili pepper.
5. Continue cooking for 5 minutes.
6. Remove from heat.
7. Add finely chopped, fresh cilantro.
Khinkali/Dumplings
1. Roll out the dough onto a lightly floured countertop until it is about 1" thick.
2. Form circles from the rolled dough (approx. 4") and continue rolling until approx. 1/8" thick.
3. Add 1 Tbsp mushroom filling to each round.
4. Pick up one side of the dough and bring to centre. Pleat all the way around until you have a knob on the top middle.
5. Seal by pinching and twisting the dough at the top.
6. Break off excess dough so the knob is not too big.
7. Add to boiling water for approx. 10 minutes or until they float to the top.
8. Remove from pot and strain excess water.
9. Garnish with cilantro, butter and black pepper.
Yield approx. 3 dozen