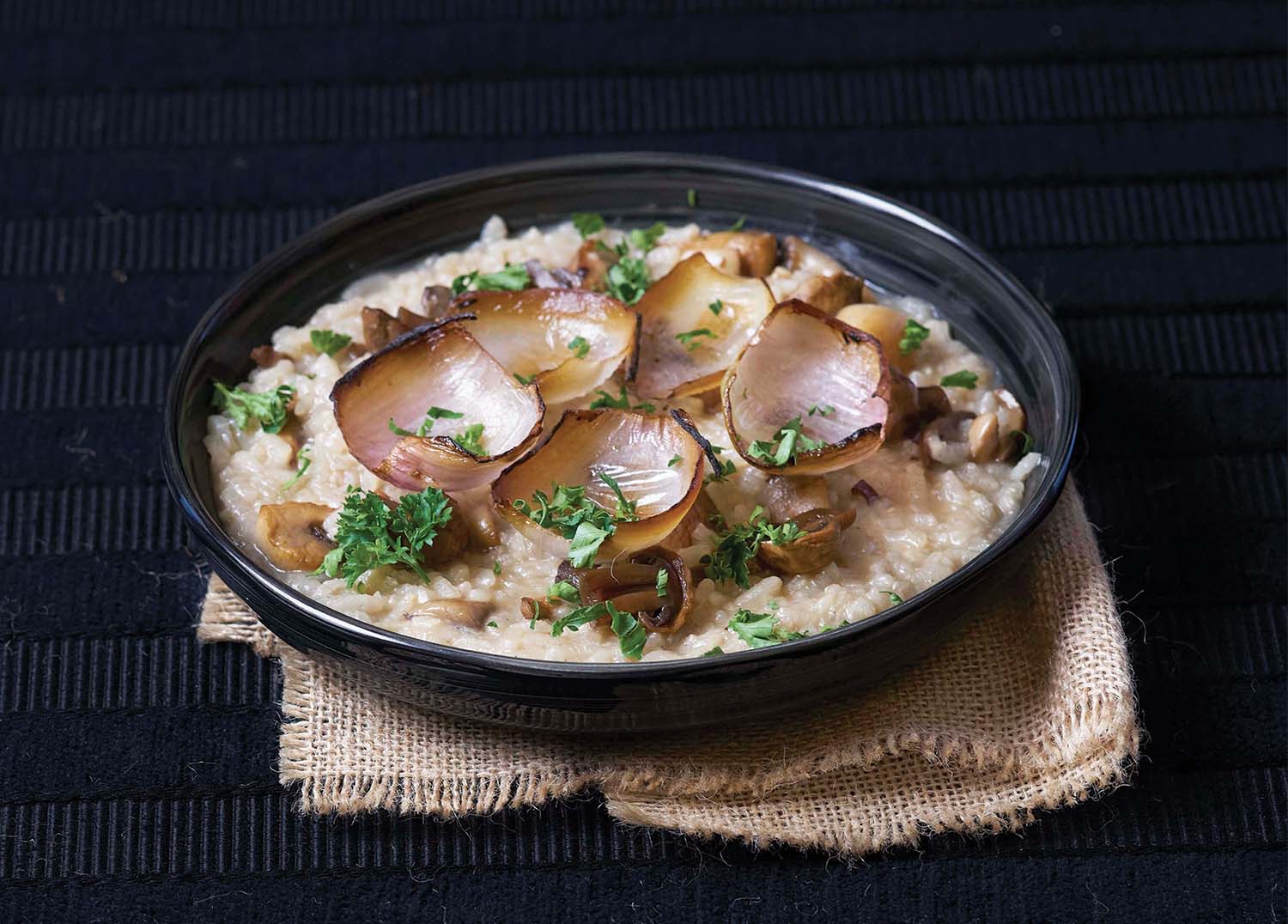 Mushroom Risotto
Courtesy of Chef Jon Burge – One Great City Brewing Company
INGREDIENTS
4 cups precooked risotto
2 cups cremini mushrooms, quartered
1 Tbsp minced garlic
2 cups vegetable stock
2 Tbsp butter
4 Tbsp parmesan cheese, grated
1/2 cup pickled mushrooms
4 Tbsp chopped parsley
1 large shallot, peeled and cut in half along the root
1 Tbsp and 1 tsp canola oil
salt and pepper
Pre cooked risotto
2 Tbsp canola oil
3 cups arborio rice
3/4 cup minced shallot
2 Tbsp minced garlic
3L vegetable stock
1/2 cup white wine
1 Tbsp salt
2 pinches ground black pepper
METHOD
Pre cooked risotto
1. Put vegetable stock in a pot and bring to a simmer.
2. In a separate large pot on medium high, heat your canola oil.
3. Sweat out the shallots until translucent and add minced garlic.
4. Cook until garlic is soft, add salt and pepper.
5. Add arborio rice and toast for 2 minutes, stirring often.
6. Deglaze with white wine and reduce by half.
7. Turn heat down to medium low and slowly start adding vegetable stock 2 ladles at a time. The rice should absorb the vegetable stock before adding more ladles.
8. Keep cooking until rice starts to soften but still has some crunch. It should be similar to undercooked pasta.
9. Then spread rice out on a metal sheet pan and allow to cool. Transfer into a container and place in fridge.
Assembly
1. Heat a large heavy bottom pot on medium high heat and add 1 Tbsp of oil.
2. Rub the shallots with 1 tsp of oil and season with salt and pepper.
3. Place shallots cut side down in pot and char on one side. The undersides should be completely black. Remove and set aside.
4. Add 1 Tbsp of butter and mushrooms to pot and season with salt and pepper. Once mushrooms are cooked add minced garlic and stir.
5. After 1 min add 1 cup of vegetable stock and the precooked risotto.
6. Keep adding more vegetable stock until rice is fully cooked. It should be very lightly al dente. If you run out of stock you can add water if needed.
7. Add parmesan cheese and remaining butter and mix with a spatula until incorporated.
8. Divide between 4 bowls.
9. Pull apart charred shallots so they are individual petals.
10. Garnish each bowl with 5 shallot petals, pickled mushrooms and chopped parsley.
Yield 4 servings