With culinary influences from his working holiday in England and Winnipeg roots, Chef Darryl Riddle hits a high note in his career at live music venue Le Garage Café
by Gillian Leschasin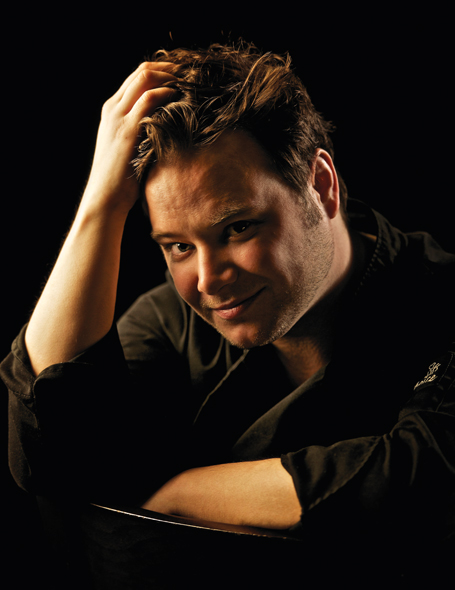 Every great song tells a compelling story. It's fitting that at live music and dining hot spot Le Garage Café, there's a personal story behind each dish on Chef Darryl Riddle's eclectic menu.
Like the broad range of local acts that play in this bustling, yet chilled out space, the food is inspired by myriad cultures. Tortière and decadent poutine reflect the 100-seat eatery's St. Boniface location and French Canadian population, while the aloo bronte curry featured on page 21 riffs off a dish the chef cooked at British gastropubs. A beautifully balanced spice blend and perfectly cooked vegetables make it one of the menu's greatest hits.
"I don't like to cook anything too weird. . . I just try to keep it simple," says Chef Darryl.
And that's what attracts diners to Le Garage for lunch, dinner and late night eats while local acts entertain in its art-filled, lofty room. The Jamie Oliver look-alike takes unfussy and familiar foods and composes them to new heights. You won't find frozen, deep-fried bar food here. Instead, fries are hand-cut into delicate shoestrings and the corned beef is house-cured and brined for two weeks before hitting any sandwich.
The cover-worthy goat cheese parcels and caramelized red onion compote are the chef's signature. This dish is emblematic of his culinary artistry. Complementary flavours of tangy goat cheese, sweet onion and balsamic vinegar; opposing textures of soft cheese and crispy phyllo, along with elegant presentation all come together like a well rehearsed song.
Along with his incredible dishes, what's special about Chef Darryl is the unusual road he, literally, travelled to success.
His first lessons in the kitchen started on an impressive note. At 15, Riddle was playing guitar with his band at Blue Note Cafe. The owner offered the young musician his first job as a dishwasher that same night. A diploma in business administration from Red River College and technical work in broadcasting followed.
But in 2002, Riddle wound up cutting his teeth as a cook in an inn in Northleach, Gloucestershire, England, 45 minutes from Oxford.
____________________________________

"I don't like to cook anything too weird. . .
I just try to keep it simple."
____________________________________

What started as a six-month working holiday, turned into a six year immersion in British cuisine. In the United Kingdom, his passion for food flourished and chef career blossomed without any formal training. He worked in gastropubs in Atterbury, London, Kings Sutton and Sheffield as a cook and eventually, head chef.
Chef Darryl's biggest influence comes from two years working under the head chef at The Wheat Sheaf in Northleach.
"I cook with a lot of butter and cream now," he says with a hearty laugh. "Maybe don't put that."
The wise-cracking chef embraced his mentor's philosophy of sticking to fresh ingredients with memorable hands-on experiences that furthered his love of food. They used to visit Billingsgate in East London, the UK's largest fish market to pick up fresh catches. Other times, they would head to a nearby trout pond in Bibury and catch their own fish.
It was also at The Wheat Sheaf where he had the opportunity to serve royalty when he took a reservation for Princess Anne.
"I wasn't nervous cooking for royalty. It was early in my career so I was watched over a lot," says Chef Darryl.
Back in Winnipeg today, Chef Darryl has his hands full serving packed crowds daily and catering large-scale events, like all the food served at Centre culturel franco-manitobain during Festival du Voyageur. No matter how busy his schedule, Chef Darryl loves to tinker with recipes.
Case in point: when he returned to Winnipeg and worked at Muddy Waters Smokehouse for three years, he developed a wings menu with an impressive 35 sauces and rubs, like pineapple curry and 7up.
That fanaticism to create and prepare new dressings and sauces in-house continued when he joined the kitchen team at Le Garage last July. The corned beef sandwich is accompanied by a sweet house-made St. James Pale Ale mustard Chef Darryl experimented with after a friend dropped off a case of 48 beers.
It comes as no surprise that Chef Darryl also turns to local ingredients like pickerel as part of his philosophy. The herb-crusted fish on page 22 will appear on Le Garage's special jazz menu as an official venue of the TD Winnipeg Jazz Festival June 16-25.
While the savoury dishes are key to Le Garage's success, the house-made desserts are another reason this eatery has loyal fans across the city. Pastry Chef Santy Siripanyo is the wizard behind the beautiful desserts featured in the display case, including the clever banana cake coated in creamy peanut butter icing and chocolate ganache on page 23.
His teamwork with Santy, the creative freedom in the kitchen, and the culturally rich, supportive neighbourhood are all big reasons why the ambitious chef had his eyes on Le Garage for three years before he started. And he doesn't plan on budging.
"I love the area so much. I don't want to be anywhere else," says Chef Darryl before returning to the comforting, steady rhythm in the kitchen.

Below are four recipes from Chef Darryl Riddle of Le Garage Café and can be found in the latest issue of Ciao! magazine.
Goat Cheese Parcels with Red Onion Compote


Each golden flake of these crispy parcels is complemented with creamy, tangy goat cheese and glass-like slices of caramelized red onion.

Aloo Bronte


Sneak in a healthy daily dose of greens with spinach in this perfectly spiced vegetarian curry.

Herb-crusted Pickerel with Lemon-Basil Sauce
A herbaceous crust coats tender pickerel fillets that flake with the light touch
of a fork. Drizzle a light lemon-basil sauce for perked up tang.
Peanut Butter Banana Cake


The classic peanut butter and banana sandwich combo is taken to grand heights in this monstrous cake. Each slab is rich with flavour and further complemented with heavenly chocolate ganache topping..