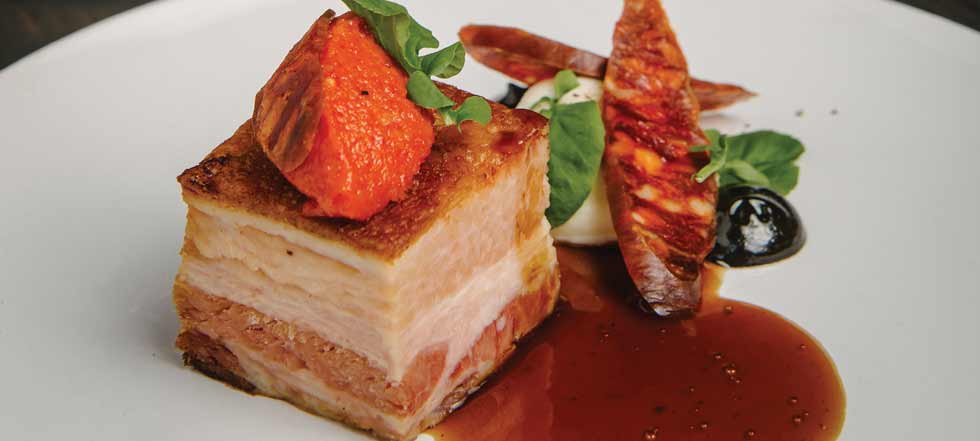 Nagano Pork Belly
Chef Scott Bagshaw
Enoteca

A bright, acidic romesco and fragrant Sherry sauce dress fatty pork belly. At Enoteca, the meat is brined for 24 hours, then braised. Squid ink makes an appearance on this plate, but has been eliminated for the home cook.

Ingredients
Romesco Sauce
1/2 onion, chopped
2 cloves garlic
1/4 cup sugar
1/2 cup Sherry vinegar
salt, to taste
pepper, to taste
1/2 Tbsp smoked paprika
1 cup almonds
1 cup piquillo peppers
Parsnip Purée
1 cup chopped parsnip
salt, to taste
liquid smoke, to taste
cream
Sherry Sauce
2 Tbsp sugar
1 cup Sherry fino
Pork Belly
4 oz braised Nagano pork belly
3 slices chorizo
cress, for garnish

Method
Romesco Sauce
1. Sauté onion and garlic until brown. Add sugar and caramelize.
2. Add vinegar, salt, pepper, smoked paprika, almonds, and peppers. Purée mixture in blender until smooth.
Parsnip Purée
1. Cook parsnip.
2. Put in a blender with salt and liquid smoke. Purée, adding cream until smooth.
Sherry Sauce
1. In a saucepan, caramelize sugar.
2. Add Sherry and cook until reduced by half.
Pork Belly
1. Heat cooked pork belly in oven at 400°F for 8 minutes.
2. Place a dollop of parsnip purée on a plate and arrange chorizo slices around it. Garnish with cress.
3. Place pork belly on the plate. Top with a quenelle of romesco. Garnish with cress. Finish with Sherry sauce.
Yield 1 servings