Amsterdam Tea Room – Chef Aron Epp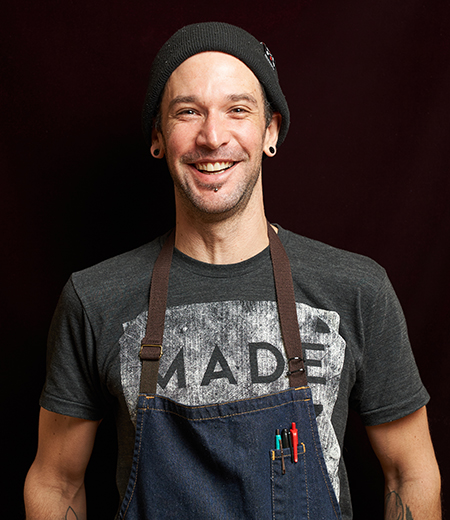 Pickled Tuna
Beautifully cured tuna contrasts sour with smoky salty chips and fresh herby condiments for a vibrant mix.
INGREDIENTS
Pickled Tuna
2 lbs fresh tuna
4-5 Tbsp kosher salt
4 cups white vinegar
1/4 cup brown sugar
1 tsp mustard seeds
1 tsp pepper corns
1 Tbsp juniper berries (crushed)
2 tsp royal pu-erh tea
6 bay leaves
1 medium onion thinly sliced
2 Tbsp minced garlic
3 sprigs fresh thyme
Chive Oil
1 bunch green onions
2 cups neutral oil (canola or grapeseed)
1 tsp salt
Chili Relish
10 fresh cayenne chilies minced
1/4 cup each red bell peppers, mushrooms, artichoke hearts (unmarinated and canned), garlic, onion, all minced
1/2 cup canola oil
salt to taste
Smoky Chips
russet potatoes thinly sliced (as much as you feel like frying)
1/4 cup activated charcoal
1 Tbsp each garlic powder, onion powder and smoked paprika
1/2 tsp cayenne
neutral oil for frying
Crispy onions
1 medium white onion
salt
approx. 1/2 cup flour
neutral oil for frying
METHOD
Pickled Tuna
1. Portion tuna to appropriate size and toss with salt. Refrigerate for two to three hours.
2. Combine vinegar and flavourings and bring to a simmer.
3. Remove from heat and allow to fully cool.
4. Layer fish with onion and seasonings from brine in airtight container. Cover with vinegar mixture.
5. Allow to pickle in the fridge 2 days to a week before using.
Chive Oil
1. Lightly blanch onions in boiling water and immediately chill in ice water.
2. Pat dry with paper towel to remove excess moisture.
3. Purée in a blender with oil and salt until completely smooth.
4. Strain through a fine mesh strainer (optional).
Chili Relish
1. Sautée all ingredients with 1-2 Tbsp oil to soften.
2. Add remaining oil and simmer gently 2-3 min.
3. Remove from heat and allow to cool before using.
Smoky Chips
1. Soak sliced potatoes in cold water and rinse multiple times to remove excess starch
2. While potatoes are soaking combine spices.
3. Drain potatoes and remove as much water as possible.
4. Fry in small batches until golden and crisp, tossing with seasoning (to taste) immediately and drain on paper towel to absorb excess oil. Can be stored for later use. 
Crispy onions
1. Slice onion into very thin 1/2 inch lengths and toss with a generous pinch of salt.
2. Allow the salted onions to rest minimum one hour, up to overnight.
3. Firmly squeeze as much moisture as possible from salted onions.
4. Dredge small batches of onions in flour, being sure to separate individual pieces to avoid clumps.
5. Fry in small batches fry at approx. 300°F until golden brown.
Yield 4 servings