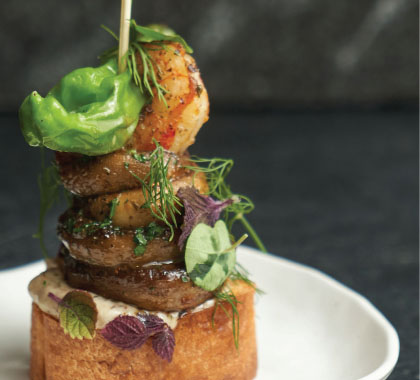 An ode to San Sebastian's pintxo bars, this bite-size snack exudes rich flavours of black truffle.
INGREDIENTS
Black Truffle Butter
1 cup unsalted butter
4 tsp black truffle paste/oil
4 Tbsp parsley, finely chopped
4 garlic cloves, finely chopped
1 tsp sea salt
1/2 tsp black pepper
Mushroom Aioli
4 Tbsp dried mushroom powder
2 garlic cloves, finely chopped
1/2 lemon, juice only
1 cup mayonnaise
Pintxo Deluxo
3 large button mushrooms, stems removed
2 Tbsp black truffle butter
thick slice of baguette
1 rose prawn, shell/tail
removed
1 shishito pepper
olive oil
pinch of sea salt
pinch of black pepper
1/2 Tbsp mushroom aioli
METHOD
Black Truffle Butter
1. In a mixing bowl, combine all ingredients, whipping until fluffy and evenly combined.
Mushroom Aioli
1. To make mushroom powder, pulverize dehydrated mushrooms.
2. Whisk all ingredients together until evenly combined.
Pintxo Deluxo
1. Preheat oven to 450°F.
2. Fill each mushroom with black truffle butter and place on roasting tray with prawn, shishito and baguette slice.
3. Drizzle with olive oil and season heavily with salt and pepper.
4. Roast until mushrooms have softened and prawn has cooked through. Remove from oven.
5. Spread mushroom aioli on toasted baguette.
6. Skewer shishito, prawn and mushrooms on top of baguette.
Yield 1 mushroom pintxo