Pizzeria Gusto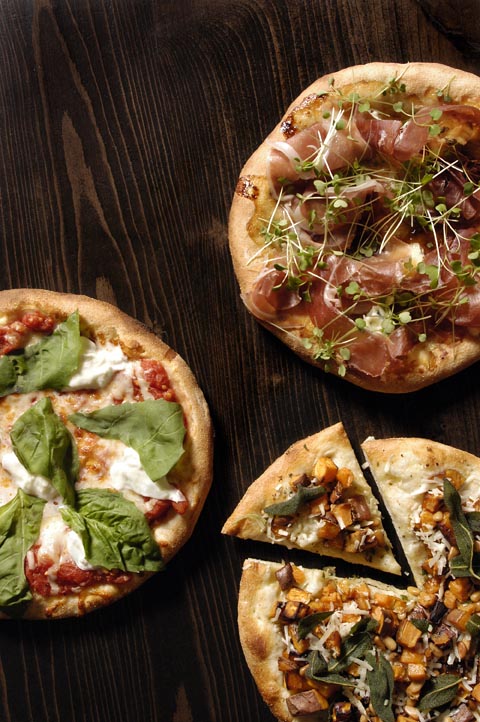 Neighbourhood: River Heights
Address: 404 Academy Rd
Phone: 204-944-8786‎‎
Entrees: $10-$20
In a city teeming with stellar pizza joints, Winnipeggers know their 'za. So when owner Bobby Mattola conceptualized Pizzeria Gusto, he had to offer something beyond the classic and gourmet varieties. Enter maverick chef Scott Bagshaw, formerly of swanky Sydney's, who glams up the pies with unconventional toppings and bold flavour combinations. This nouveau style of pizza has set the city abuzz, making Pizzeria Gusto our pick for best new restaurant of 2008.
There is a neighbourhood feel at this 60-seat eatery, yet it's able to draw crowds from across the city. Well-heeled urbanites are usually the first to line up before the eatery opens for dinner (reservations are not accepted.) Modern, minimal decor helps open up the small room. Along the back wall, Chef Scott works the deluxe wood-fired oven in an open kitchen, separated from the guests by a sleek granite counter. Handsome muted green and mustard tones, dark wood accents and leather chairs make the space warm and inviting, along with the staff who are attentive and passionate about the menu. Large backlit photographs of the owner's ancestors—tough-looking Italian men in pinstriped suits and fedoras—watch over diners, while The Godfather plays on a flat screen TV. The message: this place means serious business.
For starters, bruschetta is a must-try as there are three options: chef's daily special, classic tomato and basil, and mushroom. The latter is a pile of drunk porcini mushrooms (marinated in Italian wine & beer) on thin, spongy toasts. The alcohol adds little flavour, but rather makes the mushrooms extra tender and juicy. Subtle aromas of garlic and red wine vinegar add depth to the meaty topping. As a special one evening, flame-roasted scallops come decorated with tissue-thin proscuitto and golden yellow saffron reduction. The pillowy seafood soaks up the sweet nectar and dissolves against the cured meat.
A popular second course is the exquisitely designed grilled caeser salad. Presented on a platter, half a head of romaine is delicately charred. Smokiness permeates the greens so much that the first bite is reminiscent of biting into grilled meat. Pancetta chips offer a crisp, salty contrast, while parmesan shavings add creaminess to the light, tangy dressing.
Reading the list of avant garde pizzas may raise a few eyebrows out of curiosity (and, perhaps, skepticism from pizza purists), but Chef Scott delivers pies that are a perfect balance of edginess and elegance. The 10‑inch personal pies are served on thin, chewy crusts prepared by pastry chef Matt Withoos. The Commish cleverly bears little resemblance to a pizza, as it is served sans sauce and melted cheese. Brown butter soaks into the crust and acts as the base for the contrasting textures of soft sweet potatoes and toasted pine nuts. Peppery sage leaves and sharp pecorino cut the candy quality of the potato pellets. Miki attracts experimental types with a layer of fig jam topped with globes of gorgonzola, ribbons of proscuitto and a sprinkle of arugula. The bite of the blue cheese mingling with jam and lemon creates a sensational wave of flavour. Rough edges of proscuitto add texture to the creamy masses of cheese.
When Pizzeria Gusto first opened, pizza was the sole entrée. Now that the restaurant has found its rhythm, Chef Scott lets go of the pizza paddle to craft nightly pasta specials. One visit's ravioli is luscious with five large pockets stuffed with shredded veal cheeks. The garnet-hued chianti sauce is robust, emitting sharp grapey notes along with beefy undertones.
Precision continues through to the last course. Desserts are splendid, most notably the torte caprese, a flourless chocolate cake that uses ground almonds as a substitute. It has crusty outer edges and a fudge-like centre that's not too sweet. Duo panna cotta is perfect for sharing: one custard cup is sophisticated espresso, and the other topped with punchy apricot.
Pizzeria Gusto is open Mon‑Fri 11:30 am‑2 pm; Mon‑Sat 5:30 pm‑11 pm.