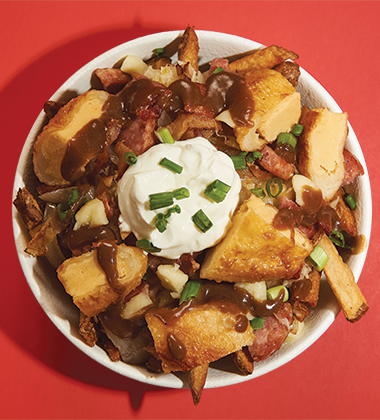 The Oakwood – Chefs John Lindenbach and Wendy May
Prince Vladimir Poutine
Sauerkraut and sour cream offset rich fried potatoes with tang.
INGREDIENTS
Beef Gravy
1/4 cup butter
1/3 cup all-purpose flour
1 1/4 cup beef stock
1/4 tsp salt
1/4 tsp black pepper
Assembly
2 cups French fries
2 perogies, quartered
3 slices kielbasa, cut into quarters
2 green onions, finely chopped
1/2 cup cheese curds
3/4 cup beef gravy
2 Tbsp sour cream
1/4 cup sautéed onions
2 slices bacon chopped
1/4 cup sauerkraut
METHOD
Beef Gravy
1. In a medium saucepan, melt butter over medium heat, then add flour and whisk until smooth.
2. Slowly whisk in the broth, salt, and pepper. Stir until mixture comes to a boil and thickens.
3. If too thick, add a bit more liquid (red wine or more stock).
Assembly
1. Boil, pan or deep fry perogies until cooked.
2. Gently fry kielbasa until slightly crisp on both sides, then drain on paper towel. Repeat for bacon.
3. Sauté onions and sauerkraut in small pan until hot through.
4. Place fries onto plate or large shallow bowl, then add cheese curds on top and pour over gravy.
5. Top with remaining ingredients.
Yield 1 bowl of poutine