Winnipeg is a multicultural paragon, and the city's ever-shifting demographics are indicated by a wealth of fantastic places to eat with cuisines that span the globe.
Ciao! reviews always aim to broaden our readers' repetoire of the city's good eats. This issue ventures past chef-driven hotspots to neighbourhoods and suburbs decidedly off the trendy path. In these no-fuss and no-frills environments, recipes that have migrated to Winnipeg with families merge tradition and new ingredients, once again revealing how thinking global and acting local enriches the culinary landscape.
Gohe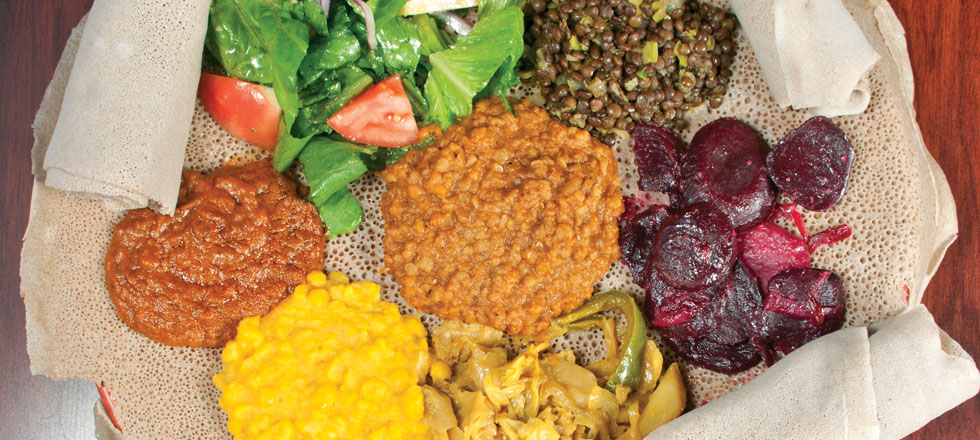 Neighbourhood: West End                                                                         Veggie combo
Address: 533 Sargent Ave
Phone: 204-414-1529
Entrees: $12-$15
The mural on the outside of Gohe restaurant – one of the West End's many al fresco artworks – declares Ethiopia the land of "13 months of sunshine". Inside, when served with a table-spanning platter of stews and curries, it is easy to agree. Vibrant, acidic, tangy, and hot, the Ethiopian specialties at Gohe provide surpassingly sunny flavour.
The sparse dining room gains the cozy vibe of a neighbourhood haunt in the evening, when the space fills with a diverse cross-section of diners gathering to chatter while scooping saucy entrées into torn-off shreds of injera. This spongy sourdough bread traditionally acts as both cutlery and plate, sopping up the main dishes' flavourful oils and juices.
Clarified, spice-infused butter and chile-laced berberé are the basis for stews like doro wat, a rich, long-simmered dish packed with morsels of tender chicken and topped with a hard boiled egg. Tibs, tender cubes of meat sautéed with vegetables, hot peppers, and spices are available with lamb, chicken, or beef. The fiery mix gets an acidic hit from bits of tomato peppered throughout, while a hint of rosemary lingers, adding an herbal, fragrant note. A crisp salad slick with vinaigrette arrives with the dish, a refreshing complement.
Vegetarians are spoiled for choice as well. Spice-laden shiro wat, made from ground chickpeas, and kik alicha, a vibrant yellow split pea stew, are filling and flavourful highlights.
Finish the meal with a diminuative but powerful cup of coffee. For those looking to put a little hair on their chest, the dark, rich brew is the perfect jolt to follow an African feast.
Gohe is open Tue-Sun 1 pm-9:30 pm, closed Monday.
© 2015 All rights reserved. Reproduction in whole or in part is strictly prohibited.
---
La Fiesta Cafecito

Neighbourhood: St. Vital
Address: 730 St Anne's Rd
Phone: 204-257-7108
Entrees: $15-$20
Like many hidden gems in this restaurant city, La Fiesta Cafecito conceals its charm behind a nondescript strip mall front. In reality only a short jaunt down St Anne's road is required to visit this outpost of El Salvador, but the warm-climate hospitality of this family-owned spot transports diners way south of the border.
Meals are comforting and filling, rich flavours balanced with flourishes of lemon, fresh corn, and sparing spiciness as bright as the yellow and green walls popping with vividly coloured artwork. Salvadoran signatures are impeccably executed, like papusas, pan fried until smoky and perfectly charred. Spicy jalapeño filling oozes gooey cheese. Flaky cassava (or yuca) is served fried or steamed under a pile of chicharrones – salty, crispy-fried shreds of pork – while tamales' dessert-like sweetness arrives twisted in a corn husk.
Mexican influence can be spied in cheesy quesadillas and the massive burrito poderoso (that's 'powerful burrito'), but enchiladas here are far from Tex-Mex. Fried masa-dough rounds topped with savoury black bean purée, tomato-sauced beef, guacamole, or coleslaw, and scattered with cheese, give addictive crunch.
Offerings of fresh juice and housemade soup change daily, though if the server says the words "chipotle chicken", don't hesitate – rich in the way only long-simmered broth can be, the slurp-able soup is laden with shreds of chicken, rice, and bright rounds of green onion. Any juice is a safe bet, though rice-based horchata is a top notch refresher, cool and creamy with a tinge of cinnamon.
The menu calls for diner interaction, offering individual and share-able combination plates that encourage taste-testing. It only seems right at a location that fits the very definition of 'family style'.
La Fiesta Cafecito is open Tue-Thu 4:30-9 pm, Fri-Sat 4:30-10 pm, closed Sun & Mon.
© 2015 All rights reserved. Reproduction in whole or in part is strictly prohibited.
---
FUSIAN EXPERIENCE
Neighbourhood: Academy Rd
Address: 612 Academy Rd
Phone: 204-691-9334
Entrees: $10-$40
Fusian Experience crushes the influx of sushi joints popping up in the city. Artful dishes are executed with quality and creativity by seasoned pros.
There's no flashy exterior, but the tiny restaurant on Academy Road is dressed in chic décor. An inventive selection of fanciful creations delivers seafood stunners and raw marvels.
An impressive tapas menu covers the spectrum of experimental flavours. Start with panko-crusted spicy tiger garlic shrimp, topped with slivers of green onion that cool each bite. Adventurous diners should opt for the torched whelks. Cucumber, onion and kicky cilantro play off of a luxurious sesame sauce that perfectly coats pea-sized pieces of whelk.
Knockout sushi sliders use Wagyu of the highest quality ranking (A5) and a marbling level of 9-10, resulting in buttery patties sandwiched between sushi rice, with avocado and tomkatsu aioli offering a bright bite. Miso glazed cod pasta epitomizes fusion with chunks of fish and spaghetti noodles laquered in miso sauce. New style sashimi is a must-try; tender salmon floating in warm yuzu olive oil exemplifies this spot's consistent quality and immaculate style.
Fusian Experience is open for lunch Tue – Sat 11:30 am – 2:30 pm, dinner Tue- Thu 5:30 pm – 9 pm, Fri & Sat 5:30 pm – 9:30 pm. Closed Sun & Mon.
© 2015 All rights reserved. Reproduction in whole or in part is strictly prohibited.
---
Niko's

Neighbourhood: Corydon
Address: 740 Corydon Ave
Phone: 204-478-1144
Entrees: $10-$21
Though a wave of fast casual eateries with global flavours have given Little Italy a multi-culti edge, Niko's has been holding its own for 23 years as an ambassador from the other side of the Mediterranean.
A calm and modern room awash in soothing music sports portraits of the beckoning ocean-blue and whitewashed world of Greece. Meanwhile, orders fly up to the ledge behind the serving station, coffee pots sizzle on the warmer, and food is delivered on the nostalgia-inducing oval rimmed plates somehow present at every diner.
After all, there's nothing wrong with a little comfort. If there was, we wouldn't be digging our forks into thick wedges of moussaka, topped off with nutmeg-laced béchamel so airy it could be mistaken for meringue. Similarly soul satisfying is the avgolemono soup, thick and brightly zinging of lemon.
This lemon affection extends across the menu, to tart roasted potatoes, flecked with oregano, and roasted chicken, which tempers sweet citrus notes with a blackened exterior.
Mains' hearty portions are made even more generous by a selection of sides. Feta-happy salad mixes wide wedges of juicy tomato, full, large olives, and a housemade oregano-heavy vinaigrette. Even starters give appetites a run for their money, like the hefty slab of spanikopita.
Gyros stuffed with all the usual suspects – beef, lamb, tomatoes, and cool tzatzki – and wrapped in blanket-soft pita bread stand out for superb execution, showing the value of classics done right.
Niko's is open Mon-Wed 11 am-8 pm, Thu-Sun 11 am-10 pm.
© 2015 All rights reserved. Reproduction in whole or in part is strictly prohibited.
---
Pho No. 1

Neighbourhood: West End
Address: 81 Isabel Street
Phone: 204-943-7449
Entrees: $6-$9.50
The gospel of comfort food is being preached throughout the city, and steaming bowls of soup make Pho No. 1 a restaurant to be praised. The young, families and suits from downtown frequent this busy corner spot, which draws patrons with wallet-friendly prices. During peak hours (noon and around 6 pm) a seat can be hard to find, as eager patrons await fragrant bowls of broth. A revolving door of mid-afternoon and evening noshers  keeps cooks busy and seats filled.Between slurps, the happy buzz of chatter creates an ideal atmosphere for winding down after a long day. Service is efficient and food arrives lightning fast, with minimal talk and interaction with staff.
The menu, an overwhelming variety of soups, seafood and sizzling dishes, keeps diners undecidedly flipping pages. Rice vermicelli, congee and vegetarian items make up four-dozen choices.
A classic mirepoix of celery, carrots and onions is the basis for many dishes – accented with other vegetables and meats to birth more than 200 results.
Of this massive array of options, tom yum is dependably divine. Originating in Thailand and Laos, the soup's flavour stems from a mix of lemongrass, kaffir lime, lemon juice, chilli-pepper sauce and fish sauce. Chicken and fish are common components of this hot and sour dish. The bright orange broth of Pho No. 1's coconut version may seem threatening, but a sip of the creamy soup reveals it to be delicately sweet and salty, coconut milk neutralizing burn.
With reliable quality and disarming simplicity, a long-standing reputation for fresh food made fast is the secret to this mainstay's longevity.
Pho No. 1 is open Mon, Wed-Fri 11 am- 9 pm, Sat & Sun 12 pm- 9 pm, closed Tue.
© 2015 All rights reserved. Reproduction in whole or in part is strictly prohibited.
---
SHAWARMA KHAN
Neighbourhood: Exchange District
Address: 225 McDermot Ave
Phone: 204-504-0453
Entrees: $11-$15
Former Blue Bomber Obby Khan opened Shawarma Khan in 2013 to express his passion for scratch-made healthy fare. Overstuffed wraps and a casual atmosphere keep this sunlit room, accented with blue and orange wall decor, a standout amongst most falafel spots. You might call this Middle Eastern soul food; playing on the region's European, Asian and African influences, piquant tastes create lively and flavourful combinations.
This corner hub in the heart of the Exchange sets the scene with pulse-quickening music and an inviting atmosphere. The simple carryout spot has a handful of tables and bar-style window seats perfect for chowing down and people watching.
Digital menu boards list a selection of meat and falafel wraps, including signature 'wrath of Khan,' amongst vegetarian and gluten-free options. Side salads come with each shawarma plate, like the Stegall salad. Named after ex Winnipeg Blue Bomber Milt, it is an herby mix of beets, crisp apple and shaved chicken straight off the spit, aromatic of lemon. Tabbouleh, a Middle Eastern classic and vegetarian dish is the perfect accompaniment to shawarma, a dominant kick of parsley leading the way for nutty bulgur wheat.
Crisp garlic pita chips beg to be slathered in exceptionally creamy hummus. Made in house, even this simple snack scores a touchdown.
Shawarma Khan is open Mon-Thu 10 am – 8 pm, Fri & Sat 11 am – 9 pm, closed Sun & Mon.
© 2015 All rights reserved. Reproduction in whole or in part is strictly prohibited.
---
WAKOYA
Neighbourhood: Osborne Village
Address: 1-167 Osborne Street
Phone: 204-783-7777
Entrees: $7-$15
Wakoya is not short on restaurant competition in Osborne Village, but it holds its own. A prime location and vast menu make this a top pick for Japanese cuisine, along with a number of Seoul-food options thrown in by the Korean born chef.
The menu is simple, but the combinations of flavours are anything but. A single page of Korean fare features classics like bulgogi, ('fire meat', referring to the open flame cooking method by which it's prepared) a tender beef and vegetable medley served with rice. In a cuisine where gochujang is as common as salt and pepper, stomach-scalding eats are the norm.
Heartwarming sundubu jjigae combines custardy tofu with pork, egg and vegetables. The comforting stew feels like a hug, with enough peppery kick to keep you from melting away. Amp up the burn with buldak, pan-fried chicken smothered in a chilli-loaded sauce. Soft rice cakes, commonly sold from Korean food stands on street corners, cool the collar with unadorned flavour.
There is no shortage of options, especially for sushi lovers. The Mark's roll – tempura yam, smoked salmon and cucumber dotted with a mesquite house sauce – reenergizes familiar tastes with pristine presentation.
Though new to the neighbourhood, the year-old Wakoya proves a minimalist conceit: that out of simplicity can come a delicious, memorable meal.
Wakoya is open Mon- Thu 11:30 am – 10 pm, Fri-Sat 11:30 am – 11 pm.
© 2015 All rights reserved. Reproduction in whole or in part is strictly prohibited.
---