RESTÖ at THERMËA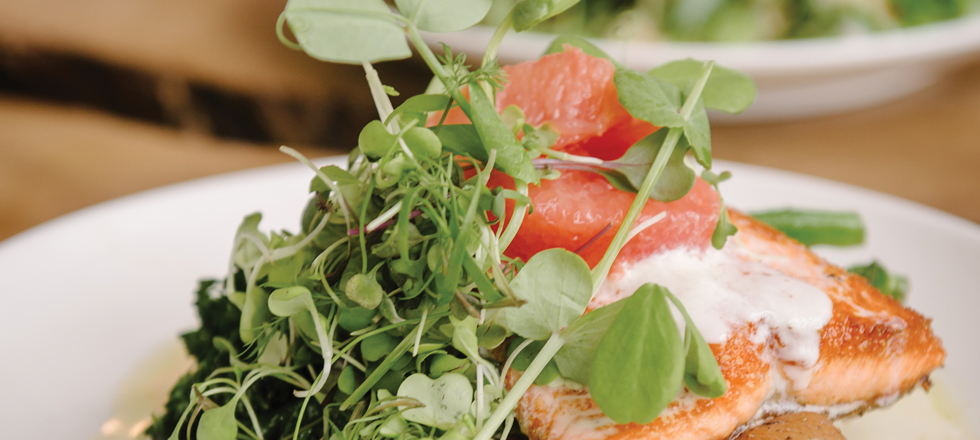 Nestled beside Crescent Drive golf course amongst mature, towering trees, urban getaway Thermëa is a haven for rejuvenation. Past saunas and steamy soaking tubs, an elegant and healthful bistro provides some gastronomic therapy.
The intimate 50-seat space extends to a second floor loft to accommodate the weekend rush of hungry spa-goers, with floor to ceiling windows giving both levels of diners a view of the picturesque setting.
Nature and nurture are evident on the menu. Executive chef Thomas Stuart sources nutrient-rich vegetables, meat and fish from local producers. A selection of simple and clean recipes reveals his restorative philosophy.
Shaved beet and kale salad, dressed in balsamic vinaigrette, is an invigorating mix, with pops of crimson and a liberal sprinkling of feta cheese.
Meals begin with plates to share. Spiced pork brochettes receive a refreshing and tangy counterpoint from peach, rhubarb and cherry preserves.
Mains are hearty yet light. Arctic Char, on a bed of roasted baby potatoes, is brightened with acidic grapefruit crème. Tender braised lamb shank falls off the bone onto herby orzo. The farmer's feast piles a mountain of arugula, sautéed carrots, confit mushrooms and cool dill pea salad on airy quinoa.
Scandi influence shows up on the menu in the form of Danish open-faced sandwiches (smørrebrød). Global and regional flavours blend, with flaky pickerel smothered in basil crème. Crisp house bacon in a grilled provolone sandwich feels guiltless when paired with a smoky garlic aioli on gluten-free bread.
While in a state of dreamy relaxation, desserts seduce. Velvety dark chocolate fondue is pure bliss, arriving on a board laden with fresh fruit and buttery toasted brioche.
Rhubarb trifle is another swoon-worthy favourite. A whisper of lavender infused into whipped cream gives piquant rhubarb compote ethereal edge.
Restö at Thermëa is open Mon-Sun 11 am-10 pm.