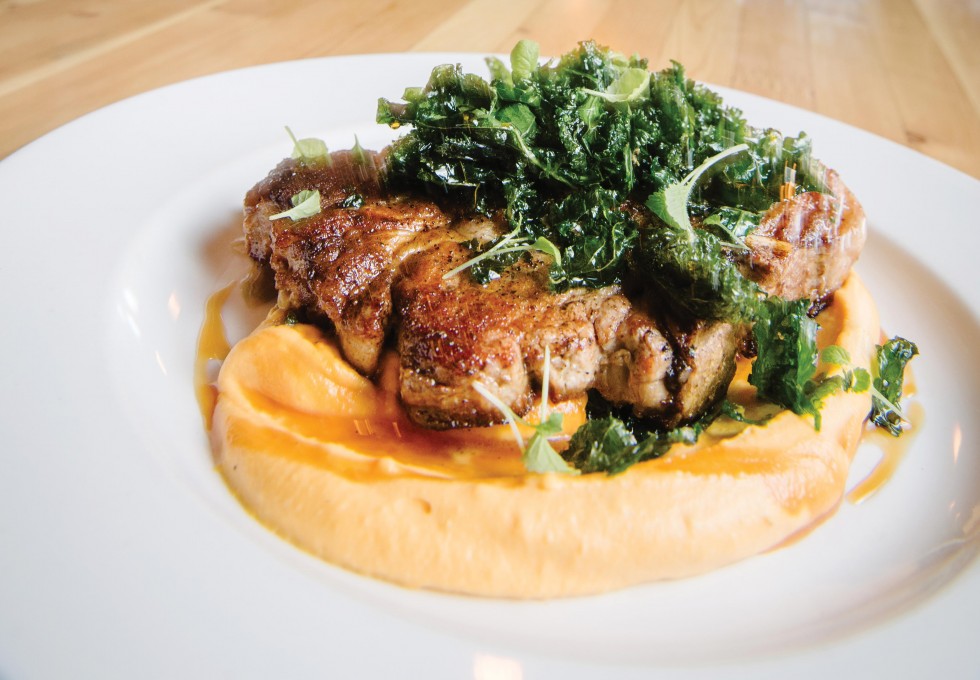 Black Rabbit Bistro
Neighbourhood: Osborne Village
Address: 135 Osborne St.
Phone:  204-615-1130
Entrées: $13-$28
Some of the city's best restaurants satisfy on a basic level, with creativity, consistency and accessibility. Places where inventive cocktails, a hip crowd, and live music explain, just as much as the menu, why it's packed every night. One such spot is Black Rabbit Bistro, a new addition to the Village's foodscape, which has found instant success in its long vacant space. The restaurant upgrades well-loved dishes with sophisticated flavours pulled from cuisines around the world.
Offering a menu for traditionalists and adventure seekers alike, chef Michael Day shines with killer creativity and presentation. Expect to see trending ingredients like wasabi aioli and sweet potato purée amping up comfort classics.
The sprawling space has minimal decor, with an inviting and buzzy atmosphere. In the lounge, bartenders sling inventive concoctions behind a curved bar, while a hip crowd mingles over boozy tinkerings and small plates. Drinks like the subtly sweet barrister, made with lemon juice and ginger beer, show creativity.  Staff is friendly and knowledgeable, with servers raving about the night's features.
Flavour mash-ups frequent the menu, such as bacon lardon mac and cheese, or pork belly with apple gastrique. Microgreens, grown by Osborne Farmers Market just a few blocks away, decorate dishes with peppery perk. Showstoppers include succulent French-style mussels swimming in a pool of white wine and brown butter, accompanied by a crisp baguette. The menu changes each season, keeping the spread fresh and exciting, but favourites like the Black Rabbit classic sandwich are a must-have. Crispy fries share the plate with toasted bread, holding crispy bacon that falls out with every bite.
Mains are hearty and gutsy, presenting traditional staples with unexpected twists. Chef Day's pork chop is pan-fried to perfection, each bite bursting with savoury juices that melt into smooth sweet potato mash. Crispy kale tops the dish, a light and addictive rendition of the trending veg.
The high-energy crowd makes this watering hole great for catching live music, chatting or cheering on a game, but the continuous traffic of plates makes it clear: visitors to this grub hub come for the food.
Black Rabbit is open Tues & Wed 4 pm-12 am, Thurs 4 pm-2 am,  Fri & Sat 11 am- 2 am, Sun 11 am – 12 am, closed Mon.
---
Blaze Bistro & Lounge
Neighbourhood: Downtown
Address:  350 St Mary Ave
Phone:  204-944-7259
Entrées:  $15-$18
More than a decade ago, Blaze Bistro opened its doors on the forefront of Winnipeg's push for regional cuisine. With a recent facelift and some menu tweaks, this chic restaurant is still roaring strong, with contemporary applications of local product.
Housed in the downtown Delta Hotel, Blaze balances the cater-to-everyone spirit of hotel dining with a love for local flavour. Beets, wild rice, pickerel, elk and bison can all be spied on a menu of fun and filling classics.
The space is as comforting as the food. A brief closure to refresh the decor has yielded an open restaurant and lounge replete with invitingly cushy seats and warm autumnal colours. Oil paintings of prairie sunsets on the walls and a Tyndall-stone fireplace remain from the restaurant's previous iteration, a nod to the space's local leanings. The cozy room lulls visitors into the feeling of dining in a living room – albeit a living room with excellent table service. Shareable apps along with meat and cheese boards (like a classy take on the typical social spread) are perfect for nibbling in the lounge.
Entrées meld fine dining finesse with home-cooking comfort, like traditional but impeccable beef bourguignon, rich with red wine. Local brew Fort Garry Dark Ale adds a malty, deep note to chicken, cooked until fragrant and served with a piped rosette of smooth, garlicky mashed potatoes. Perky Saskatoon berries step outside the pie crust, instead topping a flaky pink cut of Arctic Char to bring out the fish's natural sweetness. A swirl of sautéed peppers and a mound of buttery pearl barley accompany the dish.
Midday visits are rewarded as well, with a menu of filling and flavourful sandwiches. The double decker Voyageur club enlivens chicken and thick back bacon with zing from horseradish mayo and a sweet smear of tomato jam. Exceptional burgers are an antidote to fast food cravings. Thick, charred patties of ground chuck would be excellent unadorned, but are even better atop a sweet, slow burning jalapeño relish. A crisp edged potato bun flecked with scallion completes this crowd pleaser.
Long, loungy meals beg an excuse to stave off leaving. Individually sized apple pie fills this need nicely, tart apples liberally accented with cinnamon and topped with a plate-dwarfing scoop of ice cream to end the meal the way it began: with indulgence in simple, unfussy pleasure.
Blaze Bistro is open Mon-Fri 6:30 am-9 pm, Sat 7 am-12 pm, 4:30 pm-9 pm, Sun 7 am-12 pm. Lounge is open Mon-Sat 11 am-12 am.
---
Cafe Ce Soir
Neighbourhood:  Downtown
Address:  937 Portage Ave
Phone:  204-414-7647
Entrées:  $14-$33
Those who think that a tiny room on Portage Avenue could have nothing in common with the south of France are in dire need of a trip to Café Ce Soir.
From the moment diners stomp the snow off their boots and pass the threshold, the warmly-lit, red-walled room has a transportive effect. It could be the bistro blackboards, the welcomingly large wine glasses, the photos and postcards of Normandy under glass at each table, or a combination of all three. Regardless, this is the cheapest ticket to France you'll find.
The size makes an open kitchen more necessity than statement, a stroke of luck for diners who get to watch chef Cam Tran work his magic. Wafts of garlic butter sauce take over the room as the chef pumps out plates with assistance from a small staff.
Tran's French training results in sky high standards for cuisine. This is the place for classics, like comforting coq au vin bathed in wine sauce. Haute cuisine prowess with meat is showcased in preparations like beef tenderloin, wrapped in bacon and perfectly paired with a dusky coin of pâté and a sweet tart demi glace.
Bistro favourites are ideal for long lunches or weeknight dinners, like the croque monsieur, which oozes cheese and creamy beschamel. Crispy, pencil thin frîtes are standout as well, great for dipping in housemade aïoli. A take on goat cheese salad incorporates whole toasty hazelnuts and a richness-cutting vinaigrette zinging with blood orange and chive.
Amid the French fare, the restaurant keeps a sense of place. Chef Tran is a pioneer of the Slow Food movement in Winnipeg, which stresses the importance of regional cuisine and preservation of indigenous plants and wildlife. Many local ingredients fill the kitchen – in warmer months, visitors may find Café Ce Soir closed so that its chef can take to the woods to forage mushrooms. Fresh baguettes from local L'epi de Ble bakery or a decadent tartiflette, swimming in cream and topped with funky Trappist cheese, show where the ideology hits the plate. Other menu items, like bison spring rolls or a salad dressed with hoisin peanut butter sauce nod to Tran's Vietnamese heritage.
The space has the air of one man's passion for cuisine, with the pastry case as playground. Delicate tarts, pies mounded with meringue, crème brûlée in a daily-changing flavour, and signature Death By Chocolate – glistening with glass-smooth ganache – are excellent excuses to linger.
Café Ce Soir is open Tue & Wed 11 am-2 pm, 5 pm-11 pm, Thu & Fri 11 am-11 pm, Sat 10 am-2 pm, 5 pm-11 pm, Sun 10 am-2 pm.
---
Red Top Diner
Neighbourhood:  St. Boniface
Address:  219 St. Mary's Rd
Phone:  204-233-7943
Entrées:  $10-$17
Not many restaurants hold the magic of a time machine, but one step inside this St. Boniface gem and the spell is cast. Red Top Diner has been serving scratch-made diner classics to Winnipeggers since the 1960s. One can't help but feel a sense of nostalgia when eating at this neighbourhood nook, which harkens back to an era when red pleather seats and home style cooking reigned.
This cheery laid-back diner favours simplicity over trends, and tradition over fashion. A purveyor of enormous portions, the menu is heavy on old favourites like breakfasts, burgers and crispy hand cut fries. It's hard to make a mistake with can't miss favourites like the cheezburger, smothered in famous chili sauce. Dining here isn't complete without an order of Red Top's famous chicken. Pressure frying seals in the meats juices, yielding extremely tender results. There's no aggressive seasoning, just perfectly fried-to-order fowl, so good, no wonder it's the city's best.
The burger offerings are robust and start a mere $5. The Greek burger is mandatory. This hearty jaw-stretcher has crumbled feta and tzatziki, offering a cool and creamy bite. For big eaters, the monster burger is a must. A  side of scratch made creamy coleslaw  complements this caloric overload, six patties high.
Meals can only be described as mighty, with menu items like veg and roast beef filled sandwiches, piled high with ruffled lettuce. The triple-decker is a leaning tower of ham, crispy bacon and three slices of soft rye that requires two hands and a big appetite.
Luxuriously thick, Red Top's much buzzed-about milkshakes are a throwback to old-fashioned ice cream parlours. For more of the sweet stuff, honey-soaked and nutty baklava is another standout. The serving is hefty but light, even after a hearty meal.
Red Top Restaurant is open Mon-Wed & Sat 8 am-8 pm, Thurs-Fri 8 am-9 pm, Sun 9 am-2 pm.
---
Sana Souphouse
Neighbourhood:  Downtown
Address:  387 Graham Ave.
Phone:  204-942-2854
Entrées:  $5.50-$13.50
Between the warmth of the room and the compelling simplicity of the menu, there is something especially comforting about Sana Souphouse. A peaceful respite from the downtown hustle, this Graham Ave spot welcomes with luscious soups simmering behind a shiny red counter.
Inside, community spirit comes to life with a colourful mural of Esplanade Riel. But the connection to the community doesn't stop at the décor. Thin slices of meat, sourced from local Karpaty Meats & Deli, fill toasty sandwiches like the grilled ham and pineapple. This combination mixes fresh grilled pineapple with house made red chile pepper sauce, creating a sweet and fiery bite. Settle in with the comfort of chicken noodle soup, served over angel hair egg noodles. Flecked with dill, chunks of chicken in golden broth make this belly-filling bowl the best cure for any cold.
Indulgences include sumptuous lobster bisque and signature lasagna soup, with a heaping garnish of ricotta, parm and cheddar melting into the dish. The line-up of borscht, hearty wild mushroom and zuppa Toscana may have one opting for the flight of soup, three smaller portioned bowls ideal for indecisive diners.
Light but filling options include spinach and strawberry salad. A sprinkle of slivered almonds adds crunch, and a drizzle of tangy lemon vinaigrette brings out sweet flavour with acidic pop.
Sana Souphouse Bistro is open Mon-Thu 7 am-6 pm, Fri 7 am-3 pm, Sat 8 am-3 pm, closed Sun.
---