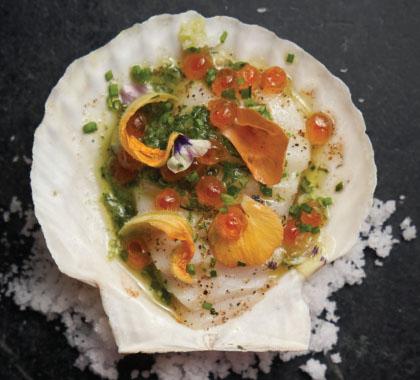 Salmon roe adds a briny pop, emphasizing oceanic flavours.
INGREDIENTS
Chive Butter
1 cup unsalted butter
4 Tbsp sliced chives
4 Tbsp finely chopped parsley
4 garlic cloves, finely chopped
1 tsp sea salt
1/2 tsp black peppersp black pepper
Scallop in Shell
1 small sea scallop in shell
pinch of sea salt
pinch of black pepper
1 Tbsp chive butter
1 Tbsp salmon caviar
1 tsp sliced chives
METHOD
Chive Butter
1. In a bowl, mix all ingredients until fluffy.
Scallop in Shell
1. Preheat oven to high heat broil setting.
2. Thinly slice scallop and layer into an empty scallop shell.
3. Season heavily with salt and black pepper and place chive butter on top of sliced scallop.
4. Broil dressed scallop for 1-2 minutes until scallop is barely warmed through and butter is bubbling.
5. Remove scallop from the oven and top with salmon caviar and chives.
Yield 1 scallop