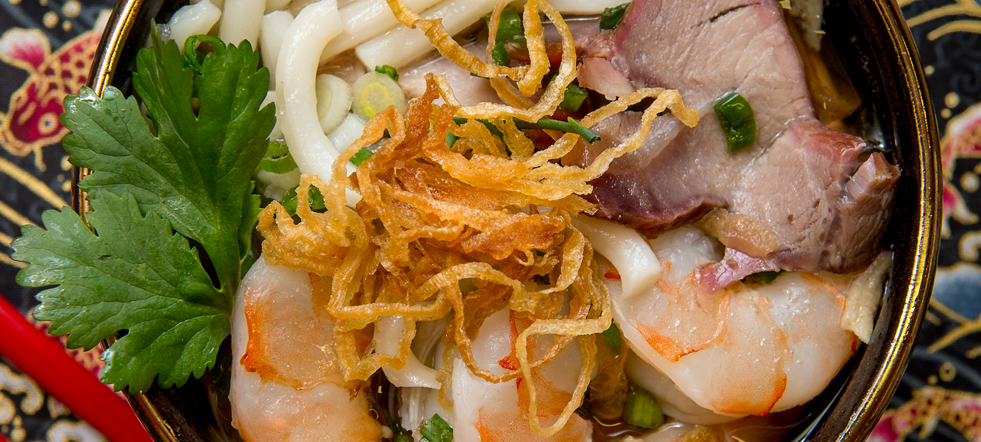 Chef Diana Leung
Mama's Noodle House

Plump shrimp is succulent and juicy.
Seafood Udon Rice Noodle Soup
Mama's Noodle House Chicken Broth
INGREDIENTS
1 whole chicken or 4 lbs. chicken bones
5 litres water
5 slices ginger (approx. 7 cm long)
2 whole yellow onions
4 Tbsp salt
4 Tbsp rock sugar
METHOD
1. Bring chicken, ginger, onions to a boil over high heat. Add salt and rock sugar.
2. Lower the heat to a gentle simmer, routinely skimming the foam and far of the top.
3. Simmer for 4-6 hours.
INGREDIENTS
Barbeque Pork
1 lb pork shoulder or neck
2 Tbsp oyster sauce
2 Tbsp soy sauce
2 tsp red food colouring
dash of salt
Soup
2 cups chicken broth
2 cups udon noodles
5-6 shrimp
5-6 slices barbecue pork
green onions, chopped
fried onions
cilantro
METHOD
Barbeque Pork
1. Slice pork into 1″ pieces. Combine remaining ingredients and toss pork in marinade. Refrigerate for 30 min.
2. Barbeque pork on medium heat until cooked.
Soup
1. Add noodles to a pot of boiling water and cook until tender.
2. In a separate bowl on medium heat, bring broth to simmer.
3. Cook shrimp in boiling water for 1-3 min. until pink.
4. In a bowl, add noodles and top with hot broth and add onions, cilantro, barbecue pork and shrimp.
Yield 4-6 servings