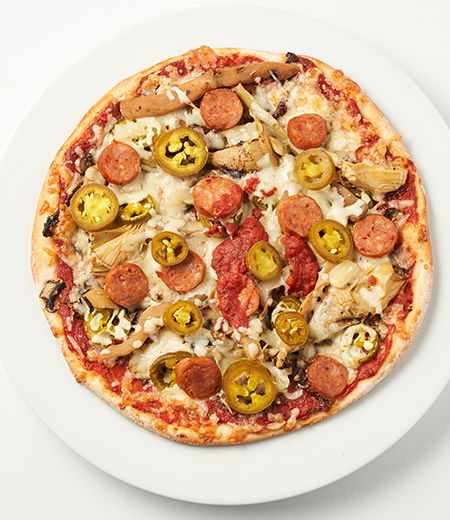 Nicolino's – Nick Zifarelli
Beloved tastes are brought into the 21st century with culinary creativity at Nicolino's. On this contemporary-meets-classic pie, a bundle of briny ingredients—pickled eggplant, jalapeños, artichoke hearts and sun-dried tomatoes—combine elements of sour, sweet and salt, while Italian sausage brings a little heat.
Slavo Nova
INGREDIENTS
Dough
2 Tbsp salt
2 Tbsp sugar
1/4 cup canola oil
1/3 cup milk
3 tsp yeast
5 cups all purpose flour
Toppings
3 Tbsp homemade pizza sauce
1/8 cup sundried tomatoes
1/8 cup mushrooms
1/8 cup artichoke hearts
1/8 cup spicy pickled eggplant
1/8 cup pickled jalapeños
1/8 cup pineapple
1/8 cup Italian sausage
1 cup premium pizza mozzarella
METHOD
Dough
1. Using a stand mixer with dough hook attachment, combine all ingredients except flour. Mix for five minutes. Add water if dry.
2. Add flour and mix for 30 minutes.
Pizza
1. Preheat oven to 550°F.
2. Roll dough into 10" round and place on pizza screen.
3. Spread pizza sauce evenly over crust.
4. Evenly distribute all toppings, ending with mozzarella.
5. Bake for 10–12 mins, until the crust is golden brown on edges and cheese is melted and bubbling.
6. Remove pizza, cut into 6 slices and finish with a dollop of sauce.
Yield 1 pizza