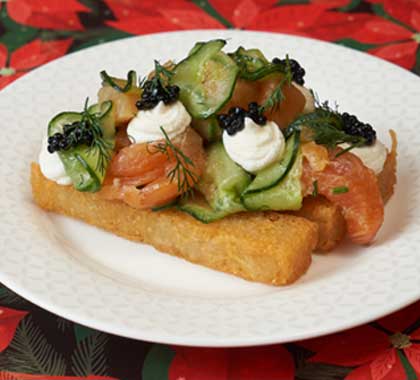 Smoked Arctic Char and Pommes Paillasson
Chef Gama recommends subbing in local goldeye if arctic char isn't readily available.
INGREDIENTS
smoked arctic char,
cut into small slices
1 small cucumber, thinly slice
1 lemon
olive oil to taste
crème fraîche
dill fronds to taste
fish roe to taste
fresh horseradish
fried pommes paillasson
Smoked Arctic Char
2 large sides of arctic char
1/4 cup sugar
1/4 cup salt
cherry wood chips for smoking, soaked
Pommes Paillasson
4 large russet potatoes
8 1/2 cups duck fat
salt
sunflower oil for frying
METHOD
Smoked Arctic Char
1. Mix sugar and salt. Spread a thin layer of the mix over the bottom of a parchment lined sheet pan. Place char on the salted sheet pan skin side down. Sprinkle the rest of the sugar and salt over the fish. Place in the refrigerator, uncovered, for 48 hours.
2. Use cherry wood chips in a smoker to smoke char for 4 hours. Cool in the fridge.
Pommes Paillasson
1. Peel and grate potatoes. Rinse in cold water to remove starch.
2. Heat the duck fat in a large, deep pot over medium/high heat until the temperature reaches 250°F.
3. Carefully and slowly add potatoes-if added all at once, fat could boil over. Once all potatoes are added, stir constantly and cook for about 6-8 minutes. Potatoes are cooked once strands lose their starchy flavour but remain intact. 4. Drain potatoes well and season to taste with salt.
5. Spread potatoes evenly over a plastic wrap lined 1/4 sheet pan and press down firmly. Refrigerate overnight.
6. Heat sunflower oil in a deep fryer or a large deep pot to 365°F. Remove potato tray from the fridge an cut into 4" by 1.5" rectangles.
7. Fry a few of the potato pieces at a time being careful not to crowd the oil too much. Fry for about 4 minutes until the potatoes are golden brown. Continue until all of the potatoes are fried. Serve warm.
Assembly
1. Place char and cucumber slices into a mixing bowl, season to taste with a bit of salt, fresh squeezed lemon, and olive oil.
2. Place 3 pieces of pommes paillasson on each plate, top with char and cucumbers, 5 dollops of creme fraiche, fish roe, dill fronds, and fresh grated horseradish.
Yield 6 servings