Good Food For All –
West Broadway's Good Food Club nourishes community
By Erin Bend
We regularly report on food as entertainment and a fulfilling way to engage with culture. Waxing poetic on textural nuances of foie gras terrine implies a readership with fulfilled  physiological needs. Food, as a life force, however, has power to unite or divide society.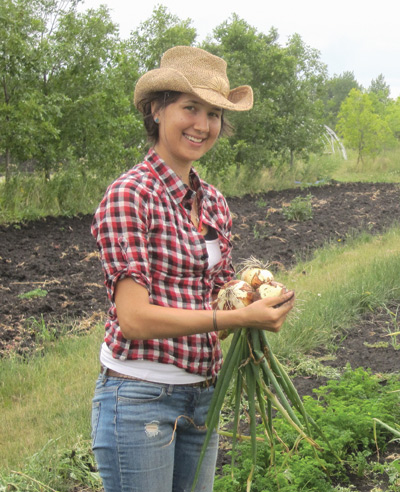 Just ask Rachelle Premack. The 21-year-old dead ringer for actress Jennifer Lawrence grew up relying on school breakfast programs and soup kitchens. Premack moved from Brandon to Winnipeg in August 2012 without employment or connections and just one month's rent. She finds it ironic when others point out her resemblance to character Katniss. "Life is a big hunger game for me."
In 1996 The World Food Summit defined food security as existing "when all people at all times have access to sufficient, safe, nutritious food to maintain a healthy and active life."
Last December, in a report on his mission to Canada, the United Nations Special Rapporteur on the right to food Olivier De Schutter, painted a troubling picture of a growing number of Canadians unable to met their basic food needs.  De Schutter reports 8.2 per cent of Canadian households are food insecure.
Few have been immune to this past decade's financial squeeze. For those subsisting on static social assistance rising cost of living can be insurmountable.
West Broadway's Good Food Club is one organization picking up the slack. In 2002 West Broadway Community Organization (formerly West Broadway Development Corporation) formed Good Food Club in response to calls for a community kitchen, cooking lessons and fresh food available at a low cost (not handouts).
GFC receives funding from Neighbourhoods Alive!, federal and private grants and membership dues. It's also a registered charity, but thus far has received minimal private donations.
On top of food security for all, GFC empowers members with employment skills, improved mental health outcomes and a healthy sense of community. It has also become a hub for urban makers, bakers and growers.
Approachable, genuine and funny with a horticulture hobby and a penchant for problem solving Damien Gagné is well-suited to his role of GFC coordinator.
Every second Wednesday is market day. The produce hawked at the market is the bounty of work put in by GFC members. Each Friday, Gagné loads up the van with volunteers, and heads the country. Partnerships with Buys' Organic Farm and Wiens Shared Farm are mutually beneficial. Participants work at watering, weeding, planting and animal husbandry. They get a free lunch, gain organic agriculture skills and earn 'sweat points'.
Volunteers bank 10 'sweat points' per hour worked, which reduce cost of biweekly Good Food Boxes by up to 80 per cent. Upper-lower and middle income members regularly donate their sweat equity to others with physical barriers, like spina bifida.
In summer, the parking lot of Thompson Funeral Home is vibrant, during winter months activity moves indoors to Broadway Neighbourhood Centre. It's here that anyone can pick up a Good Food Box, which are assembled and distributed by Winnipeg Food Share Co-op.
"It's great for community building,"  Gagné says. "We get people from all income levels coming together, talking, listening to music, selling. It's a magical atmosphere."
GFC sells organic herbs and veggies they've helped grow. Gagné encourages members to sell things and boost their incomes. A diverse group of personable vendors assembles; shop for seeds and soil, soups from Soup Bee, honey, meat, and pickles and jams from budding business flora & farmer. Pickling pro Kim Bialkoski shares samples of her diverse jams that deliver sophisticated flavour profiles such as peach rose and hot and smoky tomato and pineapple. Through involvement with GFC over the past couple years she's gained encouragement to pursue her passion for preserves, a supportive market to test out and receive feedback on her creations and, most recently, access to a commercial kitchen.
Farmers benefit spiritually and also from free labour. GFC buys 5,000 annual shares in Weins Shared Farm and sells the produce.
Aside from these quantifiable outcomes, Gagné points out that agriculture is a healing art. Premack, who is happiest with her hands in the dirt, agrees, "It's part of what keeps us sane."
Premack's banked points mean she can exist on her $20 a month food budget, relying on Good Food Box for fresh produce, rice, beans and eggs. An extra treat from a farmer friend arrived with her box in early March: a plump chicken. She grins holding it, "I feel like royalty."
Monthly themed community cafes or dinners bring the neighbourhood together for good times and great food. Volunteers plan, prepare and serve menus of pasture-raised proteins and organic vegetables.
Every month also brings a new skills workshop and a new cooking class, which are free for members. GFC's pool of diverse people harbours many talented individuals, who engage with food in different ways, and act as facilitators. Skills shared through these sessions include fermenting foods, cooking for diabetes, canning, bread making, cooking with local food and preparing world cuisines.
A year ago, Dawn Lavand was on welfare when she met Gagné. He bought her GFC membership, she began volunteering.
Now a community support worker at Indian Family Centre, Lavand works with North End Food Security to increase awareness in her community of the availability of Good Food Boxes and how to use them.
"[Gagné] really believes in paying people," Lavand says. "I knew that if I did work I would be paid for my work. It made me want to look for work."
The essence of her story is echoed throughout GFC, where each valued individual encounters opportunity leading to empowerment and growth.
For more info: westbroadway.mb.ca/good-food-club