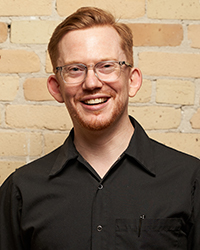 Bonfire Bistro – Chef Shaun Ursell
A meal for kitchen staff 10 years ago led to the genesis of this longstanding and popular Bonfire Bistro pie that pops with zest and herbaceousness. Preserved lemon adds a concentrated tang—plan ahead, as this ingredient takes at least two weeks to cure. Piquant Sriracha packs a little punch and adds that final layer of flavour.
Spicy Prawn Pizza
INGREDIENTS
Dough
1 cup all purpose flour
1 pinch sea salt
1 pinch instant yeast
1 1/2 Tbsp olive oil
1/2 cup room temperature water
Toppings
2 Tbsp tomato sauce
1 1/2 cups shredded mozzarella
2 Tbsp goat cheese, crumbled
8 tiger prawns, sautéed and halved
1 green onion, sliced
1 Tbsp preserved lemon rind, minced (recipe below)
4 sun-dried tomatoes, finely sliced
5-6 basil leaves
Sriracha sauce, to taste (or preferred hot sauce)
METHOD
Dough
1. By hand or in a stand mixer with a dough hook, combine the flour, salt and yeast. Mix for two minutes.
2. Slowly add the oil and mix for two minutes.
3. Scrape down sides of bowl and slowly add the water. Mix for five minutes or until dough comes together.
4. Cover and rest dough for half an hour or refrigerate. Will keep for three days.
Preserved Lemon Rind
1. Wash and quarter 1 lemon, removing pulp from the peel.
2. Place quartered lemon peel into clean container.
3. Mash the pulp with 1 tsp sea salt and 1 tsp sugar. Pour over peel.
4. Seal container with tight-fitting lid and refrigerate for 2-3 weeks.
5. Lemon will be ready when peel has softened and bitter flavour of the rind has mellowed.
Pizza
1. Preheat oven to 450°F.
2. Lightly dust baking sheet with flour or semolina.
3. Roll or hand-stretch the dough until it is roughly 10" across and place onto baking sheet or pizza stone.
4. Spread your favourite tomato sauce evenly across the dough.Cover the surface with 1 cup of the mozzarella.
5. Add toppings.
6. Sprinkle the remaining mozzarella around the outer edge of the pizza, leaving room for the crust.
7. Bake for 6-10 minutes until crust reaches desired crispness.
8. Broil for final minute or two for added caramelization of crust and cheese.
9. Garnish with fresh basil and drizzle of Sriracha to taste.
Yield 1 pizza