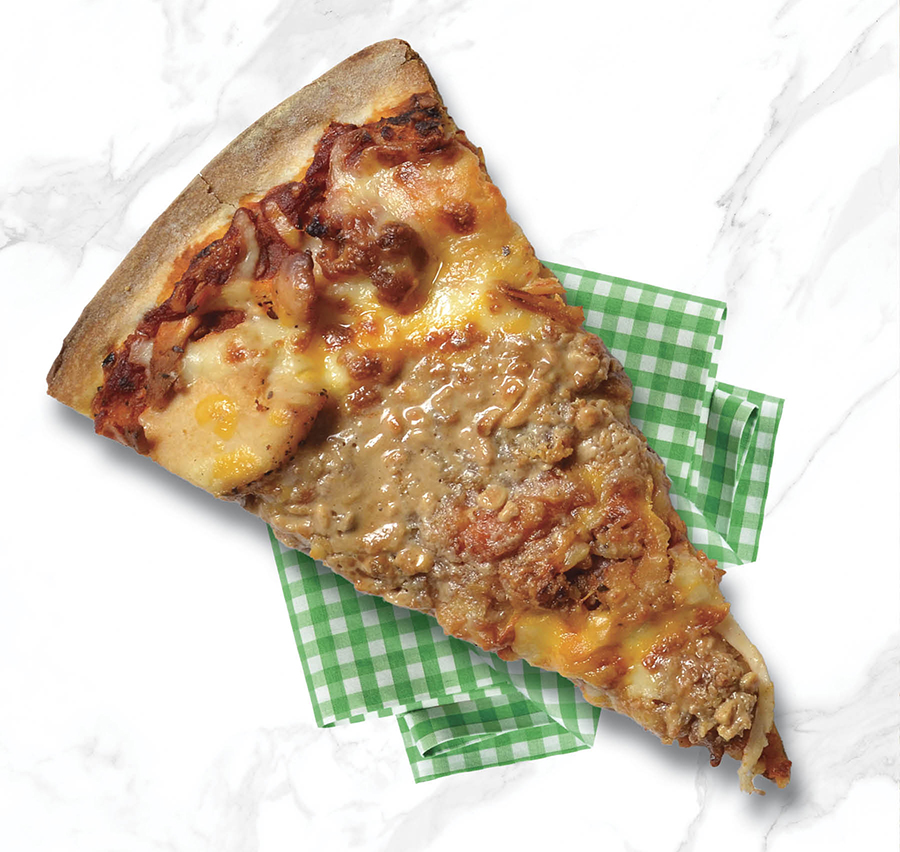 Steve B Pizza
Courtesy of Chef Alfonso Maury – Corrientes
INGREDIENTS
Dough
4 1/4 cups refined flour
3 1/2 Tbsp dry yeast
1/2 tsp sugar
1 Tbsp salt
2 Tbsp grape oil
2 cups cold water
Tomato Sauce
1/2 cup olive oil
1 white onion, diced
6 garlic cloves, peeled and chopped
1 Tbsp basil
3 L Roma tomato, peeled
1 cup tomato paste
salt
pepper
1 Tbsp sweet paprika
1 cup dry oregano
Smoked Cajun Chicken
2 chicken breasts
2 Tbsp Cajun seasoning mix
Toppings
2 smoked Cajun chicken breasts
1/4 cup crumbled bacon
1/3 cup cheddar
1 cup mozzarella
1/2 cup crunchy peanut butter
METHOD
Dough
1. Place the flour with the salt in a bowl.
2. In a bowl, combine dry yeast, a pinch of sugar and water.
3. Mix in grape oil.
4. Knead dough for approx. 7 mins with mixer or 15 mins by hand.
5. Cut dough in the weight or size desired. Suggested size: 250g for 12" and 350g for 15".
Tomato Sauce
1. In a large skillet, add oil, onions and garlic and sauté until soft and transparent.
2. Stir in tomatoes, salt, pepper,
paprika and basil until smooth.
3. Simmer for approx. 1 hour.
4. Add the tomato paste and blend with a hand blender.
5. If the tomato sauce looks thick, add 1 cup of water and stir to combine.
6. Cook for 30 mins.
7. Remove from heat and finish with oregano.
Smoked Cajun Chicken
1. Cover both sides of chicken breasts with Cajun seasoning mix.
2. Place in smoker for 3 hours until done.
3. Remove and cool until ready to use.
Pizza Assembly
1. Preheat oven to 500°F.
2. Roll out dough to fit a 12" pan.
3. Spread the tomato sauce evenly over dough.
4. Add sliced chicken evenly.
5. Add the mozzarella over the chicken layer.
6. Add crumbled bacon and shredded cheddar.
7. Spoon peanut butter into pastry piping bag and pipe evenly in lines over the top.
8. Bake for 12 minutes until melted and golden brown.
Yield 1 pizza