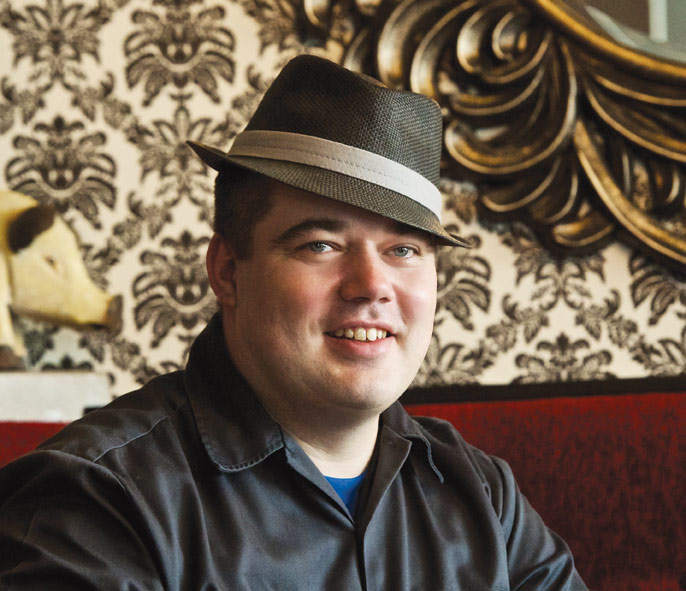 Chef Alexander Svenne plays host to an eternal kitchen party at Bistro 7 1/4

by Erin Bend
Chef Alexander Svenne hoists a giant sucker-laden octopus, pink and glistening, from a steaming pot of vinegar. "BC diver caught," he says with a boyish grin. "And you think your job is weird."
As we launch into a imagination-fuelled discussion of a day in the life of an octopus diver, Svenne's eternally bustling Bistro 7 ¼ basks lazily in a post-lunch lull. You can find the ardent chef as we did, six nights a week holding court in his open kitchen-engaging in customer banter and cooking with gusto.
This interactive design feature is key to the perennial kitchen party vibe of the eatery, and was a crucial element to Svenne, and his wife Danielle, at the launch of their South Osborne bistro six years ago. The larger-than-life couple have a shared joie de vivre and knack for making a person at home and at ease. To them, the restaurant is a replica of home-the 44-seat dining room an extension of their family kitchen. The recently added 36-seat lounge is a new, plush living room for entertaining even more gastronome friends.
Hospitality is the initial component of the couple's success, sparked long before the concept jelled, back when they threw parties as teenagers. It's intangible, crackling energy that sustains the buzz of the place, and welcomes those who return to the fete time after time.
This place is a sanctuary. Boisterous conversations bolstered by a second glass of Pinot Noir are standard. But more than that, it has solidified a rep as one of the hottest covers in town with downright delicious regionally-inspired French fare.
Svenne likens himself to a storyteller, comparing his culinary approach to a raconteur interpreting a tale. We find this metaphor true to his engaging persona. As a self professed food traditionalist, he takes cues from the past and terroir to create a menu of the moment, making a dish his own with plays on protein, texture or technique.
Ciao! shared the first chapter of Svenne's story in this feature eleven years ago, when the young chef's regional food philosophy was finding it's first comfortable roots in Manitoba soil amid the bountiful gardens of Pineridge Hollow. One of the seven founding chefs of Manitoba's regional cuisine movement, Svenne maintains an avid curiosity, wealth of agricultural knowledge and burgeoning rolodex of food producers. He eagerly launches into talks of our regions' strengths, describing farmers pulling up to his back door with fresh produce deliveries. Close proximity to farming communities helps nurture chef-producer relationships. This is in sharp contrast to the market prevalence of large-scale farming operations and insufficient slaughter capacity-the challenges facing agriculture in our province from Svenne's chef perspective. He touts accolades of Harborside Farms, the prized source for his preferred protein-Berkshire pork.
"It is my favourite because it tastes so good and there's lots that I can do with it, also because of my connection to the farmer directly-they are doing everything that you should to run a sustainable farm." Svenne generously shares his pork passion on plates daily. Last summer the chef roasted fifteen 250 pound pigs at the Winnipeg Folk Festival where he runs the volunteer kitchen. This fall he plans to impress chefs nation wide with Manitoba pork at the Canadian Chef Congress in Halifax.
Pork may be closest to his heart, but Svenne has love for all proteins and all cuts, from early menus that pioneered now popular sweetbreads in the 'Peg to veal cheek, tripe (a rumoured hangover remedy) and lung. "Ten years ago it was cool to be into music or art and now it's food," explains Svenne, "All of the cool kids are into food and willing to try new things."
The popularity sharing dish snapshots or 'food porn' as the cool kids call it, on social media platforms like Instagram and Twitter supports this sentiment. Online chefs are not shackled to the back of the house, and chat with diners about dinner specials and each other.  This has fostered a community of chefs who help one another out with a needed ingredient during the heat of service. Once the chaos clears, these pals gather together for raucous drinks and shared war stories at a local chef-driven spot. Svenne thrives on these connections-with diners and peers-and continues to cultivate food discussions online and in his restaurant. These exchanges inspire his future dream of opening a culinary college and continuing the food conversation with a new generation of cooks.
Below are three recipes, included with this article, from Chef Alexander Svenne of Bistro 7 1/4 and can be found in the latest issue of ciao! magazine.
Grilled Octopus with Orange and Chorizo


Spicy chorizo and a smoky char lend land elements to aquatic octopus, while syrup-soaked oranges inject pops of sweetness.

Duck Breast with Potatoes and Wild Mushrooms


Earthy and rich, this local duck dish evokes our province on a plate.

Chocolate Coconut Pudding with Lime Syrup


This gluten-free, dairy-free, vegan dessert achieves deep chocolate flavour with sensual, smooth consistency.