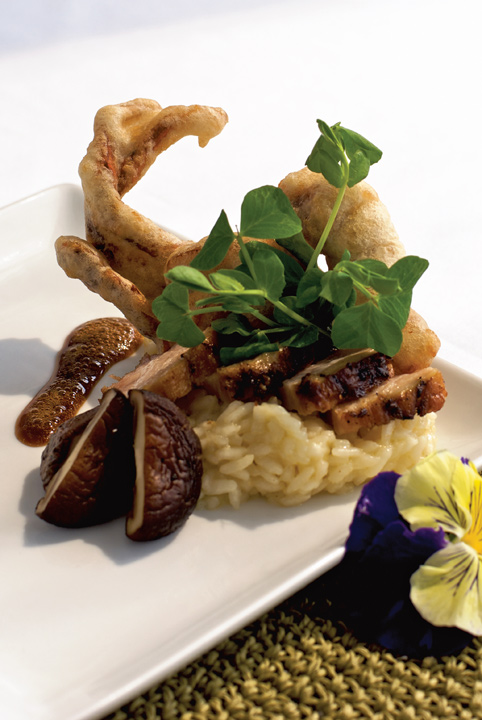 Chef Heiko Duehrsen,
The Gates on Roblin

This delicate dish has a true Asian vibe, and is even fun to eat with chopsticks. Soft-shell crab can be purchased at Asian grocers like Sun Wah Supermarket in Chinatown.



Ingredients
Pork Belly
2 lbs pork belly, rind off and fat scored
1 Tbsp Chinese 5 spice
1 Tbsp soy sauce
1 clove garlic, minced
Shiitake Syrup
16 oz shiitake mushrooms, stems and caps separated
2 Tbsp sesame oil
4 cups chicken stock
1 Tbsp light soy sauce
1 Tbsp brown sugar
1 Tbsp cornstarch
Risotto
1 cup arborio rice
2 cups hot chicken stock
2 shallots, minced
1/2 cup white wine
2 Tbsp butter
salt and pepper to taste
Tempura Soft-Shell Crab
2 medium or 4 small soft shell crabs, gills removed
1 cup tempura flour
2/3 cup cold soda water
oil for deep frying
salt and pepper to taste

Method
Pork Belly
1. Preheat oven to 375°F.
2. In medium pot, boil water. Blanche pork belly for 5 mins. Remove pork and score fat.
3. In bowl, combine soy sauce, Chinese 5 spice and garlic. Rub into scored fat, and marinate in fridge for 2 hrs.
4. Place pork fat side up on wire rack, over pan to collect drippings. Roast until fat is crisp (approx. 40-50 mins).
Shiitake Syrup
1. In saucepan, heat sesame oil. Add shiitake caps, sauté until browned. Remove from pan. Add stems and brown. Add stock, soy sauce and brown sugar. Simmer over medium heat until reduced to 1/4 cup. Remove stems.
2. Make paste with cornstarch and water. Stir into syrup. Simmer until syrup thickens. Adjust seasoning with soy sauce.
Risotto
1. In medium pot, sauté shallots in butter. Add rice and stir until covered. Stir in wine and simmer 30 secs.
2. Over medium heat, add stock one ladle at a time. Stir rice constantly, adding more stock once it is absorbed. Stir until risotto is creamy and al dente (approx. 20-25 mins). Season with salt and pepper.
Tempura Soft-Shell Crab
1. Preheat oil to 360°F in deep fryer or deep wok.
2. In a bowl, whisk soda water into tempura flour until batter coats back of spoon.
3. Cut medium crabs in half. Dip crabs in batter. Place crabs in oil. Brown crabs on both sides (approx. 3 mins per side).
4. Remove crabs and sprinkle with salt and pepper.
Yield 4 servings