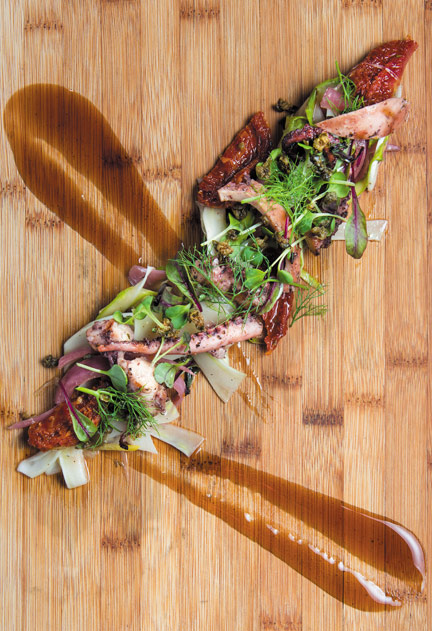 Neighbourhood: Corydon
Address: 774 Corydon Avenue
Phone: 204-452-5006
Entrees: $13-$28
(2014 review)
The difference between a good restaurant and a great one is not always necessarily evident to the naked eye. The hairline, everyday details make a business, and the slightest tweak can often completely change a product.
The Loft, formerly the Loft Gastropub, was a good restaurant struggling for survival on the cutthroat Corydon strip. Now, by enlisting the help of hot Montreal import, Chef Chris Russell, it is reaching for greatness.
Russell has overhauled food offerings by creating a smart menu of light shareables. Divided into hot and cold plates, dishes are best experienced together as a study of contrasts.  Provocatively arranged octopus tentacles are an exotic wonder amid shaved fennel and green apple in the cold octopus salad, finished in a  fragrant blood orange dressing. The verdant acidity of the dish is contrasted beautifully in the candied beet scallops, in both colour and palate. Shades of indigo dominate and beets are presented two ways, in chip form and puree pooling beneath. Both plates belie an understanding of current food trends, and delicate, artful presentation elevates a formerly fast-casual experience.
Perhaps The Loft is strongest in unsuspecting delights peppered throughout the menu, concoctions of Russell's imagination. Bold, clean flavours shine in the dip trio, of which the spicy goat and feta cheese dip is star. Another such surprise was the wild mushrooms bruschetta. The crostini is drizzled in a pesto sauce and puncutuated with truffle oil and balsamic vinegar. The result flirts with savoury and salty palates without overpowering either.
In the throes of progress, chefs are forced to test their mettle often to the benefit of diners. Every Tuesday and Thursday, The Loft offers unlimited moules & frites for a bargain price hovering near twenty dollars, in a preparation that changes daily. In the off-chance that clarification is necessary: this is a great deal.
It is certainly difficult to objectively analyze your business and correctly identify weaknesses. It is more difficult still to face challenges head-on, roll up the shirt-sleeves and get to work. At The Loft, perseverance is paying off. This is a menu that does more than just work — it delights. And, if the last few months are any indication, this is a restaurant on the rise.
The Loft is open Tuesday-Saturday 5:00 pm until late.
© 2014 All rights reserved. Reproduction in whole or in part is strictly prohibited.