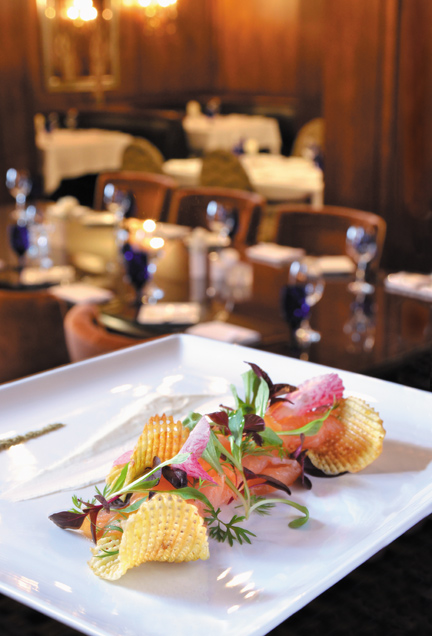 Neighbourhood: Downtown
Address: 2 Lombard Place
Phone: (204) 985-6255
Entrees: $32-48
With upwards of 70 properties worldwide, Fairmont Hotels and Resorts is a seasoned host. At The Velvet Glove diners feel illustrious and at ease. A mere furlong separates  cold and chaotic Portage and Main from the quiet and cavernous wood panelled restaurant, a true bastion of dining civility.
The restaurant's classic setting is mirrored by its proud and impeccable service. While this could be dismissed as stuffy and pompous the kitchen puts stunning food to match, creating a top notch fine dining experience. The menu acts as an ambassador of  regional cuisine, educating with each dish description the local source of many foodstuffs including Greenland Gardens tomatoes, Harborside Farms pasture raised proteins and Bothwell Cheese.
For local diners these names equate to quality and superb flavour, for the 20 per cent of diners Chef Tim Palmer estimates are visitors, these dishes are an introduction to the vibrant tastes of this province. Taste Manitoba terroir in each leaf of luscious red Romaine in a hyper local salad made with tangy curls of aged cheddar and hits of rendered bacon dressed with earthy yet delicate roasted garlic vinaigrette. On the side, wedges of toasted sour dough, along with other breads, are baked daily at French Quarter gem, Le Croissant.
Even not so local ingredients get the Manitoba treatment, like Oceanwise Pacific Coast salmon cured for a day and cold smoked with applewood chips from Morden. Slivers of delicate flesh come close to melting on the tongue, its culinary comrades of Meyer lemon crème fraîche, gaufrette potato and micro greens (from local producer Neva Hydroponic Farms) are complementary. A sweet, pungent aroma enhances flavour in a most pleasurable manner and can be attributed to a sprinkling of fluffy fennel pollen dust.
Chef Tim Palmer joined the team last fall by way of Toronto, contributing dynamic zeal for local sourcing to a kitchen team long committed to Canadian cuisine. Palmer brings fresh perspective, coming from a market abundant with small-scale, artisan producers he recognizes opportunity for similar local fare accessibility here.
With the belief that, "The best food you have is at your back door," he has cultivated relationships with a handful of Manitoba farmers and revels in the results: back door deliveries of just-harvested veggies with rich earth still clinging to them.
Great value is offered at dinner with a $53 three-course meal that lets the diner select any starter, entree and dessert. Among all the good one dish stands out as stellar. Juicy Mule Foot rack of pork pairs seamlessly with brown butter laced sweet potato mash and supple poached peaches, all are united by ethereal salty-sweet chorizo corn foam. Move over Berkshire; resilient to Canadian winter and unbelievably delicious, Mule Foot is the new It heritage hog.
Charmingly layered inside a tiny globe-shaped mason jar, rhubarb cheesecake is a tart and creamy taste of summer.
The Velvet Glove is open Mon-Fri: 6:30 am- 2 pm, 5:30 pm-9:30 pm; Sat: 7 am-11:30 am, 5:30 pm-9:30 pm.