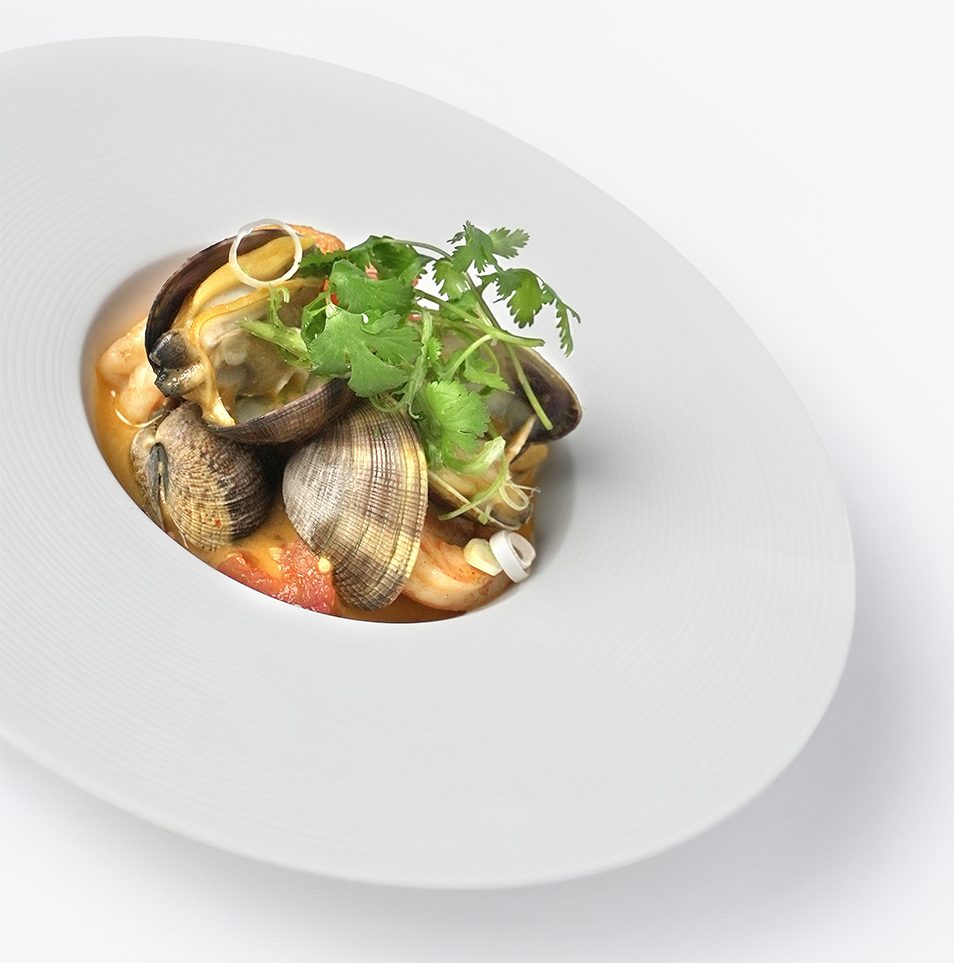 Tomato Lemongrass Clams and Shrimp
Courtesy of Chefs Edward Lam and Jil Osias – Saburo Kitchen
INGREDIENTS
Tomato Lemongrass Sauce
1 Tbsp canola oil
2 Roma tomatoes, peeled, seeded and diced
3 garlic cloves, peeled and smashed
1/4 white onion, peeled and diced
1 Tbsp ginger, peeled and cut into thin strips
2 pieces of lemongrass, smashed
2 Tbsp tomato paste
2 Thai green chiles, cut in half
2 cups coconut milk
1 cup water
3 Tbsp fish sauce
1 Tbsp brown sugar
1 tsp salt
Clams and Shrimp
1 lb clams, washed
8 shrimp
1 Tbsp canola oil
3 garlic cloves, peeled and chopped
1/2 cup white wine
Garnish
cilantro
toasted sourdough bread
METHOD
Tomato Lemongrass Sauce
1. Add canola oil to a small saucepan.
2. On medium heat, sauté garlic, ginger, onion, tomatoes, and lemongrass.
3. Stir and let cook for about 5 minutes until fragrant.
4. Add in tomato paste and cook for another 2-3 minutes
5. Add in water and coconut milk. Stir and add Thai green chiles.
6. Simmer for 8-10 minutes to let all flavours meld together.
7. Season with fish sauce and brown sugar.
8. Discard the pieces of lemongrass, then put the sauce in a blender.
9. Blend until smooth.
Set aside.
Clams and Shrimp
1. In a pot over medium high heat put the canola oil then quickly sauté the garlic
2. Add clams, shrimp, white wine and cover.
3. Turn up the heat to boil and steam the clams until they are open (less than 5 minutes).
4. Remove from heat and plate in a serving dish
5. Ladle in tomato lemongrass sauce over the clams
Garnish
Top with fresh cilantro leaves and serve with toasted sourdough bread.
Yield 4 servings