When the temperature drops outside, nothing beats the warm glow of a fireplace and the comfort of a good meal. Offering outstanding food, these cozy restaurants are the perfect antidote to a winter's chill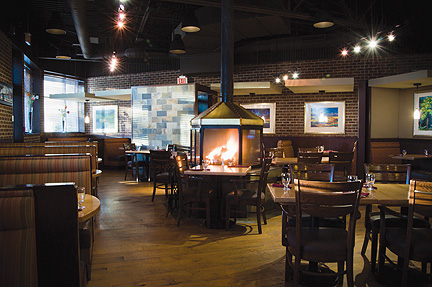 Confusion Corner
Bar and Grill
The round central fireplace at Confusion Corner Bar and Grill invites guests to settle in for a long winter's night with great food. Nosh on comfort food like prime-rib poutine or beer-battered fish tacos wrapped in corn tortillas.
500 Corydon Ave, 204-284-6666
The Round Table
Be transported to Ye Olde England at The Round Table, where tables cluster around a fireplace amidst stained-glass windows and dark Gothic woodwork. Lords and ladies dine on hearty British classics like prime rib, fish and chips, and house-made bread pudding with a trickle of Amaretto sauce.
800 Pembina Hwy, 204-453-3631
Carbone
The heat at Carbone comes from anthracite coal burning at 800°F in a tiled pizza oven—the centrepiece inside this suburban eatery. Tasty toppings of Calabrese salami, roasted garlic oil and artichokes all outfit crispy-crust pies.
400-1580 Taylor Ave, 204-488-2554
The Melting Pot
A stone fireplace at The Melting Pot beckons diners to pull up a seat and tuck into as many fondues as possible. Swiss cheese leads to meaty main-courses of beef tenderloin and chicken, while four flavours of chocolate fondue finish the feast.
218 Sherbrook St, 204-783-1317
Blaze Bistro
A stunning floor-to-ceiling Tyndall stone fireplace invites diners to linger at Blaze Bistro, where the urban-prairie menu includes toasty-hot French onion soup and Manitoba pork chops with an espresso and mustard glaze. Delta Hotel.
350 St. Mary Ave, 204-944-7259