Shopping for the holidays is no easy feat but there's no need to go hungry in the process. Schedule a stop at any one of these outstanding city bistros for a few bites to share amongst friends.
Bistro 7 1/4
Inside Bistro 7 1/4, saddle up to the chef's table in the middle of the intimate dining room for a heaping plate of mussels and crispy, shoestring frites. Perfect for sharing, nine flavour combinations will suit any mood but the fennel, leek and pernod hit a subtle sweet note.
725 Osborne St, 777-2525.
Yougot
Seasoned in a rare 13-spice blend, Yougot's barbecued lamb skewers are bite-sized morsels of delightful meatiness. You'll have a hard time guessing which spices season these smoky grilled skewers.
1-1521 Pembina Hwy, 284-6618.
Mise
On the Corydon Avenue strip, make a beeline for Mise and dig into an order of tempura with a twist. Chunks of pickerel, butternut squash and mango go hand-in-hand with sesame and hemp-seed dusted jumbo tiger prawns inside this "prairie haute cuisine" restaurant. After refueling, resume shopping along the busy strip.
842 Corydon Ave, 284-7916.
The Grove Pub & Restaurant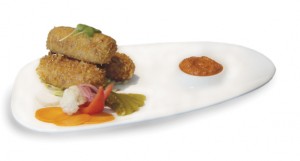 Inside The Grove Pub & Restaurant tuck into a plate of chèvre and piquillo pepper croquettes with silky béchamel sauce (pictured). These crispy nibbles ooze decadence with every bite and deftly fill a void.
164 Stafford Rd, 415-3262.
529 Wellington
At 529 Wellington steak is the specialty. Mini Yorkshire puddings stuffed with prime rib au jus make ideal quick bites. Juicy, tender, perfectly pink slices of prime rib top flaky pastry purses. Grab a seat riverside for a view of the pristine winter landscape and a break from the bustle. 529 Wellington Cres, 487-8325.