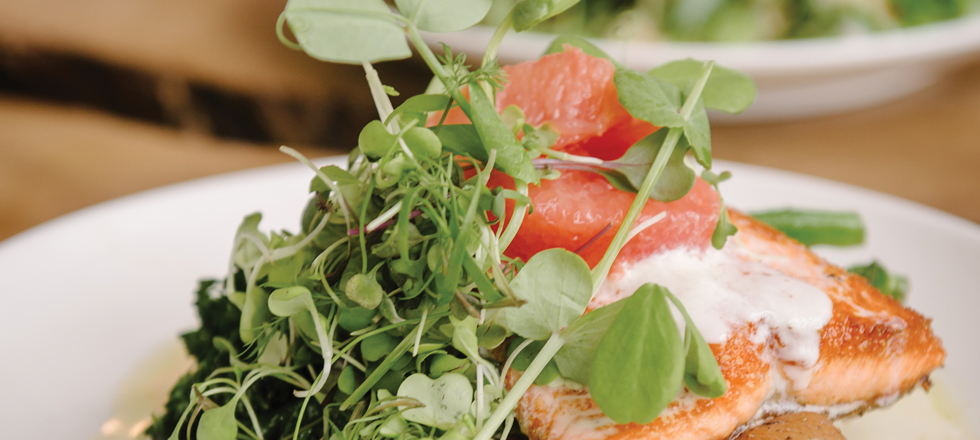 RESTÖ at THERMËA

Neighbourhood: Fort Richmond
Address: 775 Crescent Dr.
Phone: 204-284-9595
Entrees: $21-$25
Nestled beside Crescent Drive golf course amongst mature, towering trees, urban getaway Thermëa is a haven for rejuvenation. Past saunas and steamy soaking tubs, an elegant and healthful bistro provides some gastronomic therapy.
The intimate 50-seat space extends to a second floor loft to accommodate the weekend rush of hungry spa-goers, with floor to ceiling windows giving both levels of diners a view of the picturesque setting.
Nature and nurture are evident on the menu. Executive chef Thomas Stuart sources nutrient-rich vegetables, meat and fish from local producers. A selection of simple and clean recipes reveals his restorative philosophy.
Shaved beet and kale salad, dressed in balsamic vinaigrette, is an invigorating mix, with pops of crimson and a liberal sprinkling of feta cheese.
Meals begin with plates to share. Spiced pork brochettes receive a refreshing and tangy counterpoint from peach, rhubarb and cherry preserves.
Mains are hearty yet light. Arctic Char, on a bed of roasted baby potatoes, is brightened with acidic grapefruit crème. Tender braised lamb shank falls off the bone onto herby orzo. The farmer's feast piles a mountain of arugula, sautéed carrots, confit mushrooms and cool dill pea salad on airy quinoa.
Scandi influence shows up on the menu in the form of Danish open-faced sandwiches (smørrebrød). Global and regional flavours blend, with flaky pickerel smothered in basil crème. Crisp house bacon in a grilled provolone sandwich feels guiltless when paired with a smoky garlic aioli on gluten-free bread.
While in a state of dreamy relaxation, desserts seduce. Velvety dark chocolate fondue is pure bliss, arriving on a board laden with fresh fruit and buttery toasted brioche.
Rhubarb trifle is another swoon-worthy favourite. A whisper of lavender infused into whipped cream gives piquant rhubarb compote ethereal edge.
Restö at Thermëa is open Mon-Sun 11 am-10 pm.
BERNSTEIN'S DELI

Neighbourhood: River Heights
Address: 1-1700 Corydon Ave
Phone: 204-488-4552
Entrees: $21-$25
Some days call for wild new flavours and exotic ingredients to wrap your tongue around; other days require the simple comfort of hearty, homestyle cooking.
On any day, Bernstein's Deli hits the spot.
The bustling deli-grocer in Corydon Village mall buzzes with vibrant chatter as servers skirt tables with prompt refills of coffee. Since opening in 1984, the sunny space has collected its fair share of regulars with a menu of deli classics and traditional Jewish specialties to eat in or take away.
But times change, and Bernstein's has changed too. Not where it counts: thickly layered sandwiches piled with housemade corn beef are still favourites. Alongside traditional nosh, however, are some fun and fresh additions.
Aaron Bernstein, son of founding owner Marla Bernstein, is the driving force behind the deli's recent participation in buzzed-about local foodie events, from specialty burger event Le Burger Week in September, to the outdoor brunch at RAW:almond in February. Under the guidance of head chef Beth Jacob, new menu additions have punched up the selection with innovative flavour.
Items like housemade jams and granolas meld DIY spirit with culinary prowess. Other dishes play on trend food, like the fried chicken and waffles inspired pairing of chicken fingers and pancakes.
Instagram friendly shakshuka is another popular pick. This Middle Eastern mixture has been showing up on menus (and in food magazines) all over town, but this hearty version – stewy, spicy tomato dotted with chickpeas, spinach, and saline crumbles of feta – gets bonus points for perfectly sunny runny yolks and an attractive trail of spice and sesame blend za'atar.
Other items put new twists on deli staples, like the ubiquitous pickle: here, find tangy Elman's sliced, dunked in buttermilk batter, and flash fried to an airy crunch.
Traditional fare is tried and true, from buttery lox and a thick smear of cream cheese on a Gunn's bagel to crispy-fried latkes. A peppercorn-punched bison burger meets its match with all the fixings usually piled on top of a reuben sandwich.
Extended hours and a liquor permit make this bright deli an even more appealing hang. With an unpretentious knack for making diners feel at home, Bernstein's could easily become a daily habit.
Bernstein's Deli is open Mon-Fri 8 am-7:30 pm, Sat 8 am-3:30 pm, Sun 9 am-2:30 pm.
MEIJI SUSHI

Neighbourhood: Osborne Village
Address: 454 River Ave
Phone: 204-284-3996
Entrees: $10-$28
Upon entering Meiji Sushi, a host will ask, "traditional or modern?"
Regardless of seating choice, Meiji offers a little of both.
This sushi corner on River and Osborne has been anchoring one of the city's best shopping and dining neighbourhoods for the last decade and a half.  The reason for its longevity is evident in the blend of creative specialty rolls and pared back traditional bites, a study in contrasts that works as well together as the restaurant's famed martinis and sushi combo.
Opt for traditional floor level seating on tatami mats and settle in to the plush, lounge-like space for a parade of fresh delights and packed out rolls.
A lengthy selection of nigiri will thrill sushi purists. Well seasoned rice is draped with a generous slice of fish, like rich butterfish or lively salmon.
Bracingly fresh sashimi is equally rewarding. Ordering an assorted selection brings the kitchen's best cuts of the day, from firm, pink-tipped hamachi to fatty tuna belly. Meaty slices of octopus are slightly sweet and pleasingly firm.
Playful creativity shows through on the massive menu of specialty rolls. The sweet and salty mango tango roll livens up the plate with fanned slices of mango and avocado, fusing tropical flavour with the sweet pop of barbequed eel. The salmon-covered red dragon roll gets crunch from shrimp tempura, served with a housemade spicy sauce that, though light on initial heat, leaves a deeply savoury, tongue tingling after burn.
The non-sushi side of Japanese cuisine gets plenty of play on the menu for those willing to think outside the nori wrapper. A variety of teriyaki plates or a heaping helping of panko-breaded chicken katsu are perfect late night hunger saters, while flavourful starters beg to be shared. Baked oysters are a must have item, the gooey mix of sweet kewpie mayonnaise and funky miso paste proving to be a match made in seafood heaven.
Dessert is easily found in liquid form, with many of the libations from attached G Martini Bar's comprehensive list providing a sugary rush. For those stalwarts sticking to 007's preferred rendition, sweetness in the form of warm, crispy tempura banana and grassy green tea ice cream is a more than adequate alternative.
Meiji Sushi is open for lunch Mon-Fri 11:30 am-2 pm, for dinner Sun-Thu 5 pm-10:30 pm, Fri & Sat 5 pm-11:30 pm.
PRAIRIE INK

Neighbourhood: Grant Park
Address: 1120 Grant Ave.
Phone: 204-975-2659
Entrees: $18-$25
Much like a captivating story, Prairie Ink offers a plot twist to the usual café fare. Located inside McNally Robinson booksellers, the restaurant serves up an elevated menu of unexpected flavours and dishes executed with flair.
The spacious open-concept dining area invites lingering meals. Light floods from floor to ceiling windows and touches of nature, from the large fig tree in the corner to pots of basil and dill lining the window sill, give the space a refreshing atmosphere.
The menu at times features recipes right off the store's shelves. Weekly book launches, readings and musical performances create a crowd popping in for dinner and a show.
A glass case, visible upon entrance, is lined with cookies, tarts and cakes – pastry chef Geoffroy Dextraze's works of art. Colourful macarons flavoured with  coconut matcha and lemon poppy seed tempt, while fluffy meringue boasts intense lemon filling and a sprinkle of raspberries. Note to self: save room for dessert.
A penchant for healthful, local product is clear on the menu, which showcases bison, Bothwell cheese and Granny's chicken. Expect the menu to change seasonally as Chef Chris Kopp utilizes produce from local fields. His traditional approach is seen in soups, salads and sandwiches, but the beautifully executed entrée selection shouldn't be missed.
Strings of spaghetti squash are laced with housemade curry in a kicky dish tempered by a side of crisp bok choy. Classics also shine, like tender New York steak swimming in creamy peppercorn sauce, which soaks into each bite.
Heart healthy options reveal the kitchen's love for all. A vegetarian lasagna swaps pasta for quinoa, giving the Italian classic a trendy update. Sliced zucchini, mushrooms and tomato sauce underneath a crisp cheese shell impart earthy flavour. The nutty grain also finds its way into a salad, tossed with spinach, carrots and cilantro, and topped with lime cumin dressing.
The seven-grain veggie burger is another impressive meatless offering, a patty smothered with avocado cream, caramelized onion aioli and Bothwell smoked cheddar on a multigrain bun.
Prairie Ink Restaurant & Bakery is open Mon-Thurs 9 am-10 pm, Fri & Sat 9 am-11 pm.
VERA PIZZERIA

Neighbourhood: South Osborne
Address: 670 Osborne St.
Phone: 204-222-6306
Entrees: $11-$16
For a slice of Naples, head to South Osborne spot Vera Pizzeria. Stepping inside this pocket-sized place feels like walking into a friend's home. The smell of roasted tomatoes and mozzarella greets diners, as the chatter from hip scenesters takes over the room. With line ups often spilling out the door, this pizzeria proves that the best pizza comes down to the basics.
This friendly, no-frills eatery is part of flourishing South Osborne, with new addition Blind Tiger just down the block. The casual interior holds just 20 seats. White-walled and warmly lit, the dining room is cozy and contemporary, sometimes featuring local art. Easygoing but knowledgeable service creates an omnipresent effect. Window seats are ace, providing a street side view to people watch.
Owner Terek Cabildo's Nea-politan pies favour fresh ingredients sourced from DeLuca's. The menu is straightforward, listing only nine pizzas. Scratch-made dough provides crispy nooks and chewy crusts, topped with classics like cherry tomatoes and prosciutto as well as specialty items like housemade  fennel sausage. Watch as dough is kneaded, punched and stretched before your eyes in the open kitchen. Seeing a meal prepped, cooked and served in less than 15 minutes is a comforting, and refreshing redefinition of fast food.
Pizzas are about 12 inches  and fall in the wallet-friendly range of $11-$16, featuring a rotation of marinara sauce, creamy fior di latte and basil frequently rejigged. Traditionalists will love filetti, a dolled up version of the margherita, with generous pieces of roasted garlic and olive oil. Calabrese piccante adds heat with spicy calabrian salami sliced and layered with tomato and parmesan. Aromatic salsiccia is dotted with house made fennel sausage and dried chile, balancing spice and smoke. Pair your pie with leafy greens under a drizzle of tart balsamic and olive oil, and dotted with large chunks of tomato and black olives. In classic Italian style, it sounds basic, but tastes elegant. Top off dinner with a nice vino (bianco or rosso), or bubbly and bittersweet soda Brio Chinotto.
With a focused simplicity on pizza made in true southern Italian style, Vera Pizzeria's loyal following continues to grow with no sign of slowing down.
Vera Pizzeria is open Mon-Wed 5 pm-11 pm, Thu-Sat 5 pm- 12 am.