A turn towards comforting, playful pub food swept the city in 2014, with modern twists on comfort food classics typically defining this new order of gastropub.  We lead with the fanciest, but all our eating was highly rewarding.
The Blue Marble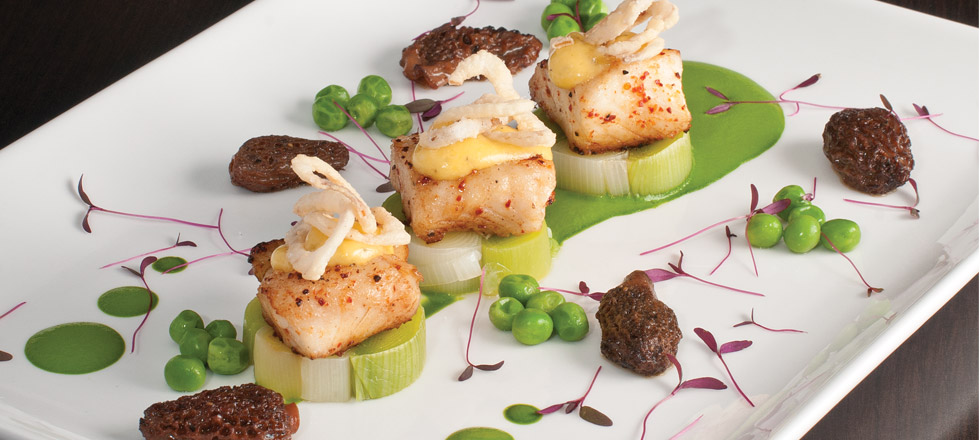 Neighbourhood: Airport                                                                                                               Pickerel
Address: 1979 Wellington Ave
Phone: 204‑594‑1967
Entrees: $11-$32
Despite its location at the airport, a gateway to the globe, The Blue Marble is Manitoba through and through. With a commitment to indigenous ingredients, sustainable dining, and elevating home-grown dishes to modern masterpieces, the restaurant proves itself a destination for weary travellers and locavores alike.
The space, inside the Grand Hotel, takes hospitality to heart, offering niceties like validated parking and after-dinner truffles. Complimentary focaccia set alongside whipped butters (flavoured with maple and Saskatoon berry on one visit) are a gracious start to a meal that unfolds with perfect execution of details.
A beautiful interior, awash in calming shades of blue, illustrates these details as well. An urban cultivator facing the dining room sprouts microgreens and pea shoots to grace diners' plates, and a custom built wine cellar visible through glass doors tempts with an extensive but thoughtful selection.
While the breakfast menu and a lunch/dinner selection of more traditional comforts boast some palate-perking twists, the modernist influenced tapas menu is not to be missed. Full of exciting interpretations, the selection presents a conundrum with dishes sized to share but good enough to hoard.
Manitoba ingredients populate the menu, like the Berkshire pork tenderloin, juicy from a birch and ginger marinade, which arrives in coins scattered over a sweet and nutty smear of pancetta creamed corn. Prairie produced cavena nuda ("naked oats") are incorporated into a rich and chewy risotto accented with sweet pops of blueberry and salty Parmesan shavings. The flavour is reminiscent of mama's classic  pork chop and cream of mushroom combo, but ups the ante on Sunday dinner with rich pork belly, seared to a crunch, and porcini mushrooms.
Local pickerel shines, with crunchy fried shallot rings and truffle aioli perched atop the well seasoned lake fish. Bright leeks and a watercress purée dotted with green peas supply vernal grassiness, while an earthy bite of morel mushroom balances the dish.
Other dishes reveal creative cooking with underused meats. Quail is served drizzled with tangy tamarind sauce emitting the warm scent of cardamom. Accompanying Brussels sprouts with their favourite bedfellow, bacon, are a bright contrast to peppery mashed potato quenelles. Oxtail ravioli amps up a tough cut, imbuing the meat with flavour and adding salty crunch from shaved Parmesan and bacon dust.
Marrying global inspiration with the tastes of home and some planet-consciousness, this airport restaurant is flying high.
The Blue Marble is open 6 am-10 pm (restaurant), 11:30 am-12 am (lounge).
© 2014 All rights reserved. Reproduction in whole or in part is strictly prohibited.
---
Billabong Gastropub
Neighbourhood: Osborne Village
Address: 121 Osborne St
Phone: 204-452-1019
Entrees: $7-$27
With its prime Village real estate, Billabong has become a fixture on Winnipeg's dining scene since opening in 2005. Though tweaks and changes in ownership have been made in the past 10 years, this Aussie grub hub is still serving up exotic and creative takes on comfort food.
The dim interior oozes local watering hole vibes, with a deep red paint job highlighting wall art that points to the restaurant's Australian influences – boomerangs, vintage Foster's ads, and a climbing crocodile. The bar offers the usual suspects along with favourite brews from Down Under, while the cocktail menu features sophisticated twists on classic drinks.
This chic edge is present in the menu as well, which lives up to the gastropub moniker. Telltale signs of a clever kitchen can be spied in the use of Manitoba ingredients, like roasted beets, pickerel, and Bothwell cheese, as well as trendy elements like pickled red onion, chorizo, and sharing boards.
Steambucket mussels play on these hip flavours, served under a scattering of corn, garlic and chorizo. Crusty garlic toasts are on hand for sopping up a fragrant chipotle white wine broth.
Other dishes marry Australian ingredients with classic pub fare. Kangaroo nachos are no gimmick, just downright delicious – a mountain of corn chips loaded with the distinctively earthy dark meat, cheese, and veggies. The signature Aussie burger is also loaded, a juicy patty stacked with sliced beets, a ring of sweet pineapple, bacon, cheese, tomato relish, and, best of all, a fried egg.
A selection of entrées tempts those looking to tuck into more. Pan seared duck breast draped in honey balsamic sauce fills fine dining cravings, with carmalized apples and rosemary proving a tart, herby balance for fatty duck.
This restaurant also caters to a brunch crowd, with a Sunday morning menu of breakfast favourites amped up with similar flair, proving that Down Under eating can be a cut above.
Billabong Gastropub is open Mon-Thu 4:30 pm-2 am, Fri 3:30 pm-2 am, and Sat-Sun 10:30 am-2 am.
© 2014 All rights reserved. Reproduction in whole or in part is strictly prohibited.
---
Cornerstone
Neighbourhood: Osborne Village
Address: 93 Osborne St
Phone: 204-505-7772
Entrees: $11-$20
The intention behind the name of recent Osborne Village addition The Cornerstone is clear: to be the pillar that anchors the heart of this trendsetting neighbourhood. This may be a mighty task for the restaurant taking up the space of iconic Winnipeg mainstay Papa George's, but one it has quickly exceeded, already winning the love of the Village.
The building's newly renovated interior points to the restaurant's efforts as a community building block. Decked out in shades of warm grey, the sleek dining area provides a trendy but muted backdrop for colourful local artwork splashing the wall. The menu is similarly understated, showing off culinary expertise with clever flavour combinations and simple ingredients that shine.
A prime example of this 'keep it simple' philosophy is the root vegetable panzanella. The salad pulls from old-school root cellar classics with a colourful blend of beets, carrots, and squash tossed with seasoned croutons, lettuce, and a vinaigrette rich with olive oil. Roast chicken is similarly pared back, draped in rich (but not heavy) gravy and set on a colourful stack of purple and fingerling potatoes, beets, onion, and a smear of cinnamon infused carrot purée.
Other dishes take inspiration from world cuisines, like the Greek style Papa Gorgeous burger (a loving tribute to the location's previous tenant) or the 'Middle Eats', a falafel inspired veggie burger. A pork belly dish lets the fatty, perfectly crispy meat stand out from an assortment of veggies. A soft poached egg crowns the dish.
Pan fried pickerel, floating on top of pearl couscous, and a tender steak sandwich – presented modishly open faced, with a fried egg on top – display thoughfulness in ingredients and composition. The sandwich's crispy ciabatta is perfectly poised to soak up the juices from its tenderloin topping.
Casual classics make up the dessert menu, including a creme brûlée updated with pumpkin. Hiding beneath a thick, glassy caramelized coating, is warmly spiced comfort.
As neighbourhood gourmands and city sojourners craving classy pub grub stream in, it seems certain that The Cornerstone is at home in the 'hood.
The Cornerstone Bar & Restaurant is open daily 11 am-2 am.
© 2014 All rights reserved. Reproduction in whole or in part is strictly prohibited.
---
Marion St Eatery
Neighbourhood: St. Boniface
Address: 393 Marion St
Phone: 204‑233-2843
Entrees: $11-$14
The Marion Hotel has long been a favourite for patrons who love the bar and local band scene, but now the St. Boniface landmark is attracting a new crowd of customers. A 65-seat restaurant with an adjoining patio opened its doors in February 2014 and the Marion Street Eatery's fresh take on comfort foods has been drawing crowds from across the city ever since.
Owner Laneil Smith—whose family owns the hotel—and friend and chef Melissa Hryb, have transformed a former Polish restaurant into a neighbourhood hot spot that focuses on approachable and affordable homestyle favourites.
The open, sunlit space has been filled with a welcoming mix of clean lines and vintage textures where sleek dark floors, a black ceiling and contemporary art pair with wrought iron lighting, leather tufted banquettes and mismatched wooden chairs.
Smith and Hryb, who met through Red River College's hospitality program, use a team of aspiring student chefs to execute pub-inspired dishes that utilize local ingredients.
Some patrons come for the familiar comfort of burgers and pencil thin house made fries or the pleasures of an oven roasted beet salad and candied pistachios on a bed of greens. Others tuck into the breakfasts that read like a page from a pioneer cookbook—eggs with maple sugar ham, bacon and sausages, light and fluffy pancakes with three choices of syrup or generous omelettes with hash and toast. The eggs benny sports two perfectly poached eggs and ham in a velvety hollandaise resting on toasted croissant.
Elevated classics include mac and cheese, studded with broccoli and bacon and bathed in a creamy Bothwell cheddar sauce, with a dusting of sweet and tangy honey mustard pretzels. Chili is transformed with lean and delicious bison meat emboldened with chili peppers and garlic, and sweetened with caramelized onions. Sandwiches are all impressive including one of grilled vegetables on a ciabbata bun. Fresh feta and basil spread, a stack of sweet peppers, portobello mushrooms and artichoke hearts make this extraordinary.
There are no reservations and Sunday breakfasts are busy but those desperate for a hit of java need not worry. A friendly server offers a dark and delicious brew while you wait.
Marion St Eatery is open Sun 7 am-2 pm, Mon-Tue 11 am-8 pm, Wed-Thu 7 am-8 pm, Fri-Sat 7 am-9 pm.
© 2014 All rights reserved. Reproduction in whole or in part is strictly prohibited.
---
Maw's Eatery
Neighbourhood: The Exchange
Address: 291 Bannatyne Ave
Phone: 204‑421-6297
Entrees: $6-$17
Since its inception last year, Maw's Eatery & Beer Hall has taken a smart pub atmosphere to gold standard heights, combining classy cool with tap and brew comfort.
A short menu takes inspiration from late night cravings, offering plenty of fried, salty, cheesy fare lightened up with unique ingredients. The heart attack burger puts a spin on fast food indulgence, loading the beefy patty with crispy onions and a trendy fried egg. Three cheese poutine is comfort food paradise—a gooey, warm mess of silky gravy, shoe string fries, and melty cheese—with a sprinkling of asiago adding sweet, funky depth to the Canadian classic.
The volume is pumped up on staples like tomato soup, served here with grilled cheese croutons and chili oil. Pickles, cheese, and crackers make their way onto the menu, the nostalgia factor no less diminished by stuffing the dills with Bothwell cheddar, coating in soda cracker beer batter, and deep frying.
Lighter options are to be had, though. The house salad balances tangy and sweet with roasted beets, chevre, dried cranberries, and greens tossed in a honey balsamic vinaigrette.  Lumpia are crisp and savoury, perfect for a light bite. Chicken wings, perennial staple of late night chow, arrive by the pound,  artfully arranged in a pyramid of tender (not greasy) meat. Tandoori spice delivers heat balanced by a smear of refreshing yogurt sauce.
Late night takes on classic sandwiches produce the Mawntreal, a brisket-stuffed sammie on dark rye bread complete with sauerkraut and a smear of mustard, and an open faced steak sandwich served on a grill-marked bun, topped with a pat of herb butter and strands of fried bell peppers.
The adjacent beer hall provides a relaxed, party boy vibe for late night brews, while the dining room is a winking mix of homey comfort and farmhouse chic. With its prime Exchange District location, smartly curated atmosphere, and well executed culinary fare, this gastropub is able to hop the line between late night hangout and corporate lunch spot with ease.
Maw's Eatery & Beer Hall is open Mon-Wed 11 am-10 pm, Thu & Fri 11 am-late, Sat & Sun 5 pm-late
© 2014 All rights reserved. Reproduction in whole or in part is strictly prohibited.
---