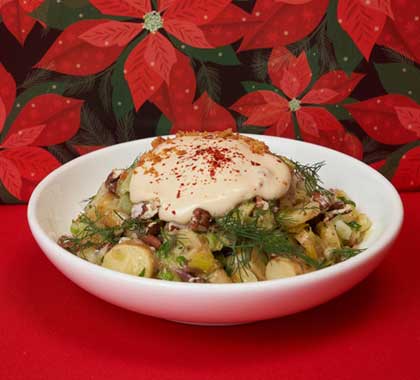 Warm Potato Leek Salad with Mornay Sauce
Cheesy mornay sauce makes this dish extra special. Serve it family style in a big bowl with a spoon.
INGREDIENTS
1 lb Confit Potatoes
2 large leeks, melted
1 Tbsp pickled jalapeno, minced
3 Tbsp pickled ramps or pickled onion, minced
4 Tbsp celery, small dice
2 Tbsp sliced Green Onion
salt to taste
fresh ground black pepper
fresh dill, picked
mornay sauce
sourdough breadcrumbs
Korean chili flakes, lightly toasted
Confit Potatoes
1 lb Fingerling or baby yellow potato, washed and sliced into 1/4 inch coins
3 cups olive oil
2 bay leaves
2 cloves of garlic
Melted Leeks
2 large leeks, light green and white part only, sliced into 1/4 inch rounds and soaked in cold water to remove excess dirt
1/4 cup olive oil (the oil
from cooking the potatoes
can be used for this application)
2 tsp salt
Mornay Sauce
2/3 cup milk
2/3 cup cream
2 Tbsp butter
2 cloves garlic, sliced thin
1/2 onion, sliced thin
1 bay leaf
1/2 cup grated Gruyere cheese
1/4 cup grated Parmesan
salt to taste
fresh ground black pepper
METHOD
Confit Potatoes
1. Place olive oil, bay leaves, and garlic in a large pot over medium heat. Heat the oil to 250°F. Carefully add potatoes and cook, trying to maintain a temperature of 190°F-200°F for about 20-30 minutes until potatoes are cooked through but still hold their shape.
2. Drain potatoes and reserve. The cooking oil can be saved in the freezer and reused.
Melted Leeks
1. Add leeks, oil, salt and 2 Tbsp water to a medium size pot and cook over low/medium heat for about 15 minutes until the leeks are tender. Reserve.
Mornay Sauce
1. Place grated cheeses in a medium size mixing bowl.
2. Melt butter in a medium size pot over medium heat, then add garlic, onion and bay leaf.
3. Stirring often, cook for 8-10 minutes until garlic and onions are soft. Add the milk and cream, bringing to a simmer. Pull out bay leaf and discard.
4. Transfer hot milk and cream mixture to a blender and mix on high speed until completely smooth. Add cheese mixture and blend on high. Season to taste with salt and pepper.
Assembly
1. Mix potatoes, leeks, jalapeño, ramps (or onions) and celery in a pan with a splash of water and place over low heat until warmed through. Fold in the green onion and season with salt and pepper to taste.
2. Top with desired amount of mornay sauce, picked dill, breadcrumbs and a bit of Korean chili flakes.
Yield 6 servings