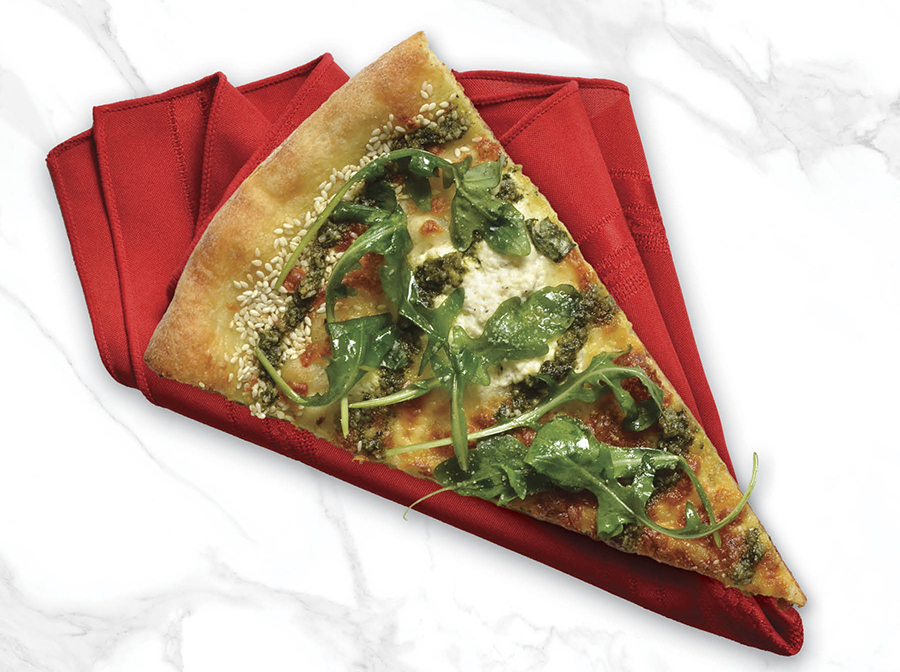 White Pizza
Courtesy of Deep Kamal Singh – Shorty's Pizza
INGREDIENTS
Dough
6 cups all purpose flour
3 cups Caputo flour
4 cups cold water
1/4 cup pomace oil
1/8 cup kosher salt
2 Tbsp Sugar
2 Tbsp dry instant yeast
Garlic Ricotta
1 cup fresh ricotta
1/8 cup fresh lemon juice
zest of 1 lemon
1/8 cup olive oil
1 head of garlic, minced
1 Tbsp kosher salt
1 Tbsp freshly ground black pepper
Lemon Vinaigrette
1/4 cup fresh lemon juice
1/8 cup red wine vinegar
3 Tbsp Dijon mustard
1 Tbsp honey
1 Tbsp kosher salt
1/2 cup canola oil
1/2 cup olive oil
Pesto
3/4 cup olive oil
10 basil leaves
2 cups arugula
2 garlic cloves
2 Tbsp kosher salt
1/4 cup Grana Padano cheese
1/2 cup sunflower seeds
White Pizza
3 Tbsp olive oil
1 cup ball Fior Di Latte sliced in 6
Shredded mozzarella, handful
1 cup garlic ricotta
3 Tbsp pesto
2 Tbsp lemon vinaigrette
grated parmesan cheese, half handful
arugula, handful
8 Tbsp sesame seeds
METHOD
Dough
1. In a stand mixer add water, yeast, sugar and oil and let mix for 5 minutes.
2. Add all the flour and mix for 5 more minutes until smooth.
3. Remove dough from the mixing bowl.
4. Cut into 350g portions and roll into balls.
5. Spray proofing tin (or cake pan) with Pam.
6. Place balls into individual proofing tins and cover with plastic food wrap.
7. Let stand at room temperature in a proofing tin for 10 minutes.
8. Transfer tins to fridge and refrigerate for 3 days before hand stretching
Yield 1 dough ball
Garlic Ricotta
Combine all ingredients into a bowl and mix well.
Lemon Vinaigrette
1. With a hand blender, blitz all ingredients together except oils.
2. Combine both canola and olive oils.
3. Slowly add oil mixture while using a hand blender to emulsify the dressing.
Pesto
1. In a food processor blitz sunflower seeds and Grana Padano cheese until well chopped and mixed.
2. Add garlic and blitz for another 10 seconds.
3. In another container add basil, arugula, salt, and olive oil and blitz with a hand blender.
4. Combine sunflower mix and basil mix and fold together until well combined.
Pizza Assembly
1. Preheat the oven to 550°F with a pizza stone inside.
2. Flour the dough ball and spread the dough by hand to desired size, moving quickly as dough expands.
3. Place onto a wooden pizza peel to add toppings.
4. Add olive oil around the dough as a base.
5. Sprinkle sesame seeds around the edge.
6. Evenly distribute Fior Di Latte cheese, mozzarella and garlic ricotta on top.
7. Transfer to oven with pizza peel and bake for 10 minutes on pizza stone.
8. Lower heat to 180°F and bake for 10 more minutes before removing from the oven.
9. Mix 2 tablespoons of lemon vinaigrette with a handful of arugula.
10. Garnish with pesto, mixed arugula and parmesan.
Yield 1 pizza