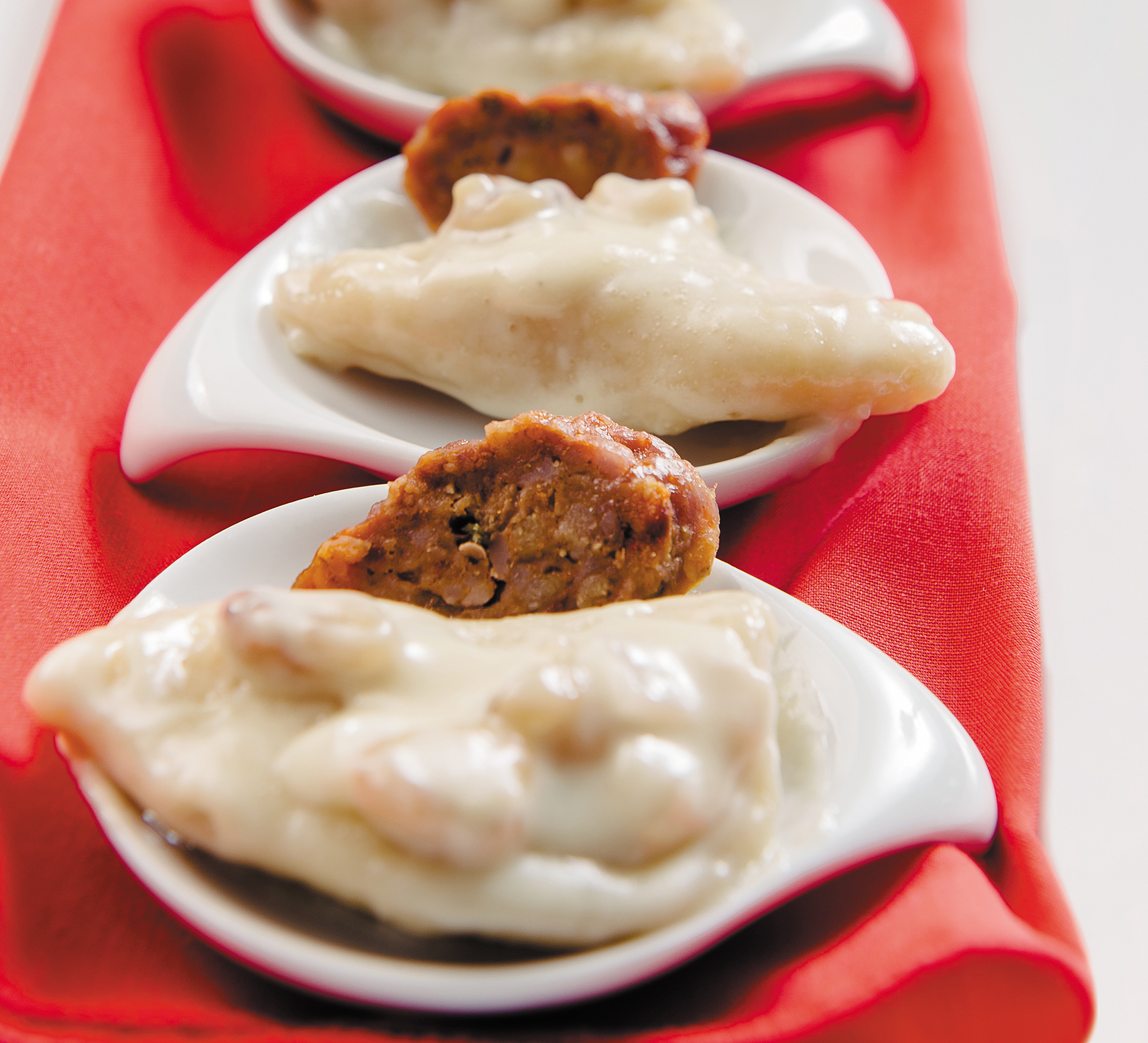 White Truffle Perogies
Courtesy of Fusion Grill
INGREDIENTS
Dough
2 cups all-purpose flour
1/2 tsp salt
2 large egg yolks
2 tsps vegetable oil
1/2 to 1/3 cup hot tap water
Filling
2 medium potatoes, peeled,
cut into chunks
2 tsps milk
1 tsp white truffle oil
salt, to taste
METHOD
Dough
1. Place flour and salt in food processor. Add eggs and oil, pulse to combine.
2. Add water a little at a time, running the food processor between additions, until dough begins to hold together and is slightly sticky. Form dough into ball and wrap in plastic wrap. Chill at least 1 hour, or overnight.
Potato Filling
1. Bring a medium pot of salted water to a boil. Add potatoes.
2. Cook until potatoes are soft. Drain.
3. Add milk to potatoes and mash with potato masher or ricer until smooth. Stir in truffle oil and season with salt, to taste.
Assembly
1. To fill perogies, divide dough into 3 to 4 pieces. Using hands, shape these pieces into logs about 1 inch in diameter. Slice each log into pieces 1 inch wide. Dust each one lightly with flour.
2. Using a rolling pin, roll each piece into a round disc. Place a rounded tsp of filling in centre of each disc. Using your fingers, gently pull dough over filling to form half-moon shape. Pinch edges together carefully but tightly, crimping to seal. Place on baking sheet lined with parchment paper.
3. To cook perogies, bring large saucepan of salted water to a boil. Reduce heat so that the water simmers and does not boil rapidly.
4. Add perogies, one at a time, taking care not to over-crowd the pan. Cook uncovered for 5 minutes, stirring occasionally and gently with a wooden spoon to loosen from sides of saucepan. Drain.
Yield 2-3 dozen