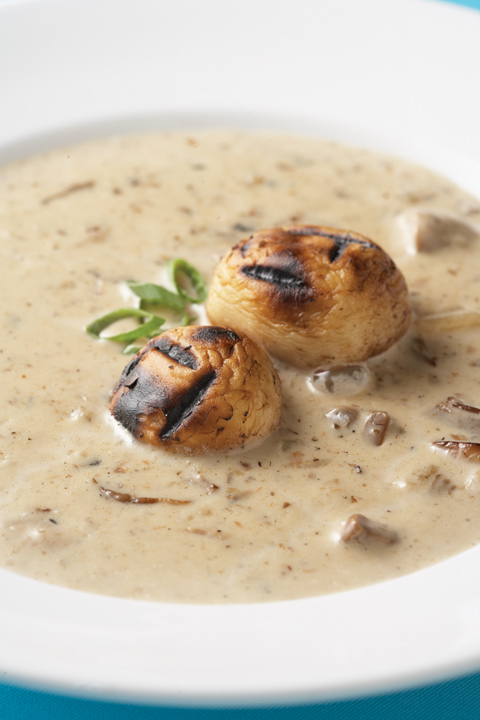 Executive Chef Jason Gower,
Delta Winnipeg's Blaze Bistro

Fresh dairy is the first note, followed by the mild, earthy mushrooms. Velvety bits of potato finish with a mushroom afterglow.



Ingredients
1/2 cup chanterelle mushrooms, sliced
1/2 cup porcini mushrooms, sliced
1/2 cup button mushrooms, sliced
1/2 cup portobello mushrooms, sliced
3 Tbsp garlic, chopped
2 Tbsp shallots, chopped
1/2 cup potatoes, diced
2 tsp vegetable oil for sautéeing
4 cups cold water
1/4 cup white wine
4 cups 35% cream
Method
1. In a large, non-stick pot over medium-high heat, sear mushrooms in oil for 15 minutes. Stir constantly.
2. Add garlic and shallots. Sauté for two minutes. Add potatoes and flour. Mix to combine.
3. Reduce heat to medium and slowly add water. Cook for approximately 15-20 minutes until thickened, stirring constantly.
4. Reduce heat to medium-low and slowly add white wine. Simmer approximately 15-20 minutes, adding cream in intervals. Salt and pepper to taste.
Yield 4 servings